Text and photos: Aage Myhre

A rickety old bus runs past me in a busy, polluted Mumbai street

.

Suddenly I see a little girl's face in one
of the bus windows.

The contrast between the old bus and the beautiful child is striking.

We are in India!
Text and photos: Aage Myhre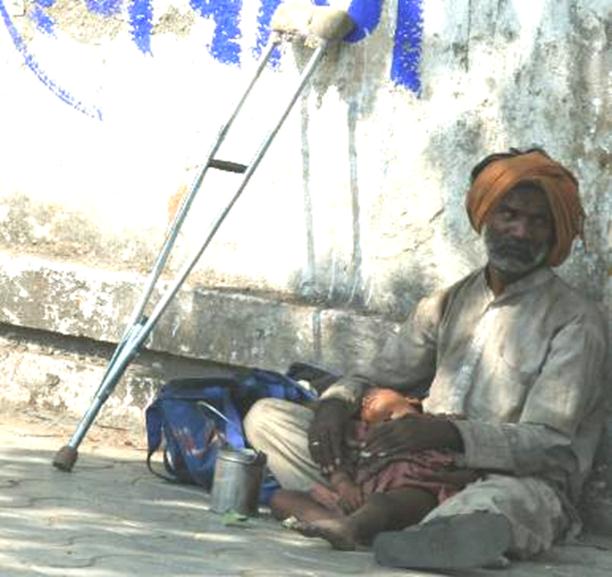 A COUNTRY OF CONTRASTS
India's development over the past 20 years has been unprecedented positive and impressive, and I will in this issue of VilNews tell you a few things about what this development has consisted of.
I will also investigate the allegations I have heard that Sanskrit and Lithuanian languages, for some strange reason have much in common.
But first and foremost, I'll take you on a journey to a land without parallel in our world, and I will introduce you to some truly remarkable individuals!
India has been described as a "Rich country where poor people live." The last few years have seen incredible growth in the Indian economy that from 2000 to 2005 grew from $460.2 Billion to $906.3 Billion, making it the second fastest growing economy in the world after China. The world's largest democracy, India is making huge investment in infrastructure and technology, which was evident while I visited the country's two largest cities, Mumbai and Delhi.
The man who sits here on the sidewalk in the giant city of Mumbai with his small child sleeping undisturbed on his lap and his crutches standing next to them makes an impression on me. But even if poverty in India is very visible and obvious, my main impression is that this is a country first and foremost characterized by warmth, kindness, hospitality and tranquillity. The eyes of the poor man on the sidewalk are not characterized by a demanding look; that I should give him money. Instead they tell the story of inner peace and contentment in spite of the situation he lives under.
| | |
| --- | --- |
| MADHUR ROY waits for me at the Delhi International Airport when I fly in from Mumbai in the late evening. She represents the Ministry of Foreign Affairs, and has been given the responsibility to show me around and introduce me to people I have special interest in meeting during my visit. On the way to the hotel she tells me about the programme. She also talks about her hobbies; filmmaking and singing. During my days in Delhi, she does a very good job, every day from early morning to late evening. A few days later, on the way to the airport, she sings a quiet, melodic song about herself, a song about the little girl from a village up in the mountains far to the north who came to live in the big city. I see tears rolling down her cheeks, and I feel very touched having got to know a person who not only performs her job in a very professional manner, but also dares to show her feelings in such a way. My visit to India got a new dimension after the meeting with Madhur. Thanks a lot!! | |



INDIA

India, officially the Republic of India, is a country in South Asia. It is the world's seventh-largest country by geographical area, the second-most populous country with over 1.18 billion people, and the most populous democracy in the world. Mainland India is bounded by the Indian Ocean on the south, the Arabian Sea on the west, and the Bay of Bengal on the east; and it is bordered by Pakistan to the west, the People's Republic of China, Nepal, and Bhutan to the north; and Bangladesh and Burma to the east. India is in the vicinity of Sri Lanka, and the Maldives in the Indian Ocean, its Andaman and Nicobar Islands are also in the vicinity of the Indonesian island of Sumatra in the Andaman Sea, and in the Andaman Sea India also shares a maritime border with Thailand. India has a coastline of 7,517 kilometres (4,700 mi).
Home to the ancient Indus Valley Civilisation and a region of historic trade routes and vast empires, the Indian subcontinent was identified with its commercial and cultural wealth for much of its long history. Four major religions, Hinduism, Buddhism, Jainism and Sikhism originated here, while Zoroastrianism, Judaism, Christianity and Islam arrived in the first millennium CE and shaped the region's diverse culture. Gradually annexed by the British East India Company from the early eighteenth century and colonised by the United Kingdom from the mid-nineteenth century, India became an independent nation in 1947 after a struggle for independence that was marked by widespread non-violent resistance.
India is a federal constitutional republic with a parliamentary democracy consisting of 28 states and seven union territories. Apluralistic, multilingual and multiethnic society, India is also home to a diversity of wildlife in a variety of protected habitats. The Indian economy is the world's eleventh largest economy by nominal GDP and the fourth largest by purchasing power parity.
Since the introduction of market-based economic reforms in 1991, India has become one of the fastest growing major economies in the world; however, it still suffers from poverty, illiteracy, corruption, disease, and malnutrition. India is classified as a newly industrialised country and is one of the four BRIC nations. It is a nuclear weapons state and has the third-largest standing armed force in the world, while its military expenditure ranks tenth in the world. It is a founding member of the United Nations, the East Asia Summit, the South Asian Association for Regional Cooperation and the Non-Aligned Movement and a member of the Commonwealth of Nations and the G-20 major economies.
| | |
| --- | --- |
| | DELHI (official name: National Capital Territory of Delhi - NCT) is the largest metropolis by area and the second-largest metropolis by population in India. It is the eighth largest metropolis in the world by population with more than 12.25 million inhabitants in the territory and with nearly 22.2 million residents in the National Capital Region urban area  The name Delhi is often also used to include some urban areas near the NCT, as well as to refer to New Delhi, the capital of India, which lies within the metropolis. It is the capital of India and its political and cultural centre. Located on the banks of the River Yamuna, Delhi has been continuously inhabited since at least the 6th century BCE. |
| | MUMBAI, also known as Bombay is the capital of the Indian state of Maharashtra. It is the most populous city in India, and one of the most populous cities in the world, with a population of approximately 20 million. Along with the neighbouring urban areas, including the cities of Navi Mumbai and Thane, it is one of the most populous urban regions in the world. Mumbai lies on the west coast of India and has a deep natural harbour. Mumbai is also the richest city in India, and has the highest GDP of any city in South or Central Asia. |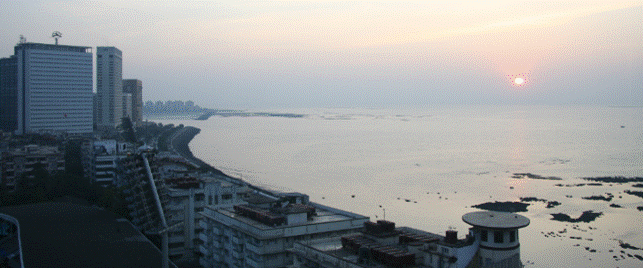 Almost two years ago India experienced its 9/11 when terrorists from Pakistan came in by sea and sneaked into Mumbai via the port areas you see in the picture above. Taj Mahal Hotel and other buildings that were attacked are located just a few meters away from the hotel window I take this picture from…

The Mumbai Old Town is built on seven islands and was once an important centre for fisheries in the northern Arabian Sea. It was later turned into an important trade centre by the Portuguese and the British. Today almost 20 million people live in Mumbai. The downtown bustling life is so dynamic and noisy that we Europeans can scarcely comprehend it…

Let me also tell you something about shopping in India, an activity almost always accompanied by haggling for the price, even in the finer shops. There are no price tags. If you are interested in an item, you ask one of the many store clerks how much it costs. Most prices start ridiculously high, even more so for me than my wife (I guess I look like a sucker). If you actually might buy the item, you try and look disgusted and see if they will lower it on their own. If they do (or if not), you offer a much lower price. They will counter with a slightly more reasonable price than the first, you respond with something above your first. This continues until one side refuses to budge and then you agree, or walk away empty-handed. I was never too good at this sort of bargaining (car dealers love guys like me) and usually let my wife do the buying.

Taxi driver waiting for new passengers at his 'Auto-rickshaw'

(three-wheeled taxi)
1

  Vibrant daily life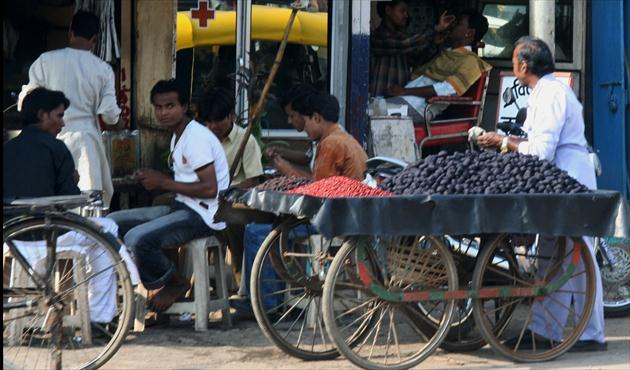 Look closely at these three pictures. Maybe you will get a better insight into how daily life is lived and experienced for many in India. Look at the men above and their little 'habitat' on a pavement in Mumbai. Inside the building a hairdresser is in full swing to take care of a customer. The room contains obviously also a small pharmacy and a café. Out on the sidewalk a waiter just started serving tea to a small group of guests, while the vegetable trader has stopped up with his trolley full of figs and nuts, probably to share a cup of tea with his friends…

The image at right shows a small family that makes its living by selling vegetables from a sidewalk. No sales boot. No desk or cash registers. They simply sit on the ground doing their business. But smile they do!

A rocky beach in downtown Mumbai. The fishermen have just come in and already sold today's catch. Now they sit on the sand to rest a bit. They smoke, drink tea, and do obviously have lots of fun together.

The contrast between the distant fast-paced world and this "timeless" world is enormous.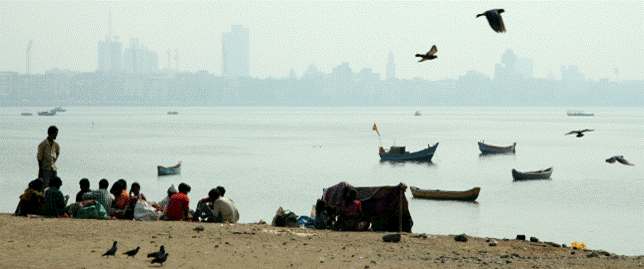 People I've met in India
My driver is a Muslim, but claims that in India there is no religious discrimination

Prof. Dr. Satya Vrat Shastri (80),

Teacher of Sanskrit:

"To see him is to like him"

This Mumbai University student is convinced that I am a famous Hollywood actor

Prof. Vachaspati Ypadhyaya,

one of India's finest scholars

Guarding the door

at our hotel

Dr. Uma Vaidya, Dept of Sanskrit at the Mumbai University

Dr. Phil. Ashok Vora,
University of New Delhi

The Minister tells me about poverty in India

The main person behind Navi Mumbai, Mr. Shri Nukul Patil





A wannabe slumdog millionaire

I meet him near his home in one of the huge Mumbai slum districts. He is out in the streets every day to sell books and magazines to tourists and residents, so there is not much time for school or family life. Due to rising population, the number of slum dwellers in Mumbai is rising every day, and it is today estimated that around 55% of the city's population lives in the slums (one billion people worldwide live in slums and the figure will likely grow to 2 billion by 2030). Even as the Indian economy remains one of the bright spots in the world showing an upward growth trajectory, around 49,000 slums continue to blight the urban landscape forcing lots of people to live in pathetic conditions.



My young friend is still optimistic as he hastens on….

  Incredible business growth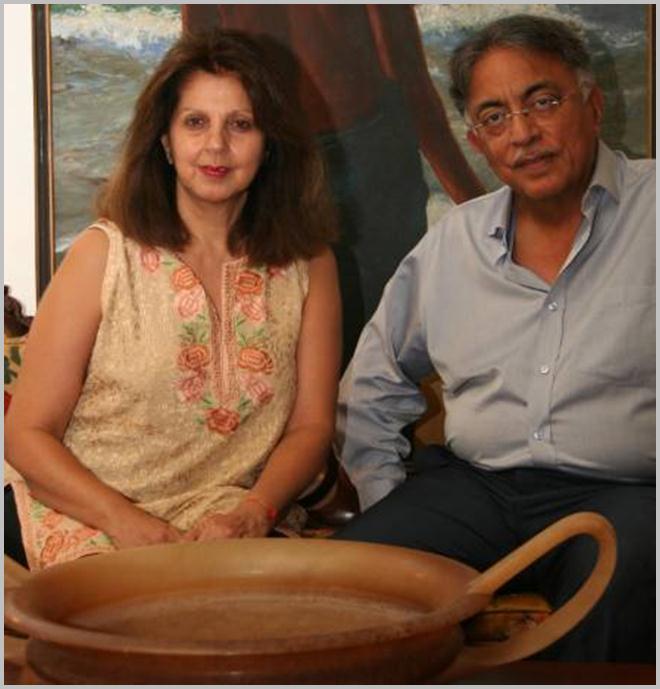 Geeta and Gulu Mirchandani in their beautiful Mumbai home


During my stay in Mumbai I get one night invited to the home of Geeta and Gulu Mirchandani. Gulu is an old acquaintance who since 1981 has developed and been in the forefront of the electronics giant ONIDA (Mirc Electronics). I consider Gulu one of the masterminds behind the impressive development India's economy has undergone over the last 30 years. He is also one of those behind the initiative 'Mumbai Angels' that provides a unique platform to start-up companies by bringing them face to face with successful entrepreneurs, professionals and executives, also helping with start-up funding. I believe this kind of support and team-work is what brings India quickly forwards in today's harsh economic climate. Ref. www.mumbaiangels.com
| | |
| --- | --- |
| | The Gross Domestic Product (GDP) in India expanded at an annual rate of 8.80 percent in the 2nd quarter of 2010. From 2004 until 2010, India's average quarterly GDP Growth was 8.37 percent reaching an historical high of 10.10 percent in September of 2006 and a record low of 5.50 percent in December of 2004. India's diverse economy encompasses traditional village farming, modern agriculture, handicrafts, a wide range of modern industries, and a multitude of services. Services are the major source of economic growth, accounting for more than half of India's output with less than one third of its labour force. The economy has posted an average growth rate of more than 7% in the decade since 1997, reducing poverty by about 10 percentage points. |

  Incredible Indian-Lithuanian relations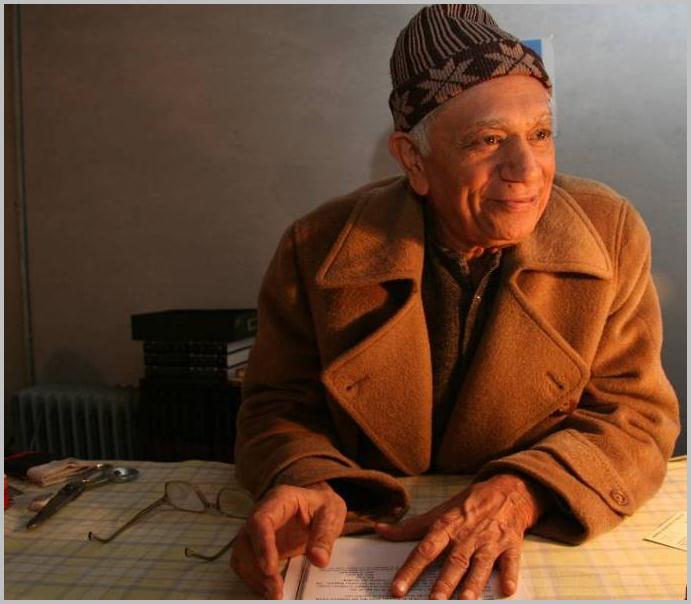 Professor Lokesh Chandra (85), one of India's leading experts on Sanskrit and Buddhism
It's early morning in Delhi. I have been invited to the small, dark office of Professor Lokesh Chandra, one of India's leading experts on Sanskrit and Buddhism. "The same year I was born, 1927, my father went to London to get a degree in Lithuanian language. He spoke the language fluently, but he never visited Lithuania," tells the elderly professor, still with his Kashmir coat and cap on despite the outside temperature of close to 300 Celsius.
I soon learn that the professor's knowledge about the connections between Old Sanskrit and Lithuanian language and ancient cultural ties between India and Lithuania is nothing but amazing. He confirms that there since ancient times have been unique ties between India and Lithuania, not only with regards to language. Also the songs, the medieval cultures and more were extraordinary closely connected to each other.
Here is what he tells me this early morning at his New Delhi office: "The very mention of Lithuanian opens up an image, a vision that gives a people their identity through language. It shows how the darkness of dreams becomes the new embodied hope. My father was stimulated and strengthened in his work on the development of Hindi by the history of Lithuanian language. It has been the eternal continuity of these people; - it rustles something deep in their being. My father felt that we in India share with our distant Lithuanian brothers the silent geography of lost frontiers. Political freedom is inseparable from language."
And the professor continues with his amazing story: "My father would relate how grandmas in the remote villages narrated folk-tales to eager grandchildren in their Lithuanian language which was despised by the Slavised nobility and punished by the Czarist regime. My father also told me how the Lithuanian daina (songs) were abandoned by the courts, but still continued to live on in the villages, faithfully preserved by the poorest people of Lithuania, guarded by the mothers of the families even during the darkest periods of Lithuania's history."
"Such was my first contact with Lithuania, in 1937, at an age of ten," smiles Professor Chandra.


  Sanskrit and Lithuanian are closely related
Since the 19th century, when the similarity between Lithuanian and Sanskrit was discovered, Lithuanians have taken a particular pride in their mother tongue as the oldest living Indo-European language. To this day, to some Lithuanians their understanding of their nationality is based on their linguistic identity. It is no surprise then that they proudly quote the French linguist Antoine Meillet, who said, that anyone who wanted to hear old Indo-European should go and listen to a Lithuanian farmer. The 19th century maxim - the older the language the better - is still alive in Lithuania.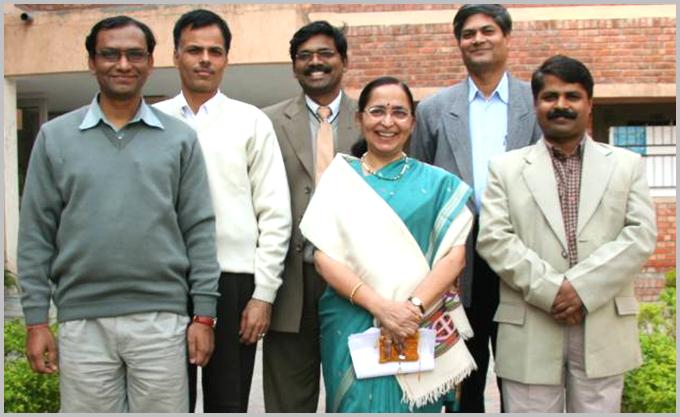 Professor Shashiprabha Kumar, and her amazing team of specialists at the Centre for Sanskrit Studies at the Jawaharlal Nehru University in New Delhi, is convinced that there is a very strong connection between Old Sanskrit and Lithuanian
It is a common belief that there is a close similarity between the Lithuanian and Sanskrit languages; Lithuanian being the European language grammatically closest to Sanskrit. It is not difficult to imagine the surprise of the scholarly world when they learned that even in their time somewhere on the Nemunas River lived a people who spoke a language as archaic in many of its forms as Sanskrit itself. Although it was not exactly true that a professor of Sanskrit could talk to Lithuanian farmers in their language, coincidences between these two languages are truly amazing, for example:
SON:           Sanskrit sunus - Lithuanian sunus 
SHEEP:        Sanskrit avis - Lithuanian avis
SOLE:          Sanskrit padas - Lithuanian padas
MAN:           Sanskrit viras - Lithuanian vyras
SMOKE:        Sanskrit dhumas - Lithuanian dumas
These Lihuanian words have not changed their forms for the last five thousand years.
The relationship between Sanskrit and Lithuanian goes even deeper. Take, for example, the Lithuanian word 'daina' that usually is translated as 'song'. The word actually comes from an Indo-European root, meaning 'to think, to remember, to ponder over'. This root is found in Sanskrit as dhi and dhya. The word also occurs in the Rigveda (ancient Indian sacred collection of Vedic Sanskrit hymns) in the sense of 'speech reflecting the inner thoughts of man'.
Apart from its Indo-European background as word and term, the 'daina' incorporates the idea of the Sun-Goddess who was married to the Moon-God, reminiscent of goddess Surya in the Rigveda.
OM (also spelled AUM) is a Hindu sacred sound that is considered the greatest of all mantras.

The syllable OM is composed of the three sounds a-u-m (in Sanskrit, the vowels a and u combine

to become o) and the symbol's threefold nature is central to its meaning.

  Mr. India in Lithuania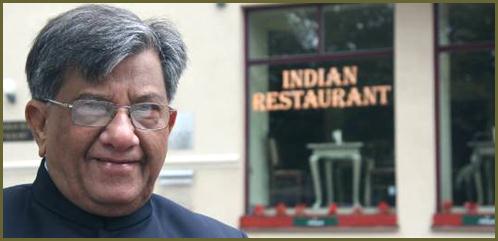 Wing Commander Rajinder Chaudhary (ret.), owner of Sue's Indian Raja in Vilnius.
It is not easy to have a conversation with Raj if you sit down at one of the outdoor tables in front of his Indian restaurant near the Cathedral Square in Vilnius city centre. 'Everyone' knows Raj, and many want to shake hands with this extraordinary gentle man when they see him. During the 15 years that have passed since he first came to Lithuania, he has become an outstanding, popular living legend and institution here in this cold country so far away from his childhood home in warm and hospitable India.
Raj was commissioned in the Indian Air Force in 1961, where he served for more than 20 years. He decided to retire in 1983. That same year he was awarded the Vasishat Seva Medal by the President of India. He joined the private sector in India in 1984 and rose to higher management positions with renowned 'business houses'. In 1993 he became the CEO of a British company for their CIS operations and moved to Moscow. In 1995 he decided to join a Dubai based group's office in Moscow, as Resident Director.
And, luckily for Lithuania, in 1997 Raj moved to Vilnius and started his own business; a restaurant with the name 'Sue's Indian Raja'. In less than three years he had set up a pan-Baltic chain with six other restaurants. His restaurant in Riga was named among the 100 best restaurants in the world.
Raj is married to Lina Skutaite-Chaudhary, a medical doctor who now works as a specialist at a hospital in the United Arabian Emirates. He has two sons, both IT professionals in the United States.
He was the Honorary Consul of India to Lithuania for the period 2007-2010.
Raj is the kind of man who does genuine honour to his country and his people. Lithuania should, for its part, feel honoured having individuals like Raj living and working in this country.