Good news, bad news for Lithuania's economy in the nearest future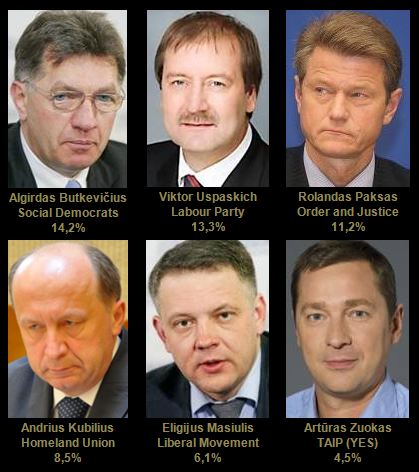 A main risk is related to the economic policy path that will be chosen by
the new government after the parliamentary election* on 14 October, where
the six political parties / leaders over are likely to gain support as shown
according to a poll from June on the website www.delfi.lt
Swedbank is out with a new 'Economic Outlook'. These are some of their forecasts for Lithuania in 2012 – 2014:
A main domestic risk is related to the economic policy path that will be chosen by the new government after the parliament election on 14 October.
Annual growth has bottomed out and will pick up slightly in the second half of this year.
Lowered forecast for 2013 by 0.2 percentage point to 4.1%, mainly due to the bleaker outlook in the euro area, which will be a drag on Lithuanian exports.
Lithuanian economy to return to close to potential only in 2014, when GDP will expand by 4.5%.
Slightly higher inflation next year, mainly due to an increase in regulated prices.
Unemployment forecast estimated to 13.2% for 2012, 11.5% for 2013 and 9.3% for 2014.
Domestic demand has in 2012 been supported by non-labour income – pensions were increased by 9.3% – and this effect will ebb next year.
The monopoly Lithuanian Gas has decided (and the regulator has agreed) to increase gas prices for households by about 22% as of July 1 this year. This decision was due to higher oil prices (the import price of gas is directly indexed to the price of oil); however, this increase now seems excessive, considering the steep decline of oil prices during the past few months. Our estimates show that this will add about 0.35 percentage point to annual inflation. The price of heating in some major cities will go up in the second half of 2012, and public transport will become more expensive.
Although it is still possible that Lithuania will meet the price stability and budget deficit Maastricht criteria in the spring of 2013, the prospects of adopting the euro in 2014 are dim because the government has not yet designated this as an official national target.
The budget deficit will decline further in 2013 and 2014, to 2% and 1% of GDP, respectively.
Tax revenues as a share of domestic demand (and GDP) have disappointed somewhat and remain close to 15%, well below the pre-crisis average of 18.3%. The government has implemented a number or reforms aimed at reducing tax evasion and the size of the shadow economy, but so far these have brought limited success.
The Nielsen "empty-pack" survey shows that in the second quarter the share of smuggled cigarettes dropped to 29.3%, down from 34.6% a year ago and a stunning 43.0% from the end of 2010. The measures taken thus far – the rotation of customs officers, taxation of goods once a person has crossed the eastern border more than five times, implementation of cashiers in covered markets – all these represent a positive progress towards a more transparent economy but have not solved the large-scale corruption and smuggling problem. The continuation of these reforms should remain the priority of the new government.
To read the full Swedbank report, go to: http://www.swedbank.lt/lt/previews/get/3199/1345536465_Swedbank_Economic_Outlook_(August_2012).pdf
* Parliamentary elections will be held in Lithuania on 14 October 2012, alongside a referendum on the construction of the new nuclear power plant. All 141 seats in the Seimas are up for election. The last elections in 2008 led to a centre-right coalition government between the Homeland Union – Lithuanian Christian Democrats, National Resurrection Party, Liberal and Centre Union, and Liberal Movement. The National Resurrection Party has since merged with the Liberal and Centre Union.There will be 34 political parties participating in the elections.