JAMES ANDREW CLARKE:


Irish horse farmer who succeeded in real estate and settled in Klaipėda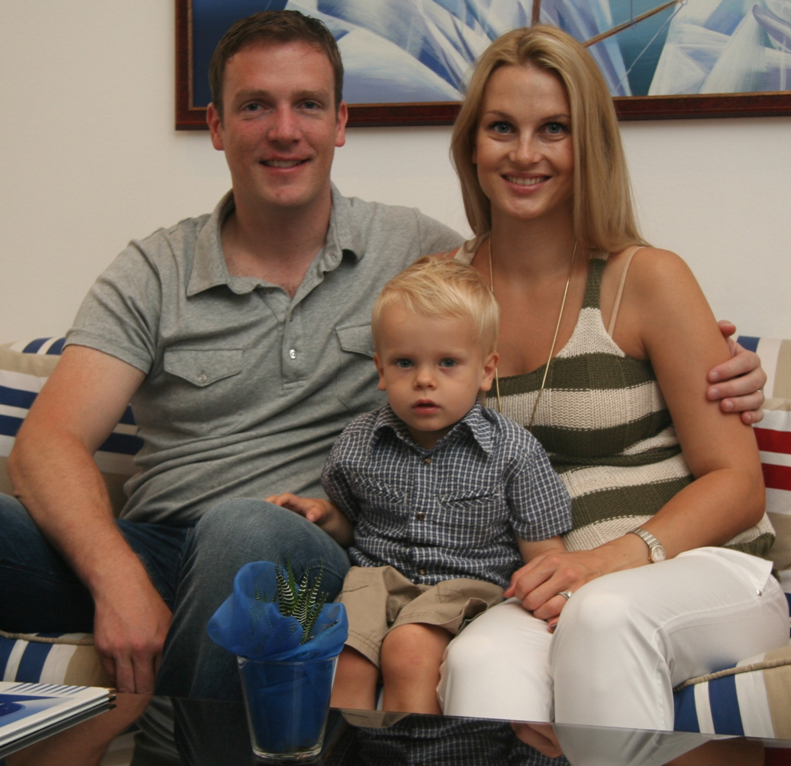 James A. Clarke (34) with wife Marina (27) and son Daniel (2).
It is a very likeable couple sitting in the sofa in front of me here in the Radisson Blu Klaipeda this Saturday morning. Young, smart, successful people who have chosen Klaipeda as their hometown and base for the business activities, James has built up here over the last few years. Their two-year-old son Daniel is running around, full of energy. Luckily I manage to snap a quick family photo the one second he sits quietly with his parents.
James was only 21 years old when he came to Klaipeda and Lithuania for the first time. The building engineer who had grown up in an Irish family farm had come here to buy horses on behalf of his uncle, Ireland's largest horse-farmer.
Something out here at the Lithuanian coast must have caught James' interest and curiosity even then, so after having travelled around and seen more of the world, he came back here in 2003. And now the business got serious.
That very same year, BNTP (Baltic Real-Estate Developments) was established in Klaipeda, where it successfully developed the first modern business park in Lithuania - Klaipeda Business Park. Since then BNTP has expanded its portfolio through developments and acquisitions to include commercial centres and land plots in Lithuania and Latvia.
James has been very active and successful in his real estate endeavours since the start-up eight years ago.

BNTP has built up a solid business reputation and got a proven track record of successful developments
and investments since the start-up in 2003. See www.bnt.lt for additional details about the company.

BNTP's 'business park' in the Klaipeda Free Economic Zone.
"It was probably a combination of caution, long-term planning and luck that made us less harder hit by the economic downturn than many others," says James, and mentions that he was particularly pleased to have sold one of the firm's major real estate projects just before the crisis hit in 2008.
Luck was also with James when he six years ago met the then 21 year old Marina. She was at that time a student of business administration at the LCC International University in Klaipeda, a well recognized teaching institution established in 1991 by a joint venture of Lithuanian, Canadian and American foundations. LCC has over those 20 years distinguished itself in the region by offering a unique, future-oriented style of education and an interactive academic environment.
Similar to many other students in Lithuania, Marina worked in a restaurant beside the studies. And it was in this restaurant that Amor one lovely evening, six years ago, decided to make a couple of James and Marina.
The love relationship between them developed over the months and years that followed, with marriage and now two-year-old Daniel as result. Daniel shall also soon become big brother to a new baby the couple is expecting later this summer...
The family also have plans ready to build their new home in Klaipeda, a villa on a hilltop overlooking the Dane River and an attractive 18-hole golf course that now has been developed a few kilometres from the city centre.
James' interests in life are, however, stretching beyond family and business. Since 2004 he has been the man behind a charity football tournament for children in the territory of his Klaipeda Business Park the last weekend of August every year. Last year 30 000 Lt was raised during the event, and the money was donated to the non-governmental non-profit public organization "The Centre for Information and Support for Large Families".
It is no big secret that football is one of James' major interests in life, and his next big plan in this respect is to unite Klaipeda's two football teams into one, thereby raising the professional level and get the team approved and activated in accordance with FIFA rules. He also wants to establish a football school for 600 pupils, and wants to build a brand new football stadium in Klaipeda.
And then there is a common concern that both James and Marina are urging for, namely to establish better kindergarten and primary school services in Klaipeda, preferably with an international flavour.
And when I see what this young couple already has managed to achieve, I am convinced that Klaipeda in the coming years will experience a small revolution and a lot of new, positive growth. New optimism is already in the air...