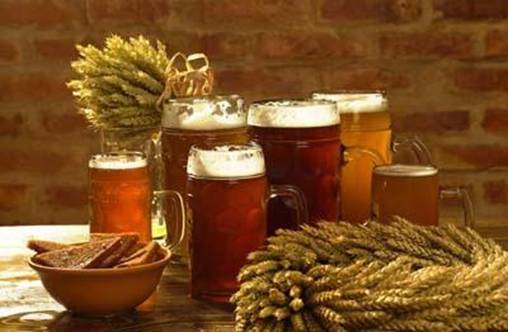 There are a number of things that make any Lithuanian swell with pride;
Rich History, Amber, Beautiful Nature, Basketball, etc.
There is, though, one that has a special place in their hearts. This source of pride is the Lithuanian Beer. Today, Lithuanians are among the best beer producers in the world, enjoying numerous international awards for the subtle taste and high quality of their drink. But is beer a truly "Lithuanian" drink and how deep are the traditions of brewing beer in Lithuania?


The earliest findings of the existence of beer go back to Egypt as early as100 B.C, the people in ancient Lithuania did not know this drink, as it became popular here only in 14th century. However, before getting to know beer, Lithuanians had been making mead. This beverage is one of the oldest drinks in the Lithuanian history. It was created by farmers, who were picking wild honey in the woods. They noticed that water mixed with honey starts fermenting if kept for a period of time. So they started to make mead, boiling honey mixed with water and special herbs. One of the best recipes for this drink is to boil honey with cherry juice. The local people believed that such kind of drink is better than any wine. Mead was widely used in Lithuania, according to numerous famous travelers who have mentioned this drink in historical chronicles.

As soon as beer started to be used, it became very popular, especially in the Northern and Eastern parts of Lithuania. Unlike these days, it wasn't a casual drink - people would make it only for holidays. Beer was mainly made from wheat and corns, or beetroots with brewer's malt. Every family had its own beer making traditions, some of which however, were known to everybody. Thus, beer had to be made by the oldest member of the family, and there was a tradition to serve it first to the family's favorite neighbor.
In the16th century, people began to make a business out of it by selling home-made beer at town markets. However, this wasn't as easy just making the beer and selling it because this trade was strictly controlled by the King. It was only he that could decide who could take up this business and who

could not. As beer was not a traditional Lithuanian drink, local beer brewers had little experience at the beginning. To solve this problem, the King invited many German brewers to Lithuania, encouraging them to share their experience in making high quality beer. Soon Lithuanians gained the required knowledge in brewing beer to become some of the best beer makers in the world, as they are today. Most breweries at that time were church owned but due to economic reasons they were soon privatized by rich landlords.

In the 20th century, during the Soviet occupation, Lithuanian beer, while still available, suffered a serious  deterioration of quality due to the fact that they had to rely on Russia to supply them with the ingredients. Also, much lower quality Russian beer was sent to Lithuania.  However some things that Russians did were met with approval. For example specialized beer bars were opened in 70s, according to a Soviet Union government's order.
With freedom restored the Lithuanian Beer companies could now produce beer to their own quality standards. Today, Lithuania is ones of the biggest producers and consumers of beer in Europe. Beer has become a truly national drink - according to the statistics, an average Lithuanian drinks 50 liters of beer per year.
Now we'll share some information about some of Lithuania's brewing companies.
Gubernija brewery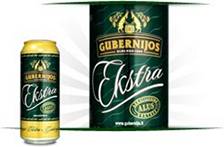 GUBERNIJA is one of the oldest industrial breweries which has evolved from the original concept of estate pub and brewery that were not only in Lithuania but in all Baltic states. At the end of the 14th century there were many pubs as well as breweries in Lithuania. Breweries and pubs were built either in private domains of noblemen or next to the estates and in the cities. Historical sources testify that brewery GUBERNIJA has been producing beer since 1665.


Švyturys Brewery

Švyturys beer brewery, established in 1784, is the oldest in Lithuania. The first medal – a prize for beer quality and taste – was received by Švyturys beer makers as early as 1883. The most prestigious ones are the gold given to Švyturio Ekstra in 2001 at the World Beer Championship (Dortmunder category) and the silver given in 2000 at the World Beer Cup (USA) (Dortmunder/European Export category) as well as the bronze medal of the World Beer Cup (USA, Aspen) of 2002 won by Švyturio Baltijos (Marzen/Octoberfest category).

Švyturys beer is deemed to be not only the best Lithuanian beer (96% of respondents, AC Nielsen survey) but also the best product of Lithuania (83% of respondents, AC Nielsen survey).
In December 2001 Švyturys and Utenos Alus beer breweries merged into Švyturys-Utenos Alus AB. In the spring of 2003 Švyturys-Utenos Alus AB was reorganised into Švyturys-Utenos Alus UAB
Kalnapilis Brewery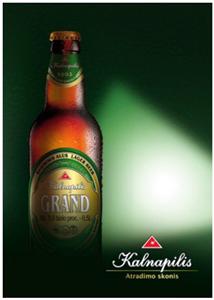 Kalnapilis was established by Albert Foight in Panevėžys in 1902. A landowner of German origin, Foight named the brewery "Bergschlösschen", meaning a small castle on the hill. In 1918, the name was changed to the Lithuanian equivalent Kalnapilis.
Kalnapilis' greatest success has been winning 2 gold awards at the World Beer Cup, the Olympics of beer competitions.
Ragutis Brewery
While the name Ragutis Brewery is not very well known, even to people living in Lithuania, the names of their beer brands are very well known. Names like "Horn", "Fortas" and "Volfas Engelman" are popular favorites here.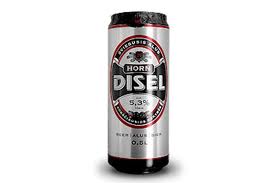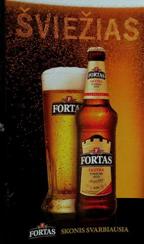 The brewery Ragutis was opened in Kaunas in 1853, after merchant Raphail Wolf started making "Wolf's beer" in his own brewery.
Tauras Brewery

The original brewery was founded in 1860 in Vilnius. The original founders were two local Jewish enterpreneurs: Abel Solowiejczyk and Iser Berg Wolf. The brewery went through many name changes over the years as a result of new ownership, wars and occupation. The company received its current name of Tauras in 1945. In 2001 Tauras Brewery was merged with Kalnapilis into AB "Kalnapilio – Tauro grupė" however you stll find the Tauras products with the Tauras labels on store shelves.