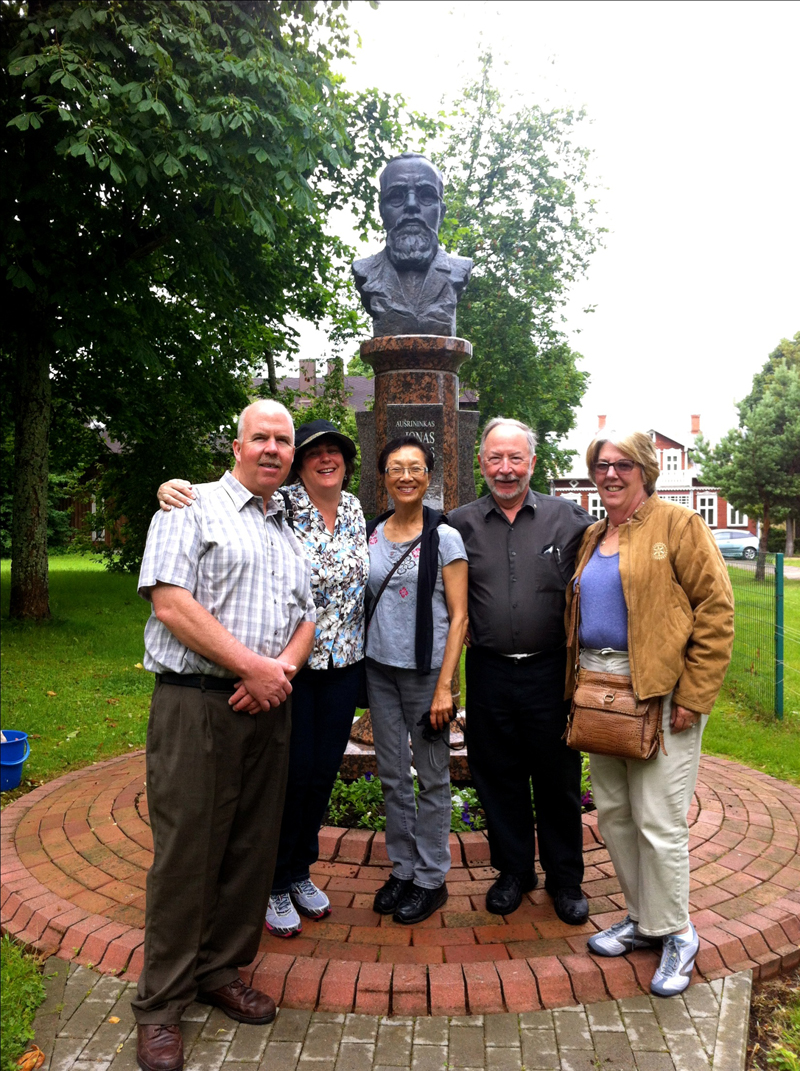 Report written by Millbrae CA Rotarian Walter Gladwin, Millbrae Rotarians, California
The basic purpose of this trip was to visit our Rotary Club's Sister City Club in Siauliai Lithuania, visit the Auksuciai Farm that our club has been supporting for several years, visit two Museums in Lithuania that have items  donated by the Sliupas family (Vytas Sliupas is a member of our Millbrae California Rotary club).
Eventually five of us started this adventure, Denis & Marciana O'Halloran, Deirdri & Walt Gladwin and Shirley Kwok. We all planned on getting to Lithuania on July 1.
Day 2 - July 2 in Vilnius, Lithuania - Have Breakfast. Coffee (Kava) is good and strong.  Shirley was delayed in Newark NJ and had to spend the night there. Her connecting flight "lost" her luggage so all she has is her carry-on. We go on our walking tour basically limited to the Old Town area, a UNESCO protected site, which is very pleasant, and maintained in a strict manner to represent the visual of the period. We then proceed to the Vilnius University Library established in 1547. A very impressive set of buildings. Next are the Gediminas Castle and its funicular lift to the top of the hill. One can see that attackers would have an extremely difficult time with this defense.
Day 3 - July 3rd Depart Vilnius and stop at the famous Trakai castle. More pictures on the road to the city of Kaunas for lunch. We visit the Pazaislis Monastery where Napoleon quartered troops on his way to Moscow 200 years ago. The horses were stabled in the church and the damage is clearly visible. One of the Nuns gives us a history lesson and surprises us with her use of a laser pointer.  In town we visit the War Museum to see the tapestry that our club member Vytautas Sliupas and his wife Vanda worked on for 10 years.  Then to the Ciurlionis Art Museum. One room is set as a music hall so we enjoy a few minutes of the recorded music. We are off to Klaipeda for the night.  Shirley's luggage still has not caught up to her.
Day 4 - July 4 – Happy Birthday USA!!! – which goes unnoticed where we are. We are going to tour the "Amber Coast" by a short ferry ride to the Curonian Spit (Kursiu Nerija), a narrow stretch of land from Klaipeda  south to the Kaliningrad (Karaliaucius) Oblast, which currently is a part of Russia. The East side (Courland Lagoon or Kursiu Marios) has fresh water; the West side is the Baltic Sea. We stop at a popular Park. There is a walking path thru the area known as the Witches Hill (Raganu Kalnas). Along this path are various wooden carved pieces depicting mythical beings, each with a story that our guide relates.  Some pieces have magical properties, one of which grants wishes. Shirley sits in one and asks for her luggage.  It takes an hour to walk the entire trail.  At the town of Nida  have lunch outdoors in a slight drizzle and a walk to the house were the Author Thomas Mann spent summers for three years.  Back to the ferry and Klaipeda. Shirley's wish at the Witches Hill comes true, her missing luggage has arrived.
Day 5 – Off to Palanga to visit the Amber Museum. Amber is the resin from Pine Trees that hardened under pressure some 20 million years ago. It sometimes will contain vegetable or small creatures imbedded in it as it formed.  See some really neat samples of carving and imbedded "bugs". We then visit the Dr. Jonas Sliupas (Vytautas' or Vytas' father) Museum and his monument. Jonas was a historical person, former Mayor, Teacher, activist, Ambassador and other roles in the country's development in the last 125 years.  Onward towards Siauliai we stop in Plateliai to visit a former USSR ICBM site. It was active until the Soviet withdrawal in 1993. They took all of the rockets, warheads and small arms. The current government is restoring the base as a historical attraction and allows self guided tours of safe portions.  Onward to Kursenai, we meet Aldas Kikutis the Director of the Auksuciai Farm we have come to visit. He leads our van thru miles of fields on a dusty road and we often lose sight of his car but not his dust. The farm, we learn, is quite large. A portion is the experimental crop development area where the Rotary Clubs have been involved. We examine the water system in the farmhouse; the fields, the refrigerated storage shed and return to the farmhouse where a large finger food banquet has been prepared. The resident Agriculture Student, Toma Bilyte, from the University of Siauliai has prepared far too much but we make a large dent. She keeps urging us to eat more. The recently grown fresh asparagus is sampled. Yummy!!!. There is a thunder storm approaching and we need to get out of here and onto a hard road. So Aldas leads us out to a highway that leads to our final stop in Siauliai. We are taken to our hotel which has been arranged by our Sister Club, Siauliai Rotary Klubas. There we are met by Rotarians, including the new President Rimundas Domarkas,  who greet us very warmly. They host us with dinner at the hotel and give us an outline of events for the next few days.  Many stories are told back and forth and a good time was had by all.
Day 6 -  We have to move to a different room today. There are athletes staying here from South Africa, Macao and elsewhere. We get picked up by our Rotarian hosts, given VIP Credentials for the World Games that start today. These are the 5th TAFISA World Games for All Games sponsored in part by the International Olympic Committee.  We go to the center of the city where the opening parade will take place. There is a fly over by two Polish Air Force jets assigned to NATO, at about 150 feet altitude and they are loud, then 6 sky divers parachute down right on the street in front of us. Wow!!!.  Off to the Hill of Crosses. It has been a memorial for many years. During the Soviet Occupation, starting in 1945, it was destroyed on a regular basis to try to Sovietize the population. Each time the local people would install new crosses at night. Finally the attempts were abandoned by the Soviets. Today there are 10s of thousands of crosses of all sizes, from 10 feet tall to one quarter inch in size. At 7PM we go to the Opening Show for the Games. Our VIP status gets us premium seating in booths. A parade of the participating Countries, an outstanding Arial act, Gymnastic performance, a fitness performance by senior citizens, folk dancing, Stilt Walkers and a good buffet dinner during all of this.
Day 7 – Nicest morning so far. We  go to the University Library to deliver a book to the Dr. Jonas Sliupas Archyvas. The book is a collection of 100 Lithuanian motive Postal Cards that Vytas sent to his family from different countries he visited during his travels. We are given a tour of the Library starting with a game of Chess in the Lobby. The board is part of the floor and the pieces are 3 feet tall and heavy. After many moves, some suggested by bystanders, the game is called a draw. We view the slide show and are shown many of the items in the Jonas Sliupas collection. Then we walk on the pedestrian boulevard which was the first ever constructed in Soviet occupied lands. We get a tour of this lovely Victorian home built in 1908 by the owner, a Mister Frenkel, of a Shoe Manufacturing business. The home was used as a hospital during the Soviet times, as the Soviet Occupation is referred to by the Lithuanians. We get a "wild" ride back to the hotel as our drivers may have had a bit too much of the beverages. 
Day 8 – We visit a Church in which is an organ that was donated by Rotarian Janet Fogarty, one of our Club's members, from her Father's Estate. There is a wedding and christening here also, a beautiful bride, he so-so, and the Priest takes time to explain, thru our interpreter, that it takes years to rebuild churches that were damaged or destroyed during the "times".  The Siauliai Rotary Klubas donated the Carrilon Bells and the Priest has them played for us. A very special treat. Back to the Hotel to pack. We leave for Vilnius in the morning.
 Day 8 –  The Rotary Club President Rimundas and the party host meet us at the hotel to wish us goodbye. We exchange good wishes and thank yous and an invitation to visit our Club again, "maybe possible" we are told. Our van arrives and we are off to Vilnius. Later we go to a below ground level restaurant with an ancient staircase that winds down and you have to duck your head a couple of times. We all order a Lithuanian meal - Deirdri has Halibut, Walter has Rabbit Pie, both very good.
 Day 9 – July 9 – We have a free morning before being shuttled to the airport.  During breakfast we hear a military band. Outside is a formation consisting of a 40 person band, a platoon of soldiers and a platoon of sailors all smartly dressed. Officers with swords. Orders are given and the formations respond. There is a large group of civilians gathered just in front of them and they proceed into the building next door to the hotel. It turns out that it is the Defense Ministry being visited by high ranking foreigners.  Just to complete the scene there are a number of guys dressed in black suits, white shirts and ties with ear pieces scattered around the area. Wana bet, Lithuanian Secret Service?  Our van is a few nervous minutes late to pick us up. The plane is a turboprop, noisy but smooth and there are no travel hitches this time.
***********************
World history as taught in our schools does not get into the level of detail as told by local guides. That is our conclusion after being in the country. The earliest mention of Lithuania dates from about 1009. At one point Lithuania ruled the area from the Baltic to the Black Sea to Moscow.
We were very satisfied with the arrangements made, the flexibility of the local guides, their punctuality and their ability to answer our off the wall questions.  In general the food was very good. The places we visited were interesting, the best were the Witches Hill and everything in and about Siauliai.   Thank you Siauliai Rotarians for having invited us!