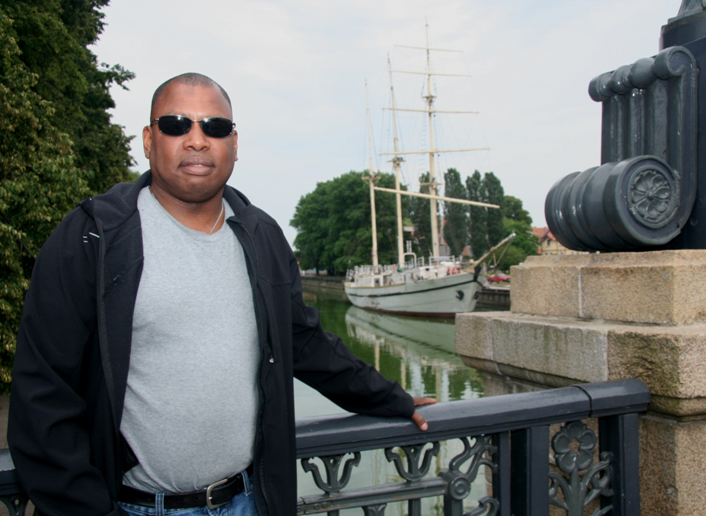 Clifford Lont (47), Chairman of Klaipeda International Business Club, has moved the long way from Suriname in South America to a much colder climate here at the Lithuanian coast.
Suriname, Suriname… I search my brain frantically for ancient geography skills ... Clifford Lont sits in front of me at a café table on the left bank of River Dane in the heart of Klaipeda. He has just told me that his native country is called Suriname, located in South America. But where? I have heard the name before, but can not visualize the location on my imaginary map and see finally no other option but to ask him...
And Clifford tells willingly about the country and city he originates from. He tells me that Suriname is a small country of less than 500.000 inhabitants, located near equator in the northeast of the South American continent, bounded by Guyana on the west, French Guyane on the east and Brazil to the south. He tells that Suriname is set in a natural tropical wilderness, a splendid combination of the Caribbean and South America, with fascinating reminders of a sometimes turbulent past Influenced by numerous cultures - African, Amerindian, Asian, Jewish and Dutch. The country was earlier a Dutch colony.
He tells me that his former homeland is dominated by mighty rivers which provide essential highways into the rainforest and jungles of the interior, which remain virtually untouched by man.
Clifford was born and grew up in Suriname's bustling capital and port city, Paramaribo, at the Suriname River estuaries.
 
Suriname is located near equator northeast in South America

 
A waterfall breaks the stillness in a lush pocket of the
Suriname rain forest
Clifford tells me that his home country got its independent when he was 11 years old, in 1975, but that a military coup five years later again put the country far back, not least financially. The other family members came gradually out of Suriname, to the former colonial 'masters' in Holland, while Clifford himself travelled to Georgia in the United States. Here he went to college and obtained eventually a bachelor's degree in sociology.
"There is a person from the time I am infinitely grateful to," tells Clifford with motion in his voice, "Ms. Deen DaySmith, the founder of the Days Inn hotels in the USA. When I came to Georgia, I was of very limited means, and she offered then to pay 80% of my studies through the first half of the 1990s. I can only hope she reads this and understands how grateful I am."
But it was not sociology that would be Clifford's further path through life. During the study period he started to take interest in the construction industry, and in 2000 he had already established his own company within this sector in the U.S. state of Georgia.
"Then, in 2000, she suddenly appeared there, in the state, the woman who would change my life completely. She had  come from her hometown Klaipeda in Lithuania to Georgia for a so-called 'work and study programme'. And to make a long story short, we fell in love, and not long after it became clear that she was pregnant. She preferred, however, not to give birth in the United States, and returned to Klaipeda. Also I finally managed to get a visa to Lithuania, and in early July exactly 10 years I set for the first time foot on this country's soil. I managed to get here just in time, because on the ninth of July 2001 our twins, a boy and a girl, were born. "Clifford describes the birth and his now ten-year-old twins with deep father's pride.
"During the ten years I now have lived here I worked in the beginning on the the farm of my father in law in the Kretinga village, later in all sorts of building professions – as a bricklayer, carpenter, electrician and plumber – and sometimes also as a teacher of English."
"Unfortunately, the marriage with my wife came to an end last year, and we are now divorced. I do, however, love my kids so much that I do not want to move from here. Although the winter cold sometimes kills me," tells the man whose skin colour and upbringing under much warmer climes do not seem entirely suited to the Klaipeda sometimes harsh climate."
Clifford is now working for a Danish company in Klaipeda, Baltic Modules, which produces wall, floor and roof elements  for residential buildings in Denmark. He tells me that his dream is to become more and more engaged in design of the buildings they are manufacturing.
"Then, in April 2010, I was elected chairman of the Klaipeda International Business Club and re-elected this year," he tells, informing me that the club now has 56 members, of which 20-25 are active. "I must admit that we first of all is a social club with networking as our core activity. But we also conduct some seminars and other, more professional-oriented activities."
"Clifford, I have two remaining questions for you this Sunday afternoon here at the river edge in Klaipeda," I say to him.

Question number 1: "Do you have something to say to all the young people who are about to leave Lithuania in an emigration flow that seems to have no end?"

Question number 2: "Have you experienced racism here in Lithuania, and what is in case your normal reaction?"
It should be noted that Clifford does not seem to be much hampered by his dark skin colour, even here where so few stand just as much out as he does. He flirts lightly with the waitress in the outdoor restaurant where we sit. He smiles and nods to people passing by. He has obviously become a familiar face to many over the years he has lived here. Then he answers my questions:
1. "Do not run away. Because by doing that you contribute to emptying your home country for dynamic young people and good workers. Stay here. Those who dare to stay behind will be the winners in the end!"
2. "Well, let me first say that many do not know that there are black people also in South America. And to those with racist tendencies I would simply say: Get rid of your taboos. We are all just human beings..."