Lithuanians will cast ballots in the second-round of national elections Sunday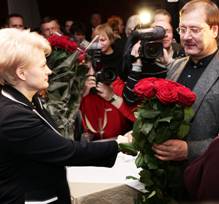 President Dalia Grybauskaite (left) openly supports the ruling coalition and has expressed doubts about the integrity of Viktor Uspaskich (right), the Russia-born Labor leader.
Lithuanians will cast ballots in the second-round of national elections Sunday in a tight race that could ultimately determine how quickly the small Baltic nation introduces the euro and whether it will build a new nuclear power plant.
Three parties across the political spectrum are hoping to emerge the winner following a close race in the first round two weeks ago. Opposition center-left parties that finished in first and second place have pledged to form a coalition that would increase social spending and postpone introducing the euro, while the ruling conservatives, who came in third, want to see Lithuania phase in the common currency in 2014 and proceed with plans to build a nuclear power plant, a plan the opposition has criticized.
The country of 3 million people saw one of Europe's worst recessions and data show that, despite economic growth, living standards continue to decline due to soaring energy costs.
Nearly half of parliament's 141 seats are up for grabs in Sunday's run-off races. After the first round on Oct 14, the populist Labor Party, founded by a Russia-born millionaire, is in front with 18 seats — compared with 16 for its Social Democrat allies and 13 for its rival conservatives from Homeland Union-Lithuanian Christian Democrats.
The Labor Party and the Social Democrats, both in the current opposition, have agreed to form a coalition with another populist group, Order and Justice, which finished fifth with six seats. All three parties campaigned on higher wages and benefits and vowed to put off the euro until the European Union can resolve the three-year old economic crisis.
However, the ruling conservatives, led by Prime Minister Andrius Kubilius, could pull off an upset. The party has 35 candidates in second round ballots and leads in many of them.
If the Homeland Union were to end up with the most seats, they would likely get the nod from President Dalia Grybauskaite to form the next government, though analysts say a second-place finish might also be enough to keep Kubilius in the driver's seat.
''If Homeland Union finishes second after the run-off, this would be a major blow not only to the Labor Party but also the emerging three-party coalition. It would immediately weaken their positions in the new Parliament,'' said Vladimiras Laucius, a political analyst at the Delfi news portal.

Read more...