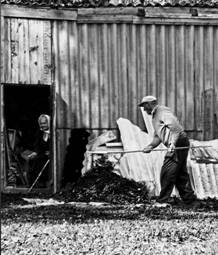 Is today's Lithuanian youth having too good a life?
In a comment to this Nellie Vin photo, titled "Once they were young and fresh as paint", Carol Luschas writes in our VilNews Facebook page

VilNews
Notes & Photos
- They are so cute! Generally speaking Lithuanians are hard workers!!! I only hope this strong work ethic can be carried on in future generations...so far that doesn't seem to be the case! :-( The youth have it too good!
- My answer to Carol was that youth in Lithuania does not have a good or easy life. Most of them, at least. The government's dramatic cuts during the financial crisis have hit hard, and therefore we see that large flows of young people are escaping from the country. There is also a significant increase in the number of young people living below the poverty line, while youth crime, trafficking, smuggling, and violence continues to increase in scope. In many ways perhaps the older couple in the picture had a better, simpler adolescence...
WHAT DO YOU THINK?

Read more, see Nellie Vin's photos