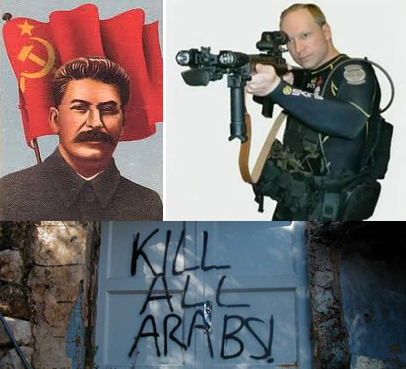 By:  Dr. Boris Bakunas, M.A., M.Ed, Ph.D.

Fact:  In a 2008 poll conducted by Rossiya State television that drew more than 50 million votes, Josef Stalin was chosen as the third most popular figure in Russian history.

Fact:  In 2011, Anders Behring Breivik massacred 69 adolescents at a Labor Party youth camp on Utoya Island, Norway shortly after bombing government buildings in Oslo where eight people were killed.  Breivik claimed that he was acting in self-defense to protect Norway from an Islamic terrorist takeover.

Fact:  Under the shield of the internet, thousands of ultra-nationalists and religious extremists openly espouse mass murder, e.g., "Go into the streets and murder those Russians and Poles, (TheKingdomofGames, 2012), "HOW ABOUT WE KILL MUSLIMS," (666MikeRochip, 2012), and "Its time to destroy America and capitalism…Soviet union live forever in our hearts!" (KenseiTakesi, 2012).

When the Soviet Union collapsed, a totalitarian regime had crumbled, but the Totalitarian Mindset -- which demands absolute conformity in thought, word, and deed – survived, and in many quarters, continues to thrive. 

How do we explain this spike in political and religious intolerance, hate-speech, and violence?  Why does the Totalitarian Mindset exist even after a century in which mass murderers like Hitler, Stalin, and Mao Zedong turned much of the globe into a mass grave?   

Inside the Totalitarian Mind

According to world-renowned psychotherapists Dr. Albert Ellis (1986) and Dr. Aaron T. Beck (1999), the primary (although not the sole) cause of war, terrorism, and hatred resides in the irrational belief-systems and primitive information-processing systems that underlie destructive emotions of anger, hostility, and rage. 

Dr. Ellis has identified several of the irrational beliefs, often implicitly held just below the surface of consciousness, that fuel religious and political fanaticism.  Here are just two:

1. "Our views of people and the universe are Absolutely and Everlasting True, and nobody deserves to live who opposes these supreme views"
2.  "Our political or religious cause is the only worthy one that should exist.  We alone can save humanity and prevent evil.  We must do anything – yes, anything – to make sure that we extirpate everyone who prevents our noble cause from prevailing!"

When provoked by failure to conform to their rigid, dogmatic beliefs, totalitarians revel in anger, vulgar vilification, threats, and brutal aggression.  Why?

First, totalitarians confuse their belief-system as well as the symbols that represent their beliefs with their identities.  They interpret any challenge to a cherished opinion or symbol as an existential threat, and react instantaneously as if they were physically attacked.   When an inflammatory video insulting the prophet Mohamed recently appeared on the internet, violent Anti-American demonstrations rocked the Islamic world.  Islamic extremists attacked the American embassy in Libya and killed four Americans, including the American ambassador. When a photograph of a Muslim accidentally setting himself ablaze as he burned an American flag was published, many Americans expressed delight.

Contrast this attitude to one Zen Buddhists display towards objects of religious worship.  Tan Hia (Tan-ka), a noted Chinese Zen master, did not hesitate to warm himself on a cold morning by the fire made of a wooden statue of Buddha – a story that is repeated in Buddhist literature to emphasize that relics and representations have no inherent sanctity or worth. 

Second, totalitarians escalate their preferences into absolute demands.  Instead of rationally telling themselves they would strongly prefer that other people see the error of their ways and changed their minds, totalitarians irrationally conclude, "Because I want others to agree with me, they absolutely must give up their foolish notions and behavior – and if they don't, it's (a) terrible, (b) I can't stand it, and (c) they must be severely punished, even tortured or killed for refusing to act as I insist.    

Is it rational to insist that all people must share identical opinions?  If other people absolutely had to agree with our views, then they would.  The very fact that a diversity of opinion exists proves that no law of the universe requires other people to be any different than the way they are.  To insist that they must is to fly in the face of reality.  Rationally, we can strongly prefer that people change, but to insist that they absolutely have is to assume that our wishes are their commands. Indeed, what a dull world this would be if everybody thought the same, looked the same, and behaved exactly the same?  Yet this is precisely the kind of society that totalitarians endeavor to create. 

Third, totalitarians revel in demonizing entire groups of people. Hitler slaughtered Jews, gypsies, Jehovah's witnesses, communists, socialists and any other group he saw as standing in his psychopathic ambition to conquer the world.  Stalin ordered the murder of all he deemed politically unreliable, including millions of peasants (kulaks) in the Ukraine and Central Asia (Conquest, 1986). Today, there are Americans and Europeans who demonize all Muslims;  Muslims who demonize all Americans, Europeans, and Israelis; and Eastern Europeans who demonize all Russians. The cycle of blame, bigotry, and butchery spirals; and the march of human misery persists.

Can Totalitarian Thinking Be Eliminated?

Both Ellis and Beck express guarded optimism that the majority of non-psychotic totalitarians can be helped to abandon their irrational beliefs through psychological counseling and education, though neither claims that the task will be easy. 

I remain skeptical that this will occur in our lifetimes. Neither the resources to train nor the logistics required to deliver psychological counseling to millions seem feasible.  Furthermore, human beings have been and remain highly fallible – and gullible – creatures.  The technology of propaganda has mushroomed as televisions and computers proliferate throughout the world.  Finally, governmental institutions and educational systems are notoriously slow to change. 

However, I do believe in the power of individual beings to exert a tremendous change in the attitudes that shape our societies and cultures.  The very instruments used to spread hate can be turned against the totalitarians to spread tolerance and respect.  Also, let us never estimate the difference that a single courageous person can make. 

In the summer of 1940, Chiune Sugihara, a Japanese diplomat in Kaunas, Lithuania saw the danger that Polish and Lithuanian Jews faced under the Nazi occupation.  Three times he dutifully asked his government to amend its stringent visa requirements in order to allow Jews to acquire exit visas and escape.  Three times, his government flatly refused. 

Finally, Chiune Sugihara decided to act.  Between 18 July and 28 August of 1940, Chiune Sugihara and his wife, Yukiko, in an extraordinary act of disobedience, began issuing transit visas on their own.  Working day and night, and often writing by hand, Chiune and Yukiko Sugihara issued 3,400 transit visas, making it possible for 6,000 Jews to escape. 

Eyewitnesses report that he continued to write visas even after boarding the train at the Kaunas Railway Station, flinging them out the window to frightened refugees as the train began to move. So desperate was he that he wrote his last visas on blank sheets of paper containing only his signature and the consulate seal. The Jewish refugees could fill them in later.  His last words as he left were:  "Please forgive me.  I cannot write anymore. I wish you the best." 

After the war, Chiune Sugihara was dismissed from his diplomatic post for his disobedience.  Today, about 40,000 descendents of the Jewish refugees are alive ("Chiune Sugihara," Wikipedia).

While it is highly unlikely we will find ourselves in a position to save as many lives as Chiune Sugihara did, let us never underestimate the lasting effects even one kind word or deed can have.

One day a teacher noticed that a teen-aged girl in his class never raised her hand to answer a question.  After speaking to her, he learned that she was terrified of making a mistake in front of her peers. He made a deal with her.  "I will give you the answer to a question I will ask tomorrow. All I want you to do is to raise your hand and answer it."  She did as he asked.  Three weeks later, her mother called him to thank him, saying that her daughter, who had failed to participate in class since the third grade, was now eagerly answering questions in all her courses. Fifteen years later, the teacher happened to see his former student at the university where he subsequently taught.  She told him that because of his encouragement, she had excelled academically and was now a school psychologist with a Master's degree and an administrative certificate.  As Mother Theresa said, "Kind words can be short and easy to speak but their echoes are truly endless." 

So what can we do to stem the tide of hatred and violence in the world today? How can we make our corner of the world a better place? Here are just a few suggestions.  I leave it to you to suggest others. 


1.  We can recognize that we ourselves are the primary instigators of our anger and rage.  As the stoic philosopher Epictetus observed nearly two thousand years ago, "It is not he who give abuse that affronts, but the view that we take of it as insulting."  Eleanor Roosevelt expressed this same insight when she wrote, "No one can make you feel inferior without your consent."  However, it is important to avoid falling into the trap of perfectionism.  All humans lose their tempers and behave poorly from time to time.  Even Epictetus admitted that after years of practice, he still occasionally fell prey to anger. 

2.  We can try to follow the Buddhist principle of right speech. Right speech means avoiding lies, deceit, slander, and malicious words.  Positively phrased, it means to tell the truth and to speak and write in a helpful way.  Anyone who makes a conscious effort to try this just for one week will notice a significant improvement in relationships with others and in one's own mood. 
3. We can try to refrain from responding aggressively to the abusive language others fling our way.  When we anger ourselves over what others say, aren't we bowing to the authority of those who vilify and condemn us?  Aren't we taking their angry words much more seriously than they merit?

Does this mean that we should passively acquiesce and remain silent when verbally abused?  I do not believe that it does.  If people call you a "fucking idiot," simply inform them that you will end the conversation if they continue to support their views with insults instead of facts.  Then give them a choice:  "Do you want to end the conversation now, or do you choose to discuss our differences in a civil manner?"  Should they choose to continue their harangue, walk away.  By ending the conversation, you will demonstrate that you are in charge.

4.  We can educate ourselves about the principles and practice of Ellis' Rational Emotive Behavior Therapy (REBT) and Beck's Cognitive Behavior Therapy (CBT). Hundreds of empirical studies have shown their effectiveness in helping people overcome a host of emotional disturbances, including anger, anxiety, depression, jealousy, and guilt ((Lyons & Woods, 1991).  These therapeutic interventions have also been shown to be effective in reducing violence and aggression in schools (Wilde, 2002).  Books and articles about REBT and CBT are readily available online.  Out of a list of 1,000 self-help books, Dr. David D. Burns' Feeling Good: The New Mood Therapy was selected as the best self-help book ever written in a survey of mental health professionals (Burns, 1999).  Research conducted at the University of Alabama has shown that simply reading Dr. Burn's book can be effective as undergoing a full course of psychotherapy (Burns, 2006).  

5. We can stop condemning our fellow human beings in toto.  While we can rate actions, we cannot assign global ratings to the personhoods of our fellow human beings or ourselves for several reasons.  First, to accurately judge another person in entirety, we would have to know every deed that person had done throughout his or her entire life.  How is that possible?  Second, we would have to be mind-readers who could see directly into a person's motives.  As Buddha, Socrates, Jesus, Spinoza, and many other great thinkers have argued, evil deeds are done out of ignorance.  Third, even if someone repeatedly commits evil acts, so long as he lives, there is still time for repentance. Before composing the famous hymn "Amazing Grace", John Newton earned his living as the captain of a slave ship.  But when he fully understood that his acts were wicked, he resigned, became a clergyman, and later wrote Thoughts upon the Slave Trade, which he sent to every member of the British Parliament.  He allied himself to William Wilberforce and helped abolish the slave trade in the British Empire.

6. We can help set an example of tolerance for others to follow.  Children learn tolerance, empathy, and kindness just like they learn to hate -- by observing the behavior of important adults in their lives.  When we show respect for diversity of opinion, reject stereotypical biases, refrain from globally rating other people for their bad behavior, appreciate cultural differences, and take an active interest in learning about the diversity of humankind, we help the younger generation understand that the world is enriched by a multiplicity of peoples just like a garden is enriched by a variety of flowers.

Will following these suggestions end the hatred and violence that pervades so many parts of the world?  Most likely, they will not.  But let us remember the old proverbs that say, "The perfect is the enemy of the good" and "A journey of a thousand miles starts with one step.  Like Voltaire's Candide, let us cultivate our own gardens.  In this way, each one of us can make our small plot on this earth a better and happier place. 

References

Beck, A. T. (1976).  Cognitive therapy and the emotional disorders.  New York: New American Library. 

Beck, A.T. (1999). Prisoners of hate. (1999). New York:  Harper Collins.

Burns, D. (1999).  Feeling good: The new mood therapy.  New York:  Harper Collins.

Burns, D. (2006).  When panic attacks:  The new-drug free anxiety therapy that can change your life.  New York:  Morgan Road Books. 

Chiune Sugihara (n.d.). In Wikipedia. Retrieved September 30, 2012, from http://en.wikipedia.org/wiki/Chiune_Sugihara.

Conquest, R. (1986).  Harvest of sorrow. New York:  Oxford University Press.
Ellis, A. (1986).  Fanaticism that may lead to a nuclear holocaust:  The Contributiions of scientific counseling and psychotherapy.  Journal of Counseling and Development. Volume 65, 146-150.

Hauck, P. (1991).  Hold your head up high. London:  Sheldon Press.

KenseiTakesi (comment, 2012). Hymn of the Soviet Anthem. Retrieved September 30, 2012, from http://www.youtube.com/watch?v=f2-zzmCmMVI.

TheKingdomofGames. (comment, 2012). Diktatura – ejo kariai.  Retrieved September 29, 2012, from http://www.youtube.com/watch?v=8Pan7oToa3w&bpctr=1348925111.

Lyons, L. C., & Woods, P. J. (1991). The efficacy of rational-emotive therapy:  A quantitative review of outcome research.  Clinical Psychology Review, 11, 357-369.
Wilde, J. (2002). Anger management in schools:  Alternatives to student violence. Lanham, Maryland:  Scarecrow Education.

666MikeRochip. (comment, 2012). PA mufti:  Muslims will kill jews in the name of islam.  Retrieved September 29, 21012, from http://www.youtube.com/watch?v=kDoV8ZL9Xkc.