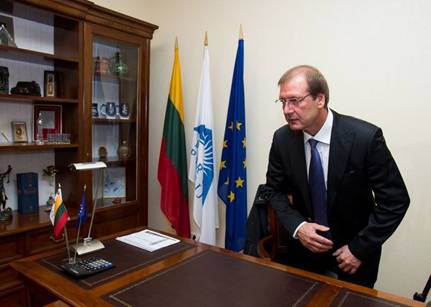 Photo: Irmantas Gelūnas/15 min
Less than ten years have passed since Lithuanian media seriously started to tell us about Viktor Uspaskich, the Russian who moved to Lithuania in the late 1980s to work as a welder, later becoming a successful businessman and politician. We learned about a businessman who paid wages to his employees as cash in envelopes, we heard that he was Gazprom's long arm into Lithuania and that big dollar amounts were smuggled from Moscow via Riga to Lithuania to bribe institutions and voters to help build up the political party he was in the process of establishing, a party which in 2004 led him right to the top in that year's parliamentary elections.
We heard that he was a Russian spy with the special task of undermining the Lithuanian economy and its advancing toward association with the EU and NATO, and that the 'cucumber firm' he had established in the small town Kėdainiai west of Kaunas was only a cover for his much bigger escapades in sales of Russian natural gas to Europe and helping to create more Russian influence on political decision-making in Lithuania and later also in the EU.
Viktor Uspaskich succeeded in establishing his Labour party in 2003 and became a strong force in the 2004 government of PM Algirdas Brazauskas. According to reports, Uspaskich, proposed that Brazauskas should keep the prime minister's seat in return for allowing Uspaskich, to become deputy prime minister.  Brazauskas rejected the informal bid, saying he did not want "to be a tool in Uspaskich's hands and assume responsibility for mistakes made by the new administration." 
In 2006 this government split and Mr Uspaskich himself disappeared to Russia. This followed leaks that prosecutors were investigating several lurid claims, notably that the party was taking kickbacks from European Union grants, that it had breached campaign-finance limits in the 2004 election and that it had taken money from Russia. Mr Uspaskich said he was not responsible for book-keeping, and that the attacks on his party were purely political.
In 2007 Uspaskich returned to Lithuania and, in 2008, he was again elected to parliament , however stripped of the immunity he had acquired. The European Parliament later did the same thing, which Uspaskich labeled as undemocratic. 
In 2009 Mr. Uspaskich was elected to the European Parliament whereupon Lithuanian authorities asked the EU Parliament to waive his parliamentary immunity. This was refused, leading to a sharp exchange of words between MEP Vytautas Landsbergis and the European Parliament's Sir Graham Watson as late as in 2011.
Then this year's election comes, and Uspaskich is again on top in spite of all the accusations, investigations and turbulence he has been in the centre of for almost 10 years now. President Dalia Grybauskaite reportedly does not want to name the Russian businessman as prime minister and he, it is said, does not especially yearn for the position because he wouldn't have time for his businesses. In addition, as noted by the most famous Lithuanian political commentator, Rimvydas Valatka, no prime minister in Lithuania has ever gained popularity while in office – rather the opposite. "And he [Uspaskich] needs to start playing various games, so that he could play the savior," Valatka said, asserting that a coalition of social democrats (former communists) will play the role of those who will do unpopular things.
A look at the country's demographics suggests a possible explanation for why Uspaskich won. For the past 15 years almost one million people, especially the young and enterprising, have left the country. The older ones who remain would prefer to vote for Uspaskich or someone else who promised them security. The pre-election debate, therefore, revolved around a hike in the minimum wage.
Then, just before the second round of the 2012 election, it becomes known that Lithuania's Prosecutor General's Officer has charged the Labour Party, its leader Viktor Uspaskich, Labour MP Vytautas Gapšys, candidate in the ongoing Seimas elections Vitalija Vonzutaitė, as well as the party's former accountant Marina Liutkevičienė with fraud in the party's fraudulent bookkeeping case.
The prosecutor said that the Labour Party's financial documentation for the 2004-2006 period failed to include about LTL 25 million (EUR 7.3 million) in income and about LTL 23 million in spending related to property, commitments, and structural changes. The party also allegedly failed to pay taxes of around LTL 4 million.
Uspaskich is facing up to 8 years in prison. He strongly denies all charges.
What is the truth and who exactly is this man?