A world class novel

and Oscar worthy film

 

 
| | |
| --- | --- |
| Internationally-renowned Lithuanian film director Tomas Donela, behind the film Farewell |  Anatanas Sileika, Canadian-Lithuanian author of the highly-acclaimed novel Underground  |
By Jon Platakis, National Lithuanian American Hall of Fame
Electricity filled the air as the audience packed the main hall of the Balzekas Museum of Lithuanian Culture in Chicago, Illinois on Saturday, November 3, 2012. 
As Jon Platakis, founder and chairman of the National Lithuanian American Hall of Fame which sponsored the event, began his introduction, first, second, and third generation Lithuanian Americans, along with a contingent of students from Daley College, sat in eager anticipation.    
The first to speak was Anatanas Sileika, Canadian-Lithuanian author of the highly-acclaimed novel Underground.  He would be followed by internationally-renowned Lithuanian director Tomas Donela, whose film Farewell captured the admiration of critics and viewers at the Sundance competitions, and the Silver Crane Awards in Lithuania. 
"Even today the western world is unaware of the plight of post-war Eastern Europe," Sileika said.  "As the West joyously celebrated the end of World War Two, there were no celebrations in Eastern Europe, where a half century of brutal Soviet occupation, mass deportations, and summary executions on a mass scale were about to begin."
Courageous Lithuanian men and women, anticipating assistance from the United States and its ally Great Britain, by the tens of thousands stormed into the forests to begin what would be the longest and fiercest war of resistance of 20th century Europe. Despite the massive onslaught of the Red Army, Lithuanian partisans effectively controlled most of the countryside until 1949.
Sileika's novel Underground tells this chilling story of love and war. The novel's main character, Lukas, is loosely based on Lithuania's most famous partisan, Juozas Luksa.
During his presentation, Sileika read an excerpt from his novel in which Elena, the woman Lukas loves, elicits a promise from him in exchange for joining the armed resistance, a vow that portends the novel's stunning climax.
The second speaker, Tomas Donela, could not contain his excitement over acquiring, through the efforts of National Lithuanian American Hall of Fame, the rights to Underground. Donela has the pedigree to make an Oscar worthy film as his latest efforts include, a short film, The Boy and the Sea, and a full-length feature film, Farewell, that have garnered international critical acclaim.
Donela stressed that, "This should not be a Donela project, but a project with the participation of the entire Lithuanian community." Further, he said, "It is not only important to support this film project financially, but to also help preserve our history and let the general public know about the supreme sacrifices made by the Lithuanian partisans in laying the foundation for a free Lithuania."
The night before the event, author and director met in person for the first time at a Lithuanian restaurant and eagerly discussed their plans for making this the most important Lithuanian film to emerge on the international scene.
Their excitement was capped by the enthusiastic reception they received from the audience at the Balzekas Museum as well as by the follow-up presentation at the Lithuanian World Center in Lemont   Among those in attendance at the Balzekas Museum was Agne Vertelkaite, Cultural and Economic Affairs Officer at the Lithuanian Consulate in Chicago.  "I am pleased," commented Vertelkaite, "That Underground was written to stir interest in an uninformed audience, and even more pleased that this novel will be brought to the cinematic screen, as it is time for the western world to learn historical facts that have been submerged in the fog of time for far to long."
The National Lithuanian American Hall of Fame has made a commitment to initiate and coordinate all fundraising efforts in support of this educational and historic film project. For information on the many ways you can support this project, please contact the National Lithuanian American Hall of Fame through its website, www.lithhof.org, or email at admin@lithhof.org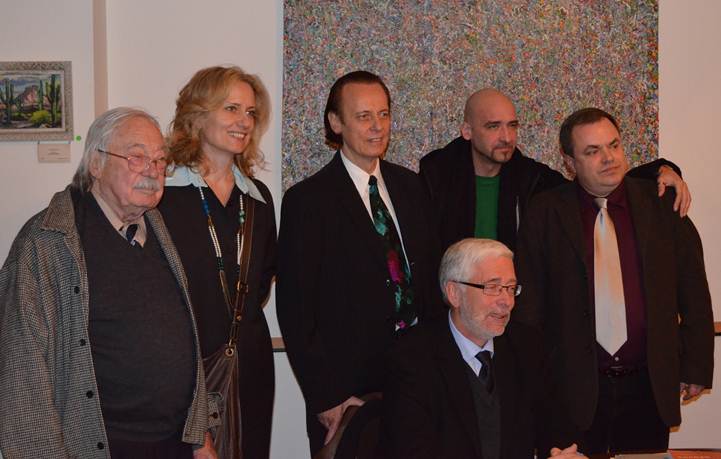 At the book & film presentation, standing, left to right: Stanley Balzekas Jr., Sigita Balzekas, Jon Platakis, Justinas Steponavicius, Tomas Donela. Sitting: Antanas Sileika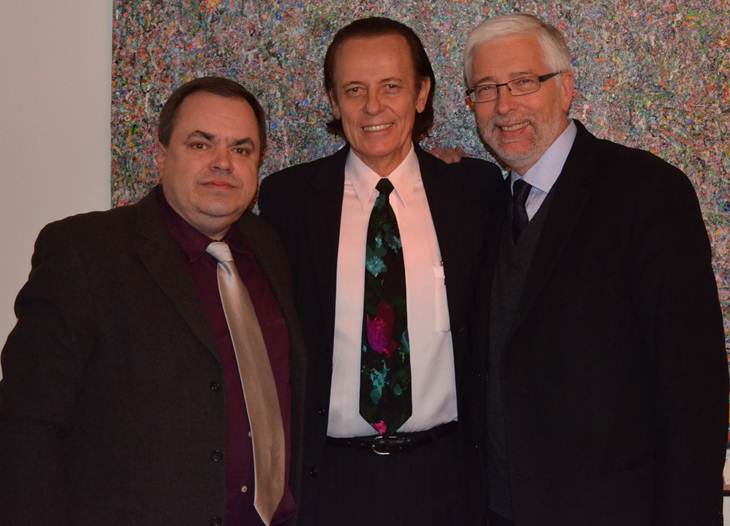 At the book & film presentation, l to r: Tomas Donela, Jon Platakis, Antanas Sileika