Looking for a hotel in Kaunas?


Try 'House of Thunder'
(Perkūno Namai)
To read more reviews and book a room in this or other
Kaunas hotels, go to Booking.com on top of this page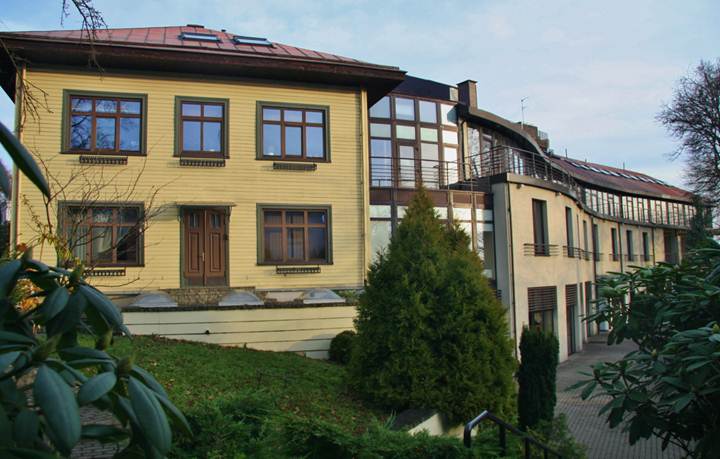 My preferred hotel in Kaunas. The family owned Hotel Perkūno Namai is beautifully located on a hilltop just outside Kaunas centre, surrounded by an amazingly attractive garden. The house to the left in the picture was built for the family in the 1930s. Perkūno Namai means House of Thunder.
Text and photos: Aage Myhre
Surrounded by centennial oaks Perkūno Namai just outside Kaunas centre has been a family owned and run hotel for 18 years, since 1994. The hotel also includes a high class international restaurant.
The hotel family has its long time roots from up here in Žaliakalnis – the Green Hill – where the site belonged to the present owners grand and great-grandparents. The family house adjoining the hotel was designed in 1930 by a family friend architect, a promoter of functionalism in Lithuania, Vytautas Landsbergis-Žemkalnis (father of today's famous music professor and politician, Vytautas Landsbergis).
"We are very proud of the hotel's well-groomed landscape: a rhododendron grove and an oak-tree hillock invigorate our guests, family members and staff all year round," tells today's director and co-owner Vidimantas Žekas when I sit down with him for a talk.
"Our 50-seat restaurant offers creative and stylish cuisine and a quiet atmosphere. My sister Ingrida and I normally welcome our guests personally, treating them to a cup of coffee. We receive our guests as family members and some repeated visitors have become our family friends."
Mr. Žekas has great pride in his hotel, telling me what one of his recent guests told: "I like this place because once you pass the gate you enter a totally different world under the oak-trees with birds singing above romantic benches surrounded by flowers. It is an Italian court-yard in the middle of Kaunas, a welcoming retreat from the world's turmoil."
The hotel includes 29 rooms: 2 deluxe rooms, 6 junior suites, 11 single rooms, and 10 double rooms (with twin beds or a double-bed). All rooms meet international first-class hotel standards. Here you will find everything you need for rest and work: TV sets, direct-dial telephones, mini bars, safe deposit boxes, free wireless internet connection, hair dryers and comfortable en suite bathrooms with heated anti-slip floor. Should you prefer a comfy king size bed, just order it in advance and you will find it ready upon arrival.
Perkūno Namai images
Photos: Aage Myhre