Kitron to invest in Kaunas
instead of China, Norway
One of the leading electronics manufacturing services suppliers in Scandinavia – Kitron – will expand its manufacturing facility in Lithuanian city Kaunas, and invest almost six million euros into this project, the Invest in Lithuania reports.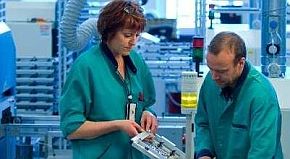 The expansion strategy of the Norwegian company in Lithuania encompasses an increase in its production capacity, the creation of 60 new job openings and an improvement to the company's revenue by 40%, writes LETA/ELTA.
In Kaunas, Kitron already produces electronic control systems for high-speed rail vehicles and electric grass mowers, electronic circuits for ultrasound devices, scientific equipment for seabed research, mobile blood test devices, smart grid/automatic meter reading systems and other electronic equipment.
"To win this expansion project, Lithuania competed with the US, Norway and China, all of which are well-known to Norwegian investors as countries where they have already established manufacturing facilities. Our country [Lithuania] was chosen because of its convenient location for logistics, the low costs of labor, and the resources to ensure production quality. Since the Norwegian company also supplies its goods to the defense and medical equipment industries, qualitative criteria were important to the decision on location," said the Managing Director of Kitron Lithuania, Mindaugas Sestokas.
Kitron is also looking to install a new production line and to set up a warehouse for Kitron group suppliers. Such a storage facility would be in line with LEAN system management principles, i.e., advancing the efficiency of the management of manufacturing processes.
Additional 290,000 euros will be dedicated to shared value investments, i.e., corporate practices that do not only enhance the company's competitiveness, but also contribute to the social welfare, such as cooperation with educational or other institutions. The development of innovative products and prototypes in the new production line would call for electronic engineering competencies that are still barely nurtured in Lithuania. Therefore, the company is ready to strengthen its ties with local universities, in particular with the Kaunas University of Technology. This cooperation foresees the reinforcement of study programs and the advancement of the university's technological research facilities.
Under the scheme of the European Union's financial instrument Invest LT +, which promotes foreign investments in high value-added manufacturing and services, the company will receive 1.3 million euros in financial support.
Kitron delivers product solutions to some very well-known companies around the globe, including the Swedish vehicle manufacturer and supplier Volvo, the international Canadian aviation and transport company Bombardier, as well as the biggest supplier worldwide of forestry and horticulture equipment Husqvarna.