Kaunas – the taste of real Lithuania!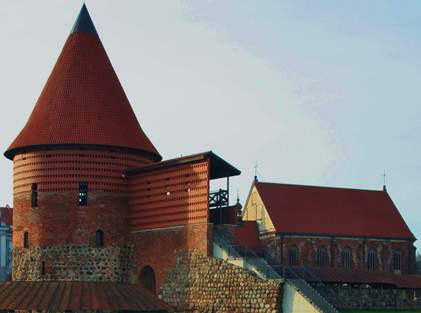 By Arnas Menciūnas,
Kauno turizmo informacijos centras ir konferencijų biuras
arnas@kaunastic.lt
Welcome to Kaunas, the city which has mostly preserved the national character of the country, offering plenty of activities to everyone. Visit the heart of Lithuania and experience it's unique atmosphere:
Feast here! Kaunas is home to a variety of festivals and events, including the famous Kaunas Jazz festival, Hanza days, Operetta, Pažaislis Classical Music festival, Bike show, Kaunas city days, Songs festival (listed by UNESCO), International Modern Dance Festival and much more.
Visit! The remarkable Old Town which is a collection of ancient architectural monuments: the remnants of the 14th century with remains of Kaunas castle, the buildings of the Middle Ages in the Gothic and the Art Déco styles. The Kaunas Fortress is a valuable military heritage composed of a number of constructions that used to be a military complex. There are nine Forts around the city and the IXth Fort serves a museum. The macabre collection of nearly 3,000 devils at the Devils' Museum and the exhibitions showing the unique artistic styles of composer and painter M. K. Ciurlionis, as well as J. Maciunas initiator of the avant-garde Fluxus art movement.
Taste it! The centre-piece of Lithuanian cuisine is dark rye bread. It is shown a great respect and even called "holy" and Lithuanians link many beliefs and magic with it. The great opportunity to taste it is to have soup in a bread bowl. Lithuanian drinks have very old traditions, to get to know them the "Stumbras" museum offers a guided tour of the history and tasting of strong drinks. Among the multitude of things that make any Lithuanian swell with pride (rich history, amber, beautiful nature, basketball, etc.), there is one that has a special place in his heart. This source of pride is the Lithuanian Beer.
Make a wish! The beautiful confluence of two biggest Lithuanian rivers is well known for a magical saying - the Nemunas river is a male and the Neris is a female . The meeting of two rivers is considered as a marriage of a couple. Two rivers meet in Kaunas, they join and never split up! For those who want their dreams to come true it's a right place to go on rendezvous.
See it! The whole Lithuania in one place is in the open air museum in Rumšiškės, which is the biggest open air museum in Eastern Europe. The museum with its collection of authentic wooden villages represents different regions of Lithuania: Zemaitija, Aukstaitija, Dzukija, Suvalkija and Lithuania Minor.
Ride on it! The Funicular - a unique mean of transportation, is still in use today, including the genuine pre-war wagon, wooden seats, and stop platforms. Even today the funicular takes people up to the hill, from which the panorama of the Kaunas city centre and Old town is wide open. Kaunas is the only city among Baltic States, where such means of transportation is available.
Sail! The biggest man-made water basin in Lithuania, which is surrounded by a wonderful landscape. Kaunas Sea is a perfect place for water activities. So see you on the deck!
If you want to feel the real Lithuanian spirit, visit Kaunas and discover it.
The heart of Lithuanian culture, tradition and history is just waiting to be discovered.
Hotel news in 2012
IBIS KAUNAS CENTRE (opened in April, 2012)
The Ibis Kaunas Centre hotel is located in the centre of Kaunas, within walking distance to the historic Old Town, close to railway and bus station and easy access to the highway to International Kaunas Airport. Ideal for business and leisure stays where guests can explore the city of Kaunas. It has 125 air-conditioned rooms with free Internet access, conference facilities, a bar serving snacks 24/7 and onsite parking. Our restaurant, The Oopen will delight you with pasta & grill dishes.
Accor is the world's number-one and Europe's leading hotel operator. It has 440,000 rooms in nearly 3,500 hotels in 92 countries. Its extensive brand portfolio – encompassing Sofitel, Pullman, MGallery, Grand Mercure, Novotel, Suite Novotel, Mercur, Adagio, ibis, ibis Styles, Adagio Access, ibis budget and hotelF1 – provides a comprehensive range of options across the luxury to economy spectrum.
Hotel and Eco center BABILONAS
2012 years 22 th. of June renovated hotel "Babilonas" was opened and now it's not only hotel, but and eco-tourism center. The rooms radiate a feeling of coziness created by modern wooden windows, curtains made from Lithuanian linen and the breathtaking panoramas of the city and  the surrounding landscape. We can offer 50 high-quality German and American bikes, which can travel in urban areas and long distances. In formed package are included active entertainment, meals, transportation.
Kaunas tourism information center and conference bureau offers original ways to get to know Kaunas. Unique guided tours allow you to glimpse the real charm of the city and see things that you never expected! Every visitor can choose These excurions: "Kaunas Compliments Women", "The Old Town secrets in Kaunas", "Strong alcohol degustation in Factory "Stumbras", "Beer Route in Kaunas (excursion and degustation)", "Basketball history in Kaunas", "Sweet Kaunas",, "Spirit of Kaunas Catacombs", "Kaunas – Provisional Capital".