Commemorating January 1991


Oslo and Vilnius
become twin cities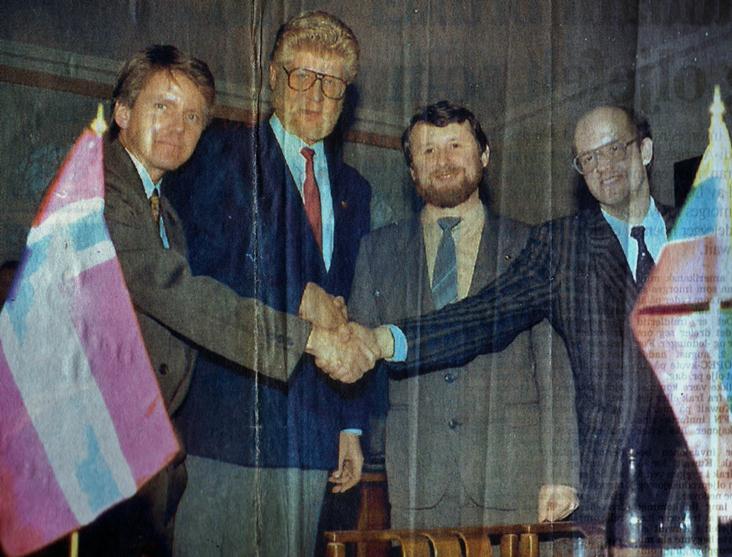 21 January 1991: Soviet military vehicles dominated the streets of Vilnius. Dag Andersen and I presented a letter from Oslo Municipality, signed by Mayor Michael Tetzschner. Oslo offered Vilnius to become its first friendship city in the West. The letter was enthusiastically received by the Vilnius Mayor Arunas Grumadas and Deputy Mayor
Regimantas Ciupaila. Photo: Aftenposten, Norway.
Aage Myhre, VilNews Editor-in-Chief
aage.myhre@VilNews.com
We were two Norwegians working very much with Lithuanian affairs during autumn/winter of 1990-91, Dag Andersen and me. During our visit to Vilnius in January 1991, we showed our respect to President Vytautas Landsbergis in his Parliament office and worked with journalists to spread the message about the Soviet assault to the world.
We also brought with us a letter from the City Council Leader of Oslo, Michael Tetzschner inviting the Mayor of Vilnius to sign a sister city agreement. We handed the letter over to Mayor Arunas Grumadas on 21 January while Soviet troops were standing around in the streets and armoured vehicles roared around us. 
The twin city agreement was signed a few months later, and Oslo became thus the first Western city to enter into such an agreement with Vilnius. I saw it as an important symbol of friendship and solidarity at a difficult time for a country under tremendous pressure and terrible abuse from Lithuania's power loving neighbour to the east. 
 

OSLO 

The Oslo coat of arms is almost 700 years old. It shows the patron saint, of Oslo, St. Hallvard, sitting on a throne decorated with two lions' heads with a halo around his head. In front of the throne lies the woman whom he tried to protect. In one hand he holds the three arrows which killed both him and the woman.
In the other hand he holds a millstone which was tied around his neck before his body was thrown into the Drammen fjord.

 

VILNIUS 


The Vilnius coat of arms shows St. Christopher (Kristupas) wading in water, carrying infant Jesus on his shoulders. The coat of arms was given to the city in the seventh year of its existence, in 1330. 

In pagan times, until the end of the 14th century, the Vilnius coat of arms featured Titan Alkis, hero of Lithuanian ancient tales, carrying his wife Janteryte on his shoulders across the river.

 
During 1991 I came back to Lithuania several times. I saw more, understood more. The country began in earnest to fascinate me. I was also in Vilnius during the failed coup in Moscow in August 1991, again thrilling days. On the morning of 30 August 1991 I was probably the first person in modern times who got a Lithuanian visa that was legally accepted internationally, stamped into my Norwegian passport. Early morning the 30th of August 1991, the day when the Lithuanian migration authorities finally could do so in accordance with international rules.
The Soviet Union was finally a horror of the past. Also formally, Lithuania was once again a free and independent country.  50 years of abuse and oppression was over!
Vilnius images, winter 1990-91 
Heavy tanks were used by the Soviet forces when they attacked the TV tower and the Parliament building in Vilnius on 13 January 1991 (left). They were met by a wall of unarmed people who refused to allow the intruders to again take control of their homeland. Inside the city they used armoured vehicles on rubber wheels (below). It was a bizarre, almost surreal experience to always hear the noise, feel the ground tremble when we were in meetings or trying to get a meal in one of the city's few restaurants. 

 

We often did our eating and drinking in Hotel Lietuva, in the so-called 'Black Bar', where only western, hard currencies were accepted. This bar was the centre for international media those January days. Every night we heard stories about how television crews and journalists had experienced rather harsh confrontations with the Soviet military units.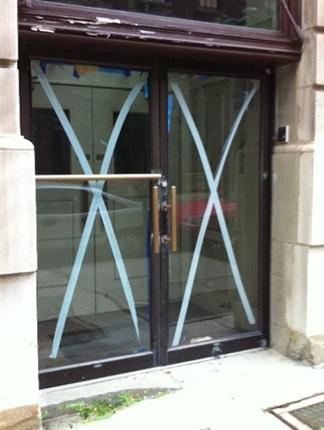 Windows all over Vilnius were taped like this those
January days, in order not to break when the heavy
Soviet vehicles passed by.
 

ABOVE: During my first visit to Lithuania, in November 1990, I took this picture at Rotušes Square (Town Hall Square) in Vilnius. This was probably the very last picture ever made of the statue of Vincas Mickevičius-Kapsukas here. Next morning he had been knocked down by local activists...

Vincas Mickevičius-Kapsukas was a communist leader, born 1880 in Būdviečiai, Vilkaviškis district, dead 1935 in Moscow. He was a political activist, fighting Tsar Russia, one of the founders and leaders of the Communist Party of Lithuania and the Lithuanian Soviet Socialist Republic (1918–1919).

After the WWII Soviet occupation of Lithuania, his student Antanas Sniečkus (see our article http://vilnews.com/?p=6598) propagated Mickevičius' personality cult. In his honour the city of Marijampolė was renamed Kapsukas (1956–1989) and Vilnius University (1955–1990) bore his name. Two large sculptures of Mickevičius were erected in Vilnius: one here, in front of the Vilnius Town Hall (1962) and another, depicting Mickevičius with Lenin, in Antakalnis (1979).

LEFT: You can today find the statue of Mickevičius-Kapsukas in the Grutas Park in Southern Lithuania. The park is the repository of old Soviet era statues and artefacts that were removed from public places when Soviet occupation of Lithuania ended.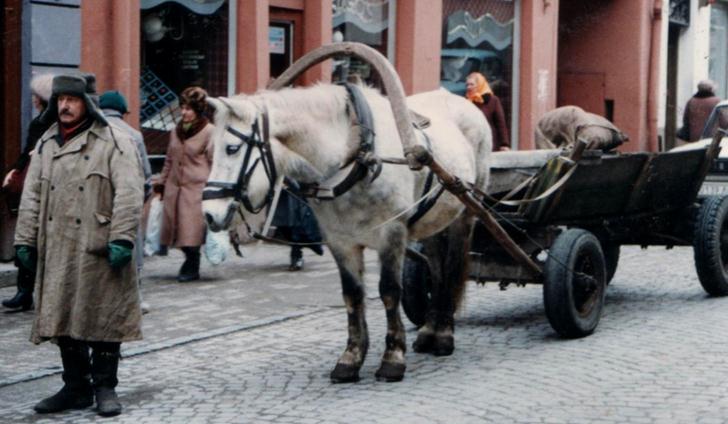 Delivery of coal to properties in Pilies g. right in the centre of Vilnius, with horses, 22 years ago. 
People picked the coal up in burlap sacks. Other times the horse driver was simply shovelling
the coal out on the sidewalk in front of the buildings on his ordering list.
Photo: Aage Myhre.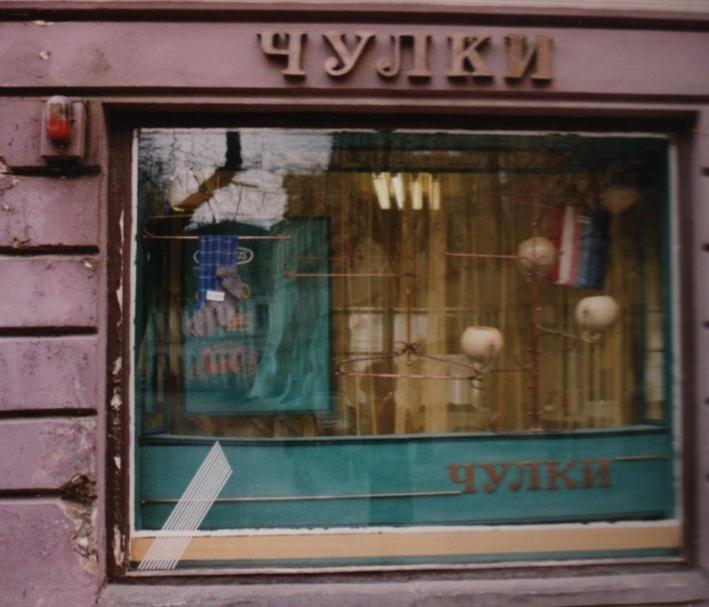 One of the few shop windows in Vilnius in 1990-91.
Photo: Aage Myhre.  
We came via Riga
We were a small group of Norwegians who travelled from Oslo to Vilnius a few days after the infamous Soviet attack and its killings on the 13th of January 1991. It was originally planned as a larger delegation, with parliamentarians, but they had to postpone their trip due to the death of our Norwegian King Olav.
We came to Vilnius via Copenhagen and Riga, whereto Scandinavian Airlines as the first western airline had established a route a few months earlier. Travel insurance cover was 400% higher than normal. The Baltic States were now defined as a war zone.
In Riga we first visited the Radio and Television House. The smoke from the many bonfires around the building lay like a blanket over the area, with a penetrating but good smell of firewood. It was an impressive sight to see the thousands of Latvians who camped around the territory in tents and primitive shelters to protect the freedom of peaceful broadcast against the Soviet perpetrators.
Inside Riga's Old Town there were equally many bonfires and barricades, especially around the Latvian parliament building. Our delegation was given entrance passes, and that night we stood inside the building to show our support and talking to MPs and others who stayed there, many of them around the clock.
In the evening we experienced a rather startling example of the Soviet propaganda machinery when there on the TV news from Moscow was informed that Soviet soldiers had just moved in and taken control of the Parliament and Riga city. Not a single soldier was to see, neither inside nor outside the building, but this was a stunning reminder of how disinformation and propaganda are important parts of any war or conflict.
It was dangerous to embark on the road those days, but the Latvian Customs agreed to drive us, in their red jeeps, to the Lithuanian border next morning. On the Lithuanian side of the border, which still was not established with checkpoints, we were picked up by Lithuanian Lada cars, and not long after we were on the way to Vilnius. We passed convoys of Soviet military vehicles, but arrived without being stopped or subjected to interrogation of any kind.
Our main mission of the trip began…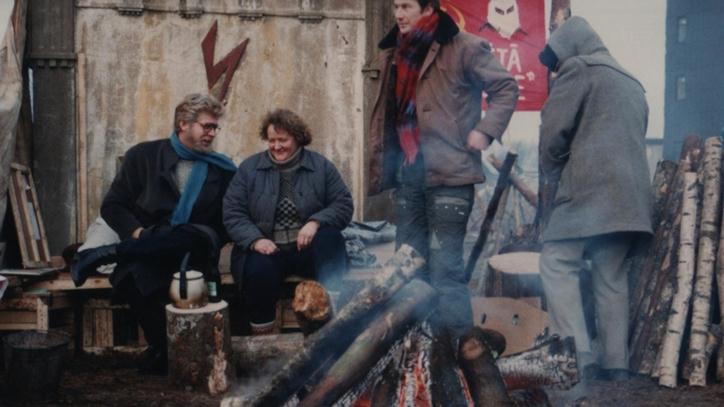 We, our Norwegian team, together with journalists travelled to Latvia and Lithuania as soon as we could after the Soviet attack in January 1991. The Balts refused to accept the Soviet invasion. They did their utmost to protect their governments and media. Here we are with 'activists' in Riga. For several weeks they made bonfires, staying here in tents night after night to demonstrate against the new Soviet assault.
Photo: Aage Myhre, January 1991.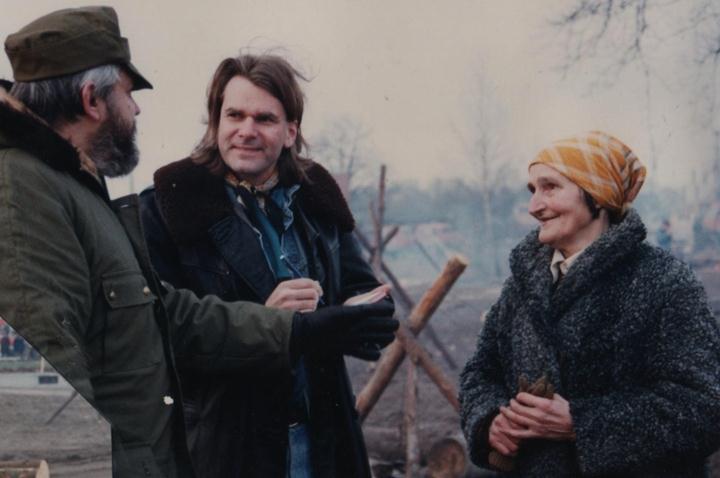 Without the intense media coverage that took place in January 1991, the outcome could well have become different. The Soviet occupiers could have re-taken control of the Baltic States. Here a journalist from Norwegian Aftenposten interviewing the leader of the Latvian border guards. The international press made a huge effort to make the world know about the Soviet atrocities.
Photo: Aage Myhre, January 1991.
Lithuania – Norway, a strong alliance also today!