| | |
| --- | --- |
|   | Great Britain is green & glorious |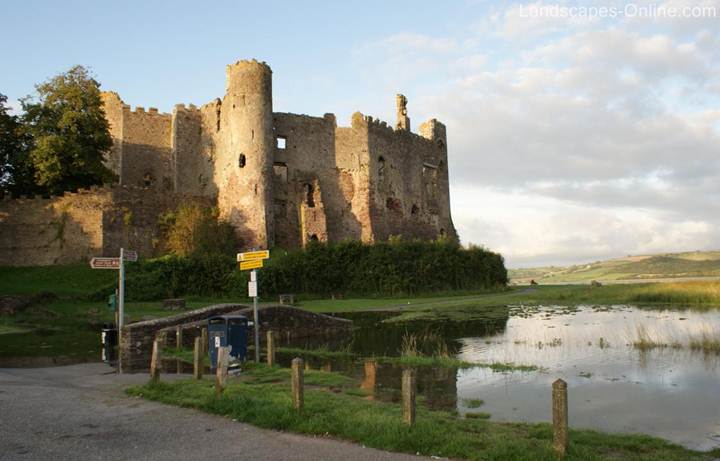 Laugharne Castle in Wales.
Photo: www.landscapes-online.com  
The United Kingdom

The United Kingdom includes the island of Great Britain, the north-eastern part of the island of Ireland and many smaller islands. Northern Ireland is the only part of the UK that shares a land border with another sovereign state—the Republic of Ireland. Apart from this land border the UK is surrounded by the Atlantic Ocean, the North Sea, the English Channel and the Irish Sea.

The United Kingdom is a unitary state governed under a constitutional monarchy and a parliamentary system, with its seat of government in the capital city of London. It is a country in its own right and consists of four countries: England, Northern Ireland, Scotland and Wales. There are three devolved national administrations, each with varying powers, situated in Belfast, Cardiff and Edinburgh; the capitals of Northern Ireland, Wales and Scotland respectively. Associated with the UK, but not constitutionally part of it, are three Crown Dependencies. The United Kingdom has fourteen overseas territories. These are remnants of the British Empire which, at its height in 1922, encompassed almost a quarter of the world's land surface and was the largest empire in history. British influence can still be observed in the language, culture and legal systems of many of its former territories. The UK is a developed country and has the world's seventh-largest economy by nominal GDP and seventh-largest economy by purchasing power parity. It was the world's first industrialised country and the world's foremost power during the 19th and early 20th centuries.

Queen Elizabeth II is the head of state of the UK as well as of fifteen other independent Commonwealth countries. The monarch itself is symbolic rather than political, and only has "the right to be consulted, the right to encourage, and the right to warn". The United Kingdom has an uncodified constitution, as do only three other countries in the world. The Constitution of the United Kingdom thus consists mostly of a collection of disparate written sources, including statutes, judge-made case law and international treaties, together with constitutional conventions. As there is no technical difference between ordinary statutes and "constitutional law" the UK Parliament can perform "constitutional reform" simply by passing Acts of Parliament and thus has the political power to change or abolish almost any written or unwritten element of the constitution. However, no Parliament can pass laws that future Parliaments cannot change.


Queen Elizabeth II.


The Palace of Westminster, seat of both houses of the Parliament of the United Kingdom. 
London
| | |
| --- | --- |
| | It is November. I'm on my way to London from Dover, in my own car. A bit weird to drive on the left side of the road. But London is fantastic, one of my absolute favourite cities in the world. Especially now that Christmas is approaching. This is the city to visit for Christmas shopping and much, much more. The special light. Lavishly decorated stores on Oxford Street. Good smell from every street corner. A pint at The White Lion in Covent Garden... |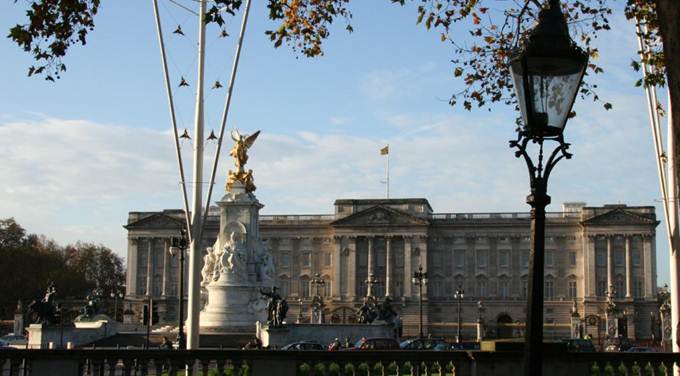 Buckingham Palace, the Queen's home.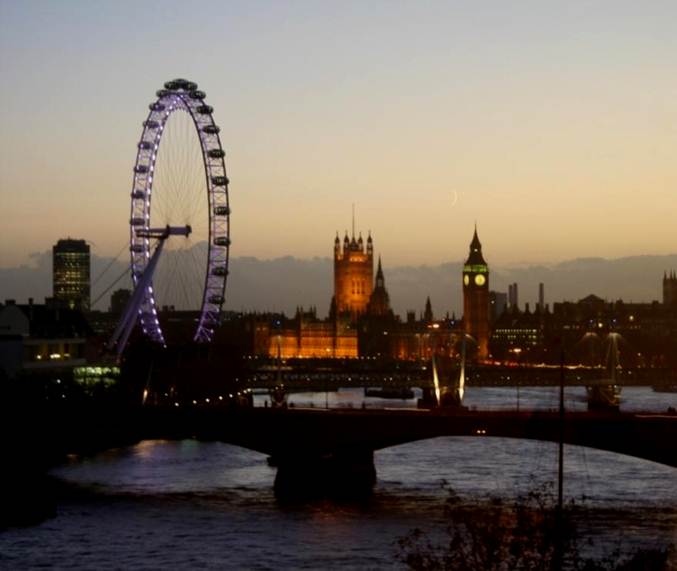 River Thames.
Photos: Aage Myhre
London is made up of buildings from many different architectural styles. Most were built after the great fire of1666. Tower of London, Westminster Abbey and some Tudor houses are fine exceptions. The famous architect Christopher Wren (1632-1723), was responsible for many great buildings after the fire. 500 churches, among others. In the 18th and 19 century, known financial institutions grew up, not least the Royal Exchange and Bank of England. From the early 20th century, it is worth mentioning the Old Bailey (criminal court for England andWales). In 1960, the Barbican Estate was erected. Lloyd's 80-century skyscraper and 'the Gerikin' from 2004 are exciting new additions.

A late autumn walk in the park next to The Mall, on our way to Buckingham Palace.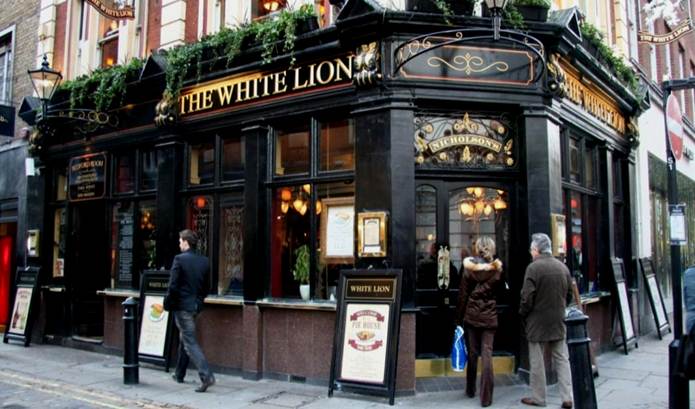 The White Lion pub in Covent Garden.
Photos: Aage Myhre.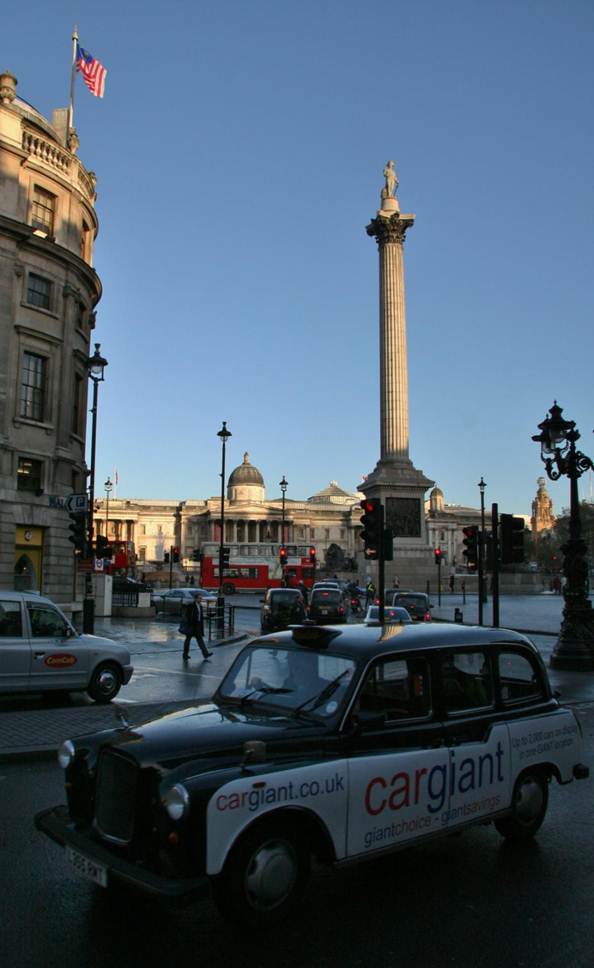 Trafalger Square and the Nelson's Column that is guarded by four lion statues at its base.
Photo: Aage Myhre.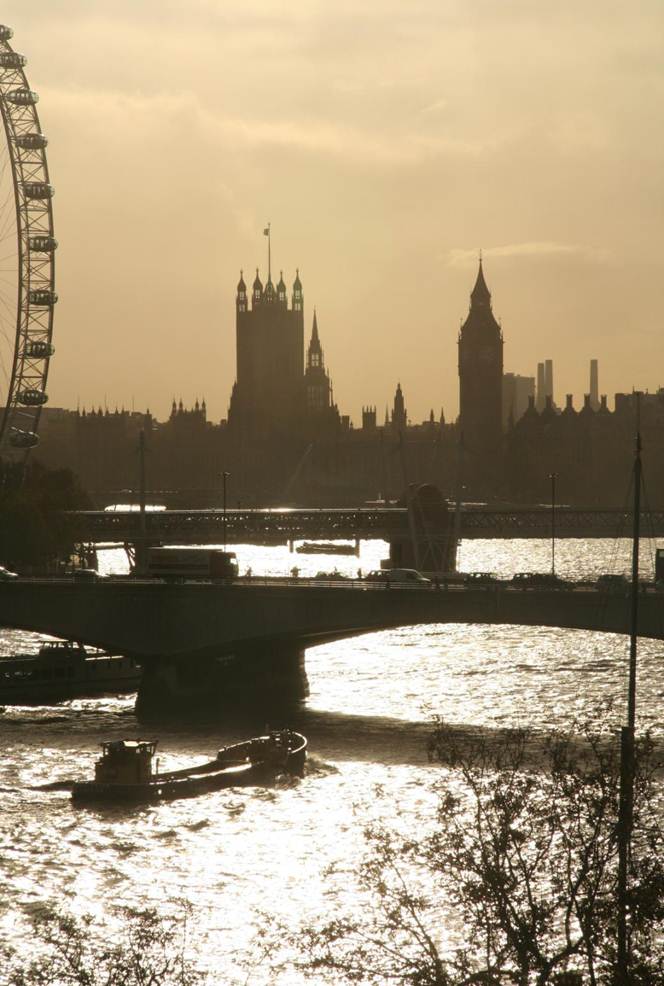 River Thames.
Photos: Aage Myhre

Lithuanians in the UK
Following Lithuania's Independence and especially after European Union and NATO membership more and more Lithuanians have chosen to live and work in the United Kingdom. There are more than 100,000 Lithuanians in London and over 200, 000 in the UK. The largest Lithuanian communities can be found in London, Birmingham, Manchester, Nottingham, Bradford, and in Scotland. As a result of this, there are numerous Lithuanian organisations (such as a Lithuanian newspaper, schools and Lithuanian Churches) working in the UK. If you are interested in practicing your Lithuanian or just would like to meet Lithuanians, to know more about our culture and traditions, or even to participate in some cultural events, why not try looking at these two websites:
www.lithuanianembassy.co.uk – this is the Lithuanian Embassy's page on cultural events in the UK. This is the best place to look for information on various events.
www.headleypark.co.uk - Headley Park estate belongs to the Lithuanian community and is the hub of all cultural activities. So, if you want to experience St. John's Day, Christmas or any other celebrations Lithuanian style you should contact them and ask for more info. Headley Estate also has a hotel, a Lithuanian food restaurant and a camping site with a lake full of fish nearby which is ideal for a summer weekend break.
www.britanijoslietuviai.co.uk - official website for Lithuanian association in the UK.
www.toplanguagecommunity.com/lithuanian-portal/ - this is a Lithuanian community site for Lithuanian speaking people in London, UK and Ireland. The site is available in both Lithuanian and English.
Lithuanian Communities in the UK
www.jkljs.ahost.lt - Lithuanian Youth Community in the UK
www.midlitcom.org - Midlands Lithuanian community
bhamlietuviai.org Lithuanian community in Birmingham
www.manchesteris.org - Lithuanian community in Manchester
www.lithuanianchamber.co.uk - Lithuanian chamber of commerce in the UK
Lithuanian Schools in the UK
www.lithuanianembassy.co.uk
www.britanijoslietuviai.co.uk/lituanistines_mokyklos.html
Religious Organisations
Lithuanian church in London:
Londono lietuvių Šv.Kazimiero bažnyčia
21 The Oval, Hackney Road, London E2 9DT. Tel: 020 7739 8735
E-mail: ptverijonas@btinternet.com Website: www.londonas.co.uk
Religious and cultural hub in Nottingham, lead by Lithuanian Marian fathers:
Židinys
Lithuanian Marian Fathers, 16 Hound Road
West Bridgford, Nottingham NG2 6AH. Tel.: 01159821892
Music
Lithuanian folk group, Saduto 
www.saduto.com/en/aboutus
Saduto was established in 2005. Group members gather every Friday evening at 8:00pm in St. John's church, Stratford, London. Everyone is invited.
Rock group, Vital Mission
Website: www.ferrum.lt/f/grupes/128
Lithuanian Scouts in the UK
The Lithuanian scouts movement in the UK started back in 1948. The first camp was organised in 1950, Darley Moor, Derbyshire.
It currently has about 50 members ranging from 8 to 70 years old. They meet every second month and have a camp in Headley Park during summer months.
Lithuanian scouts have their magazine 'Budėkime' which is published three times a year.
Lithuanian Basketball Team in the UK
The Lithuanian basketball team, Gintaras
www.gintaras.co.uk/content/view/4/16/lang,english/
Currently, Lithuanian BC (playing in London Metropolitan Basketball League) is on the top of the Men's Premier League 2008-2009 table. Results can be viewed here:
www.basketballinlondon.co.uk/london_metropolitan_basketball_league/league_fixtures_&_results/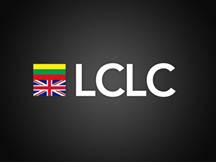 Lithuanian City of London Club
Lithuanian City of London Club is a members-only non-profit organisation established in late 2006 under the honorary patronage of H.E. Vygaudas Usackas, the Ambassador of the Republic of Lithuania.
The members of the Club are Lithuanian professionals (or professionals with ties/interests in Lithuania) based in London from a wide array of careers and pursuits, predominantly from the City.
The Club members get together for social networking, sporting and charitable events as well as for a wide array of topical discussions with business, political and other leaders from Lithuania and UK to foster professional and intellectual interaction between Club members and Lithuanian society. The Club is also building links with other organisations in the UK and actively participates in a number of initiatives and events in the Lithuanian community in London.
Currently the Club unites close to 200 members and partners who get together on a regular basis. LCLC Pub Social drinks are every last Thursday of the month. For more information about the Club and our activities, please email info@litcityclub.co.uk
The Club's President: Daumantas Mockus, president@litcityclub.co.uk
The Board: Rasa Balsytė, Darius Daubaras, Raminta Dereškevičiūtė, Ieva Šatkutė
LCLC Newsletter
You are welcome to read the 2nd issue of LCLC's Newsletter! With this publication, the Club aims to keep members, alumni, friends and other stakeholders abreast of LCLC's latest developments, news and adventures. And there have been aplenty! For those who missed the 1st issue - a small recap.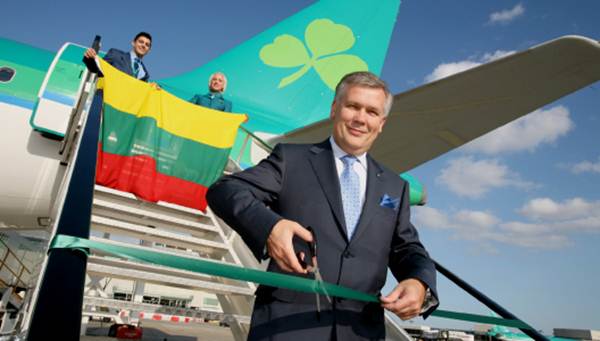 Aer Lingus launched services to Vilnius from its London Gatwick last year. Cutting the ribbon in the photo is Dr. Oskaras Jusys, the Lithuanian ambassador to the UK.
 

Cambridge University is consistently ranked one of the top ten in the world

The city of Cambridge is a university town and the administrative centre of the county of Cambridgeshire, England. It lies in East Anglia about 50 miles (80 km) north of London. Cambridge is at the heart of the high-technology centre known as Silicon Fen – a play on Silicon Valley and the fens surrounding the city. Cambridge is well known as the home of the University of Cambridge, which has been consistently ranked one of the top ten universities in the world. The university includes the renowned Cavendish Laboratory, King's College Chapel, and the Cambridge University Library. The Cambridge skyline is dominated by the last two buildings, along with the chimney of Addenbrooke's Hospital in the far south of the city and St John's College Chapel tower in the north. According to the United Kingdom Census 2001, the city's population was 108,863 (including 22,153 students).

Cambridge University Lithuanian Society [CULS]
Cambridge University Lithuanian Society is predominantly Lithuanian, but also welcomes everyone from any background. The society goal is to promote Lithuanian culture as well as to take part in cultural interchange. We have several meetings each term and organise social events for broader audience. We are looking forward to seeing you. www.cu-ls.org/?lang=en

 

 
 
 
Robin Hood and the Sherwood Forest
When we continue north to the city of Leeds a road sign with the name of Nottingham shows up, I decide to take a detour into the Sherwood Forest, Robin Hood's famous habitat. Sherwood Forest is a Royal Forest in Nottinghamshire that is famous through its historical association with the legendary outlaw archer who took from the rich and gave to the poor here, right in the heart of medieval England. This very attractive forest lands attracts 500,000 tourists annually, including many from around the world. Visitor numbers have increased significantly since the launch of the BBC's Robin Hood television series in 2006.
The park hosts the annual Robin Hood Festival for a week each summer. This event recreates a medieval atmosphere and features the major characters from the Robin Hood legend. The week's entertainment includes jousters and strolling players, dressed in medieval attire, in addition to a medieval encampment complete with jesters, musicians, rat-catchers, alchemists and fire eaters.
 

The New Adventures of Robin Hood was filmed in Lithuania

The New Adventures of Robin Hood is a 1997-1998 live action TV series on Turner Network Television. It was filmed in Vilnius, Lithuania and produced and distributed by Dune Productions, M6, and Warner Bros. International.

 

Robin Hood was a heroic outlaw in English folklore. A highly skilled archer and swordsman, he is known for "robbing from the rich and giving to the poor", assisted by a group of fellow outlaws known as his "Merry Men". Traditionally, Robin Hood and his men are depicted wearing Lincoln green clothes. The origin of the legend is claimed by some to have stemmed from actual outlaws, or from ballads or tales of outlaws.

Robin Hood became a popular folk figure in the medieval period continuing through to modern literature, films and television. In the earliest sources, Robin Hood is a yeoman, but he was often later portrayed as an aristocrat wrongfully dispossessed of his lands and made into an outlaw by an unscrupulous sheriff. In popular culture, Robin Hood and his band of Merry men are usually portrayed as living in Sherwood Forest, in Nottinghamshire, where much of the action in the early ballads takes place. So does the very first recorded Robin Hood rhyme, four lines from the early 15th century, beginning: "Robyn hode in scherewode stod." However, the overall picture from the surviving early ballads and other early references suggest that Robin Hood may have been based in the Barnsdale area of what is now South Yorkshire (which borders Nottinghamshire).

 
Leeds has England's most romantic castle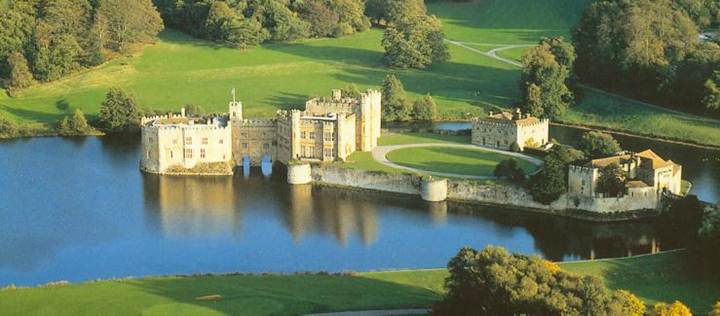 Leeds Castle, acclaimed as the most romantic castle in England.
Photo: www.castles.org.
Our journey north continues. We arrive in Leeds, a city and metropolitan borough in West Yorkshire. In 2001 Leeds' main urban subdivision had a population of 443,247, while the entire city has a population of 798,800 (2011 est.), making it the 30th-most populous city in the European Union. Leeds is the cultural, financial and commercial heart of the West Yorkshire Urban Area, which at the 2001 census had a population of 1.5 million, and the Leeds-Bradford Metropolitan Area, of which Leeds is the integral part, had a population of around 2.3 million, making it the fourth-largest metropolitan area in the United Kingdom. In addition, the Leeds city region, an economic area with Leeds at its core, had a population of 2.9 million. Leeds is the UK's largest centre for business, legal, and financial services outside London, and its office market is the best in Europe for value. Leeds is considered a Gamma World City, alongside cities such as Rotterdam, Phoenix, St. Petersburg and Valencia.
 

 

 

 

From Leeds to Lithuania for mushy pea beer

My grandparents came from Kowno (now more often known as Kaunas) in Lithuania. I have long wanted to visit Lithuania, and recently I did. Programs and wars have all but erased the culture I tasted as a child in Leeds, and my grandparents knew in Kaunas, but I did manage to see mead being made, and to sample the richly honeyish, herbal result. The old brewery building still stood, a tiny brick tower that may be unique in Lithuania, but would not look out of place in the Black Country. It is at Stakliskes, between Kaunas and Vilnius, the capital. Its product is simply called Lithuanian Mead (Lietuviskas Midus).

Read more at: http://www.beerhunter.com/documents/19133-000921.html

 
Manchester hosts the oldest Lithuanian club in the UK
From Leeds our trip goes west, to Manchester. Here we find that there is a Lithuanian club with own premises in the city since the end of 1948, though the club as an organization has been in operation since 1925. It is the oldest Lithuanian organization in the UK. Manchester is a city and metropolitan borough in Greater Manchester, England. According to the Office for National Statistics, the 2010 mid-year population estimate for Manchester was 498,800. Manchester began to expand "at an astonishing rate" around the turn of the 19th century, brought on by a boom in textile manufacture during the Industrial Revolution, and resulted in it becoming the world's first industrialised city. An early 19th-century factory building boom transformed Manchester from a township into a major mill town and borough that was granted city status in 1853. In 1894 the Manchester Ship Canal was built, creating the Port of Manchester.

The city is notable for its culture, music scene, scientific and engineering output, media links and sporting connections. Manchester's sports clubs include Premier League football teams, Manchester City and Manchester United. Manchester was also the site of the world's first railway station.

 
Liverpool – birthplace of The Beatles

The Albert Dock is one of the biggest tourist attractions in Liverpool.

 

We have arrived in Liverpool – at the famous Mersey river and  the shores of the Irish Sea on England's western coast.

The popularity of The Beatles, Gerry and the Pacemakers and other groups from the Merseybeat era have made Liverpool famous, and contributes a lot to the city's status as a tourist destination. Some may say that football also has played a role...

Liverpool is a city and metropolitan borough of Merseyside, along the eastern side of the Mersey Estuary. It was founded as a borough in 1207 and was granted city status in 1880. As of 2001 Liverpool had a population of 435,500, and lies at the centre of the wider Liverpool Urban Area, which had a population of 816,216.
Historically a part of Lancashire, the urbanisation and expansion of Liverpool were both largely brought about by the city's status as a major port. By the 18th century, trade from the West Indies, Ireland and mainland Europe coupled with close links with the Atlantic Slave Trade furthered the economic expansion of Liverpool. By the early 19th century, 40% of the world's trade passed through Liverpool's docks, contributing to Liverpool's rise as a major city.
Inhabitants of Liverpool are referred to as Liverpudlians but are also colloquially known as "Scousers", in reference to the local dish known as "scouse", a form of stew. The word "Scouse" has also become synonymous with the Liverpool accent and dialect. Liverpool's status as a port city has contributed to its diverse population, which, historically, were drawn from a wide range of peoples, cultures, and religions, particularly those from Ireland. The city is also home to the oldest Black African community in the country and the oldest Chinese community in Europe.
Several areas of the city centre were granted World Heritage Site status by UNESCO in 2004. Referred to as the Liverpool Maritime Mercantile City, the site comprises six separate locations in the city including the Pier Head, Albert Dock and William Brown Street and includes many of the city's most famous landmarks.

Liverpool is the home of two Premier League football clubs, Liverpool F.C. and Everton F.C.. Matches between the two clubs are known as the Merseyside derby.


Liverpool was the birthplace of the Beatles
 

Liverpool companies invited to Lithuania

 

Invest Lithuania was last October hosting a seminar at Liverpool Chamber of Commerce to introduce the advantages, opportunities and support available to UK companies interested in developing their business in Lithuania. It was a multi-sector seminar but particularly relevant to those working in IT, bioscience, financial services and manufacturing companies considering investing in R&D.

The seminar had a range of high quality speakers who introduced the Lithuanian market, its workforce and its competitive advantage as well as an overview of the support available to UK companies looking to invest in Lithuania. The speakers also gave detailed overviews of particular sectors and shared their experiences of working in Lithuania as well as giving the audience an opportunity to ask questions.

This seminar was part of a series run by CC Baltic on behalf of Invest Lithuania, who were also holding seminars in Aberdeen and Teesside. The seminars are directed to companies interested in finding out why Lithuania today is considered one of the best places in Europe to develop business.

Please contact Anatasia Zencika (Anastasia@ccbaltic.eu) or the International Trade Team (export@liverpoolchamber.org.uk) for more information.

 


Anatasia Zencika
The Beatles was discovered and managed by a Lithuanian Jew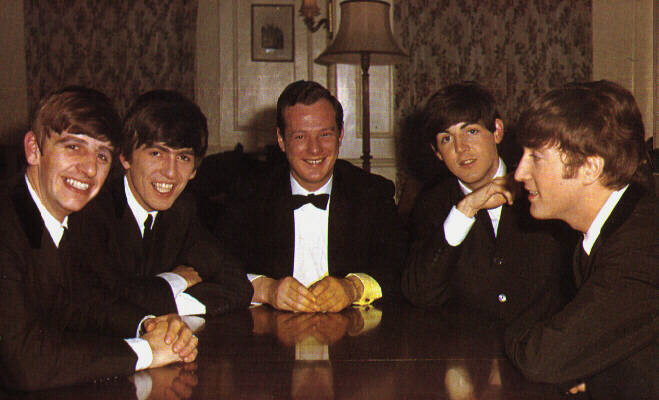 Brian Epstein with The Beatles. 
Brian Epstein (1934-1967) was the man who discovered the Beatles, and guided them to mega-stardom, making them the most successful musical artists of all time. Without Brian, the Beatles as we came to know them, simply wouldn't have existed.  In 1965, both Paul McCartney and George Harrison, on being awarded their M.B.E.s by the Queen, said "M.B.E. stands for Mr. Brian Epstein." 
Brian Samuel Epstein was an English music entrepreneur, and is best known for being the manager of The Beatles up until his death. In 1961 Brian Epstein saw the new band for the first time at The Cavern Club in Liverpool. After the concert he went to speak to them and offered to manage them. On 10th. December 1961 it was decided that Brian Epstein should be the manager of The Beatles, and a contract was signed on 24th. January, 1962. He secured a record contract for them with EMI, and, on the request of John Lennon, Paul McCartney, and George Harrison, he sacked the drummer Pete Best so that he could be replaced by Ringo Starr. Brian Epstein remained the manager on The Beatles until his death. Epstein paid for The Beatles to record a demo in Decca's studios, which Epstein later persuaded George Martin to listen to, as Decca were not interested in signing the band. Epstein was then offered a contract by Martin on behalf of EMI's small Parlophone label, even though they had previously been rejected by almost every other British record company. Martin later explained that Epstein's enthusiasm and his confidence that The Beatles would one day become internationally famous convinced him to sign them. Epstein died of an accidental drug overdose at his home in London in August 1967. The Beatles' early success has been attributed to Epstein's management and sense of style. McCartney said of Epstein: "If anyone was the Fifth Beatle, it was Brian". Epstein's family were Jewish, his grandfather, Isaac Epstein, was from Lithuania and arrived in England in the 1890s, at the age of eighteen. His grandmother, Dinah, was the daughter of Joseph (who was a draper) and Esther Hyman, who emigrated from Russia to England.
Regrettably, the man who did so much for the Beatles has become a comparatively forgotten man since his death.  
 VIDEO: LET IT BE 
Paul McCartney said he had the idea of "Let It Be" after a dream he had about his mother during the tense period surrounding the sessions for The Beatles (the "White Album"). McCartney explained that his mother—who died of cancer when McCartney was fourteen—was the inspiration for the "Mother Mary" lyric. He later said, "It was great to visit with her again. I felt very blessed to have that dream. So that got me writing 'Let It Be'." He also said in a later interview about the dream that his mother had told him, "It will be all right, just let it be."
Oxford – the dignified university city

We have come to our trip's final destination, to Oxford, home of the second-oldest surviving university in the world and the oldest university in the English-speaking world.

Oxford city is the county town of Oxfordshire, and forms a district within the county. It has a population of just under 165,000, of whom 153,900 live within the district boundary. It lies about 50 miles (80 km) north-west of London. The rivers Cherwell and Thames run through Oxford and meet south of the city centre.

Oxford has a diverse economic base. Its industries include motor manufacturing, publishing and a large number of information technology and science-based businesses.
Buildings in Oxford demonstrate an example of every English architectural period since the arrival of the Saxons, including the iconic, mid-18th century Radcliffe Camera. Oxford is known as the "city of dreaming spires", a term coined by poet Matthew Arnold in reference to the harmonious architecture of Oxford's university buildings.

 


Keble College, one of the constituent colleges of the University of Oxford.

 


Oxford skyline.

 

Oxford Lithuanian Society

Oxford University Lithuanian Society is circle of Lithuanian members of Oxford University's congregation. The aim of the Society is to unite Lithuanians and Lithuanian enthusiasts at Oxford University, to promote Lithuanian culture, spread the knowledge of Lithuanian history and modern state, improve contacts between Lithuania and the UK.

Website:           http://oxfordlitsoc.weebly.com/
Contact Name:  Juozas Vaicenavičius
E-mail:  juozas.vaicenavicius@st-annes.ox.ac.uk

 

 
My Oxford friend Mervyn Bedford, a teacher in love with Lithuania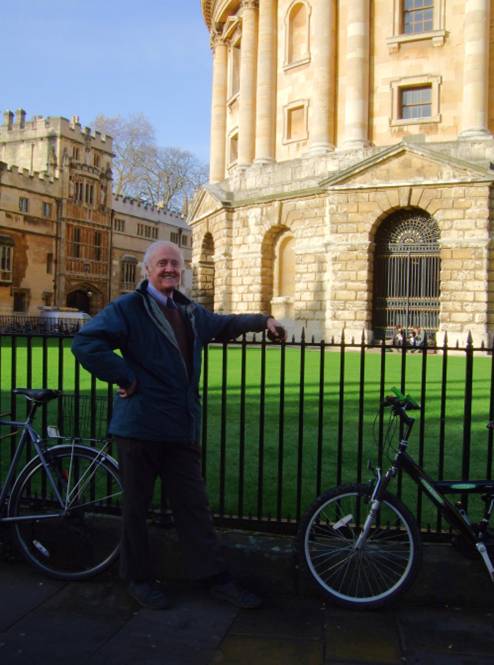 Mervyn Bedford at one of the many
Oxford landmarks of higher education.
Because I know Aage Myhre and his wife and very much respect what he is trying to do for Lithuania, I offered to write of educational values for VilNews. The Baltic nations have a perfect opportunity to change the map of educational provision in ways that better fit the rapidly changing world of the 21st. century. Education is not about buildings. It is not about systems and organisations. It is not about tests and inspections. It is about people and the relationships between those who want to learn, or need to learn, and those who already know it. For almost 150 years State school systems have imposed a model of teaching and learning that has hardly changed while society has fundamentally changed and, recently, very rapidly. Those changes are racing unseen towards our youngest children.
Read Mervyn's article at http://vilnews.com/?p=979