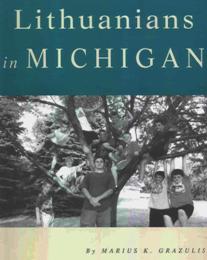 A book published in 2009 is still available, entitled "Lithuanians in Michigan," written by Marius K. Grazulis. This is part of the "Discovering the Peoples of Michigan" series published by the Michigan State University Press. ISBN #978-087013813-3. E-mail:
www.msupress.msu.edu
. The book is soft cover and 103 pages long. This was part of a series, such as Hungarians in Michigan, Latvians in Michigan, Mexicans in Michigan, Poles in Michigan, etc. This particular book gives the reader an introduction to the Lithuanian history and the reasons and circumstances they settled in Michigan. It also takes pride in listing the contributions this ethnic group has made in Michigan, and highlights some of their important organizations here. My town of Albion is mentioned and my grandfather's (Nikodemas Kulikauskas (Mike Kulikowski) picture with the fish is in this. Also in here is a "Lithuania Lunch" token from Detroit.
Frank Passic