Dear readers,


We are delighted and honored that Mr. Frank Passic graciously continues to share with us his vast knowledge of Lithuanian numismatics. In this article he provides us with a very interesting look into how Lithuania in April 1990 started planning for the re-introduction of Litas as the nation's currency.


Frank Passic of Albion, Michigan has collected, researched, and written about Lithuanian numismatics for many years. His educational displays of Lithuanian money have won numerous awards at state and national coin shows in the United States. Of Lithuanian heritage, his maternal grandparents emigrated from Lithuania to America just prior to World War I. Frank may be contacted at: albionfp@hotmail.com


We know you will enjoy this article and Mr. Passic has agreed to share with us many more of his writings so we definitely have a lot to look forward to – Ačiū labai Frank


Also have a look at: http://www.albionmich.com/
Message from Frank Passic, Albion, Michigan, USA.
Labas Aage,
Enjoying your rembrances of 22 years ago. During that period I was promoting Lithuania in the American numismatic press. A decade earlier, a main U.S. coin catalog publisher, Krause Publications, had dropped the individual listings of Lithuania's pre-WWII independent coinage under the "L's" and put them under the USSR listing under its new geography policy.  After we collectors over here protested, they wouldn't budge, and instead said that when Lithuania became independent again they would then list Lithuanian coins under the "L's," but that Lithuania was part of the USSR and that that's how the coins would be listed in their catalogs.  To my glee, I was able to write them a letter during this period informing them that Lithuania was again independent and that they should list Lithuanian coins under the "L's" again along with the other countries of the world in their Standard Catalog of World Coins. They did just that and Lithuanian coins are listed under the "L's", not USSR or "Baltic."
It was an exciting time for me to be writing about Lithuanian numismatics as the numismatic events unfolded and to share them with the American numismatic community. Attached is one of my articles that appeared in the major coin newspaper COIN WORLD of Sidney, OH, November 16, 1992.
Keep up the good work,
Frank Passic, Albion, Michigan, USA. 
Frank Passic article from April 1990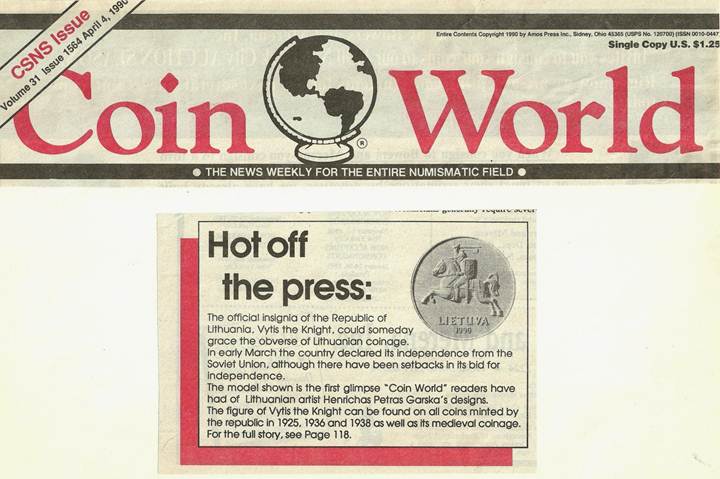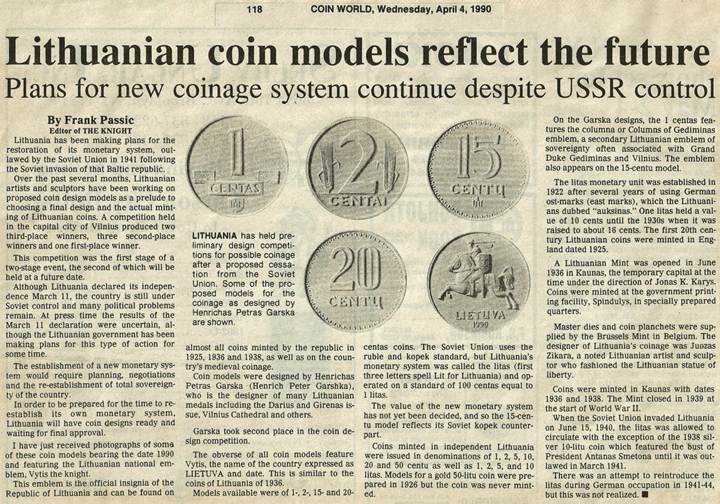 Frank Passic article from November 1992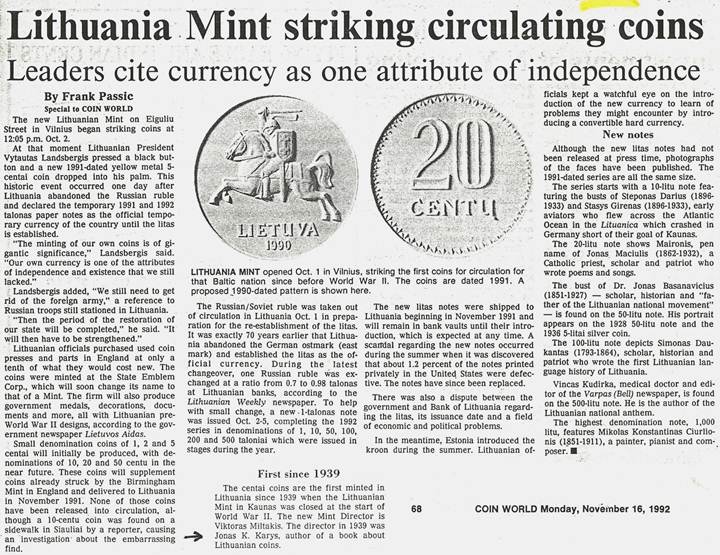 Read also:
Lithuanian camps in postwar Germany issued their own money! 
http://vilnews.com/?p=12074
Vagnorkės – Talonas 20 year anniversary
http://vilnews.com/?p=8458
First and second round of Lithuanian Litas
http://vilnews.com/?p=9066