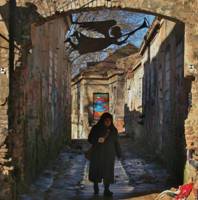 My Užupis love story (slide show with music). Click HERE to see it.
Užupis is the bohemian district of Vilnius city. The district is very popular with artists, and has been compared to Montmartre in Paris and to Freetown Christiania in Copenhagen, due to its never-mind atmosphere. On April 1, 1997, the district declared itself an independent republic (The Republic of Užupis).
__________________________
That would be where I would live. When I was there, I felt right at home


Irene Simanavicius
Oh Lovely Uzupis..a stroll through Uzupis is nothing less than enjoyable. Curious nooks and crannies hide artwork or unexpected gardens. I wandered into shops selling artistic goods or the 100-year-old pharmacy that still supplies patrons with cough medicine and bandages. I sat by the café near the river to relax with a cup of coffee and a bulkute. When I crossed one of the bridges leading to or from Uzupis, you'll see love locks clustered on the railings and if the weather is good, you may even catch a new bride and groom having their photos taken among the crumbling bricks and colorful graffiti so characteristic of the district. The most noticeable feature of the main square is the trumpet-blowing bronze angel sculpture on its column. This sculpture replaced the large stone egg that previously stood as a symbol for Uzupis in 2002 and has subsequently become a symbol associated with Uzupis. ~ That would be where I would live. When I was there, I felt right at home.