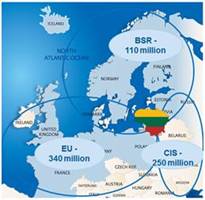 Lucintel estimates moderate growth for Lithuanian economy through 2018
The economy of Lithuania is expected to reach $57.3 billion by 2018. Economic growth of the country declined in the wake of economic crisis, but recovered impressively due to factors such as government stimulus packages and export growth. Slow growth rate was mainly caused by service sectors as construction, real estate, and financial intermediaries witnessing low productivity against increasing labor costs.

Lithuania is lagging behind Europe's leading economies in terms of economy size and per capita income.

The study reveals that Lithuania is extremely dependent on trade with other European countries. Hence, change in the external demand may affect the economic situation.

Secondly, the population in Lithuania has been constantly decreasing over the last decade, as young people are emigrating to other countries for jobs and better livelihoods.

Read more...