Can good come
from selfishness?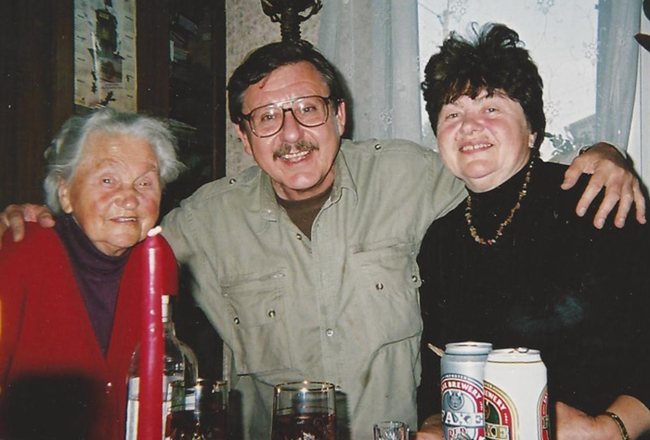 During a trip to Lithuania a few years ago, Boris went to the North Lithuanian city of Siauliai to see his grandmother's sister before she died. At 97 she was the oldest surviving member of his family.
By Boris Vytautas Bakunas

I want to tell you a true story.  During a trip to Lithuania a few years ago, I drove to the city of Siauliai to see my grandmother's sister before she died.  At 97 she was the oldest surviving member of my family.

My reason for visiting her was not only selfish, but it was based on an illusion.  By meeting her, I believed that I could reconnect in some mysterious way with my grandmother whom I had loved very much.  My motive was selfish because I visited the old woman so I could feel good.  I did it for me, not for her.

I didn't really expect any reaction greater than customary courtesy and perhaps even mild interest.  Was I surprised!

When I entered the small cottage where she lived with her daughter and her son-in-law, I saw a table decked with delicacies, juice, brandy, and beer.  A bright red candle had been lit in my honor.  The room was so small that we had to huddle closely together around the table.  My great aunt and my cousin sat beside me.
I quickly sensed that age had taken a toll on her faculties.  "How nice it is to see you again," she kept saying over and over as if I had just walked through the door.

As I looked at her worn, wrinkled face, battered by years of hard living, I saw a gleam in her eyes that beckoned back to the beautiful young girl she had once been.  Her eyes shone like drops of morning dew after a cold night.  All the while I was there, she kept looking gently at my face.  Her soft sliver of a smile threw gentleness and love my way.  I thought of an aged Mona Lisa.

After my cousin and her husband went into the garden, my cousin asked, "Do you know why my mother kept staring at you like that?"

"No, tell me," I said.

"She thinks that you are her son, and you've just returned home from a trip." 

Her son had died years ago.

Was I disappointed?  Did I feel bad that I had come too late for my great aunt to recognize me, or even remember that I existed?

Not at all!  Instead my heart surged with amazement at this mysterious life we lead.  I had made this journey out of selfishness – to satisfy my own desire.  I wanted this meeting for myself, not for her.

But my selfishness, born out of the illusion that I could once again feel the glow of my grandmother's love, had created joy in the heart of another human being, a joy also born out of the illusion that I was her long lost son.

I did see my grandmother's love once again.  I saw it in her aged sister's eyes.  And she saw her son. 

Even out of illusion and selfishness good can come.  What a mysterious existence we live!