American company opens agricultural plant in Vilnius district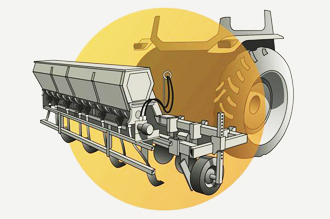 Kinze Manufacturing Inc., the second largest planting and seeding equipment manufacturer in the United States, will open a production facility in Vilnius District along the highway to Druskininkai.  The facility will manufacture the company's agricultural machinery product line, planters/seeders, to support its growing market in neighbouring countries including Russia, Ukraine, Czech Republic, Bulgaria and Hungary.  It will open in autumn 2013 and start with 10 employees. In a few years the manufacturer will eventually employ 250 welders, mechanics, CNC operators and other specialists in its Lithuanian operations. 
"This is our first plant abroad geared to increasing sales in Russia, Ukraine and the whole of the European Union," commented Susanne Kinzenbaw Veatch, Vice President and Chief Marketing Officer of Kinze Manufacturing, Inc.  "We were looking to expand in Eastern Europe and were considering Slovakia, Poland or Lithuania. We chose Lithuania because the local workforce is undoubtedly productive and cost-effective. Also we were very impressed by the country's long-standing manufacturing traditions and the degree to which public institutions were attentive to our business needs."
Kinze Manufacturing Inc. will develop the production plant in three stages. The initial assembly line will open this year and use both imported and locally-sourced components. In 2015, the manufacturer will open a welding and color-coating unit that will be partially reliant on components manufactured in-house; while by 2017 the facility will become fully-fledged, ranging in its functions from steel-processing to end-product assembly lines.
As a part of its shared value investment policy, the agricultural equipment manufacturer will also support local educational institutions and foster the skills of the next generation. The firm will work with universities as well as other professional schools and centers for engineering and production training.  It will offer students internships in the manufacturing facility as well as hands-on learning opportunities in advanced manufacturing technology and production processes. 
"Expanding manufacturing base is one of Lithuania's key economic policy priorities," said Prime Minister Algirdas Butkevičius. "Kinze's investment is a validation that our competitive advantage is reinvented national legacy: advanced mechanical engineering skills, proximity to CIS markets, quality infrastructure.. This will be a major step in furthering our goal of developing a metal and machinery cluster.  This is critical since manufacturing contributes most to export figures and provides majority of private sector research and development investments.."
According to Milda Darguzaite, Managing Director at Invest Lithuania, Kinze Manufacturing Inc. project is going to have a significant positive impact on Lithuania's national economy. "Kinze is globally distinguished for its high professional quality standards and business integrity. From the manufacturing perspective, the company's long lasting traditions in innovation will greatly contribute to Lithuania's engineering skillset, and will take us further in terms of new product development, process optimization and quality control". This is another great indication of Lithuania's achievements in winning over investors with sophisticated manufacturing needs.
About Kinze:
Founded more than 46 years ago on the premise of innovation, Kinze Manufacturing, Inc., markets its planters and grain carts globally and is known for a number of industry "firsts." Kinze operates with core values of integrity, customer focus, excellence, innovation and mutual respect. Kinze Manufacturing is the recognized technology leader and innovator of planters for row-crop production and grain auger carts. Kinze employees spend their nights and weekends farming, putting them in a unique position to be both manufacturers and customers of the planters and grain carts they build. For more information, visit the Kinze Manufacturing website at www.kinze.com.
©Copyright 2013 by Kinze Manufacturing, Inc. All rights reserved. Kinze® and the Kinze™ logo are trademarks owned by Kinze Manufacturing, Inc. Kinze Manufacturing, Inc. reserves the right to make changes in engineering, design and specifications, or add improvements at any time without notice or obligation. 
About Invest Lithuania:
Invest Lithuania is a Lithuanian government agency that provides free advice and introductions to on the ground experts for global companies interested in doing business in Lithuania.
The agency serves as a point of contact for foreign companies, and guides international businesses through every step of the process of setting up operations in Lithuania.
Invest Lithuania also provides information on Lithuania's highly-skilled yet cost-competitive labour force, tax incentives, and financing options.
The agency has worked with numerous well-known global companies that have taken advantage of Lithuania's many incentives to expand their businesses by placing some aspects of their operations in Lithuania.
For more information:
Dalius Morkvėnas | Head of Marketing and Communication Department at Invest Lithuania
Tel.: (85) 212 07 76, (8 630) 09 188 | Email:. dalius@investlithuania.com
Brooke Baxley | Karwoski & Courage Public Relations
Tel.: +1 (612) 342 9817 | b.baxley@creativepr.com