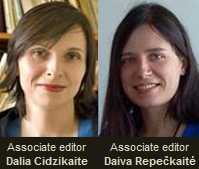 Two new
VilNews editors!
We are pleased to announce that
VilNews
has got two new skilled Associate Editors, Dalia Cidzikaite and Daiva Repečkaitė. We can say with certainty that they are going to mean a lot for our worldwide, online e-publication and the accompanying wonderful network of global readers with Lithuania in their hearts. Please welcome them! See also our
Section 2
and
Section 3
.
__________________________


Eugene Rangayah
Welcome! Looking forward to some great editorials!
Vytenis Folkmanas
welcome !!!
Dalia Cidzikaite
Thank you! We will do our best!
Algis Ruksenas
Sveikinu nuosirdziai ir linkiu visakeriopos sekmes!
Ingrida Bublys
Silciausi sveikinimai!
Teresa Boguta
sveikinimai Dalia ! Sekmes ir kurybingu metu!
Ben Kordell
Sveikinu Dalia. Viskas bus okee dokee.
Kestutis Stanciauskas
Sveikinu!!!
Dalia Cidzikaite
Ačiū visiems už sveikinimus.