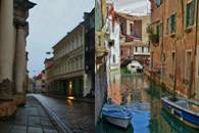 Vilnius and Venice
are my favourite
European citites!
Dear
VilNews
Readers,
I hope you find interest in my 'travel reports' from around Europe, which I now present in 
VilNews
. The letters and photos are based on my 40 years of travelling around in 'My Europe', always with camera and notepad ready…
As an architect, it is natural for me to focus on architecture as a backdrop for my letters, but for some places architecture is the very main thing, as is the case for my two favourite cities, Vilnius and Venice...
You can read more about Venice in my travel report at
http://vilnews.com/?p=19259
and about my dear Vilnius at 
http://vilnews.com/?p=12117
Kind Regards,

Aage Myhre, Editor-in-Chief
__________________________


Comments from our:

Facebook
Forum
Vijole Arbas
I am simply surprised you have left out Kaunas -- the architecture there surpasses all.
Aage Myhre
The architecture of Kaunas is much, much younger than the one in Vilnius, Vijole. Nevertheless, someone should write about the interwar architecture in Kaunas. Lithuanian functionalism as seen only in the Laisves Avenue ...
Vijole Arbas
True, Aage. I just had to put in a word for my beloved city. I always believed architecture reflected how people live day in and day out, how their thinking patterns are affected, how the people worship (or don't) God. Well -- it is a discussion on its own.
Aage Myhre
Well said, 
Vijole Arbas
Wyman Brent
Aage, I do indded like your travel posts. I look forward to the day when we can meet again and discuss travel and architecture.
Susan Lucas Kazenas
I have enjoyed your travel reports....thank you for sharing!