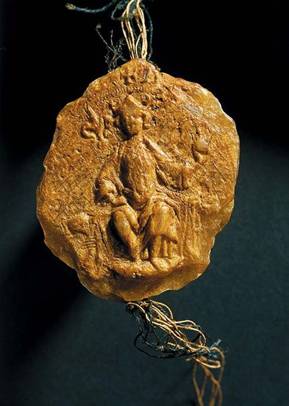 The Seal of King Mindaugas (1203-1263, reign 1251-1263) is a medieval
seal affixed to the October 1255 act by Mindaugas, King of Lithuania,
granting Selonia to the Teutonic Knights.
Historically, The Kingdom of Lithuania is rooted in the 13th Century when Mindaugas was crowned by Pope Innocent IV as King of Lithuania. Over the next five hundred years the storms of war and politics rendered its toll. Expansion and alliances with Poland and other nations, were not strong enough to keep the transformed Grand Duchy of Lithuania independent. In 1795 it was all but consumed by Russia.
After two centuries, in 1918 the strong will of the Lithuanian people gained independent statehood but this was also short lived. Twenty years of autonomy again ended with Russian and Nazi occupation.
Today's Republic of Lithuania declared Independence (again) as a parliamentary democracy on March 11, 1990 and was internationally recognized in September 1991. 
After the Freedom Declaration in 1918, there were many who wanted the monarchy reinstated in Lithuania. In 1990-1991 there was hardly anyone who dared to come up with such an idea. But today more and more people want attention to Lithuania's proud, royal history, and many believe the royal idea and past has wrongfully been swept under the rug ...
Here are some interesting articles, absolutely worth reading!
The trampling of Lithuania's history
Restoring Lithuania's Royal Titles
Official site of His Imperial Majesty King Roman
King Roman of Lithuania sells titles from his house