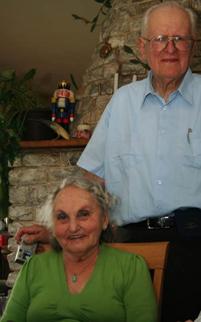 Vanda and Vytautas Sliupas.
Lithuanian officials were courteous to me, until yesterday

See also the below
comments to this post

After the reestablishment of Independence I alone, or occasionally with my wife Vanda, have visited Lithuania 37 times. Until now I was happy to say that everyplace I went, Lithuanian officials were courteous to me, always managed to see me even on short notice, and were respectful. This was until yesterday when I experienced my very first intentional snubbing in Lithuania by Kestutis Kurselis, the relatively new Director of Vytautas War Museum in Kaunas.
As you had written in the 2010
VilNews
, during the 600 year anniversary of Zalgiris Battle, my wife and I donated our own work, very large gobellin of the battle, on which we had worked for 15 years.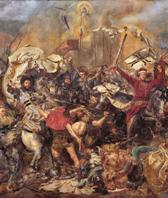 The Zalgiris Battle (1410)
The previous Director of the Museum, dr. Gintautas Surgailis came personally from Kaunas to accept this gift. Subsequently it was displayed for several weeks at the Seimas (Parliament) Building in Vilnius, it was taken on an international tour and finally was properly and respectfully placed in the War Museum. That was when dr. Gintautas Surgailis was the Director.
Lately I was informed by several Lithuanian-American friends that our gift gobellin was no longer being displayed at the Museum. While traveling through Kaunas yesterday I stopped to inquire. As normal to me, I went to see the Director Kestutis Kurselis but his secretary came out twice to inform me that Director will not see me. I was surprised, to say the least, that a mere director of a public museum felt he could brush me off, even though his secretary informed that he was in his office alone.
This was a first brushoff to me in over 20 years of continuous visits to Lithuania. I guess the new generation of government officials have no longer the customary respects. My father, dr. Jonas Sliupas is a three-time recipient of Honorary Doctarate Degrees from the Vytautas Magnus University, located next door to the Museum. This honor is not bestowed upon any other person (even dr. J. Basanavicius is a recipient of only 2 such honors). For the good works performed for Lithuania I have received many '' Thank You's'' from Pres. Valdas Adamkus, dr. Vytautas Landsbergis and many other Ministers of State, and the Siauliai University recently made me an Honorary Member of the Senate. Thus, I was really surprised being treated as a third rank persona-non-grata.
Needless to say, our gift gobellin is now in the Museums storage and there was no assurance given by a Deputy Director as to when, or if, it would be displayed again.
Vytautas Sliupas, P.E.
Burlingame, California
__________________________
Comments:
Rachel Croucher
 "... Mere director of a public museum"
"Mere" director? Not exactly a respectful attitude to have towards directors of museums all across the country. Nevertheless, although he might have been in his office it is possible he could have been busy on a conference call or many other things. Did you enquire as to why he was unable to meet you?
Aage Myhre
 "Sending e-mail to Lithuania is like sending it to the black hole of the universe." This was a phrase from a post in VilNews two years ago... 
http://vilnews.com/?p=5009
Rachel Croucher
 Last time I was in Lithuania I do recall there being telephones in the country, but nevertheless I have no idea how your link answers any of my questions. So I guess I will just have to assume that no subsequent attempt to confirm whether or not the director actually was busy was made. Not to mention you did not address the use of the offensive term "mere" director.
Arunas Teiserskis
 if you want to see a "black hole" attitude towards emails, go to Ireland or the UK. There is almost zero possibility somebody from public office, especially at the lower level, i.e., museums, schools, hospitals, etc., will answer your emails. Even companies quite often give no answer at all. The only fail-safe way to communicate there is to call by phone - and in no way you may come in person unscheduled, you'll be dismissed straight away. In this aspect I remember Lithuania as a heaven. On other issues I support Rachel's opinion, that people might be occupied, so if Mr. Sliupas gives no proof that he persistently was snubbed, I would find it quite difficult to believe that this was made deliberately.
Aage Myhre
 Arunas Teiserskis, bureaucrats and public officials certainly have a tendency, worldwide, to make themselves relatively inaccessible. I was therefore pleasantly surprised when I some days sent an email to a public office in my home country Norway. An automatic reply came immediately up, saying that I would get reply from an executive officer within five days. After four days I got a good and detailed answer 
Lina Petrauske
 But Aage this is the reason why you are moving back to your home country Norway, isn't it? There is no better place than your home place, right? There is no reason to compare with anything else.
Aage Myhre
 Well Lina Petrauske, I do in fact not have many reasons to complain about Lithuanian bureaucracy either. Except from those terrible days in the 1990s when I had to apply for visas, waiting in Soviet corridors for hours, and when finally being let into the office of the right clerk to know I was lacking one document and had to return next day, as the rules again had changed (there were new rules every year) 
Lina Petrauske
 Then I am sorry I misunderstood you. I have got it a little bit in a different way when reading this post...
Lina Petrauske
Arunas Teiserskis last month i have got an e-mail answer from Cork Revenue office  it took them 2 months to answer but still the progress is obvious- they started to do it 
Ida Hardy
 I read the original article but when I went back to re-read it, the link does not take me to it. Can someone please look at that? 
Also, if there is some way to prevent your local government workers from turning into cold, uncaring offices with directors who have names but no faces you should do it. 
In the US the postal service is known for this attitude, but in my little town there is one post office that has people working there who actually display an attitude of wanting to provide good customer service. 
It makes a huge difference! It is the only one Ive been to in any country anywhere that the people actually act like they care about a line getting longer, or that a little old man can't quite lift the package his picking up. I haven't seen that anywhere else.
Rachel Croucher
 PS that we are not talking about a post office or government office as such your, we are talking about and Museum. There has been no confirmation that the person concerned actually WAS busy with a prearranged appointment of some sort. Let's not jump to conclusions without the facts just because of a tiny little column of barely a few hundred words in this news portal.
Ida Hardy
 Isn't that museum publicly funded?
Felicia Dalia Prekeris Brown
 Fact is, NOBODY should receive a "brush-off" from any employee of any public institution, and least of all, should disrespect be shown to a donor. Makes me ashamed of having this bozo countryman acting like a Soviet era muzhik in a supposedly cultured Lithuania. Fire him!
Jon Platakis
 Unfortunately, this bureaucratic problem exists worldwide. Lietuva is not immune to this problem, just as many other countries. Lietuva is making incremental strides towards the positive. So, let's not make a mountain out of a molehill:)