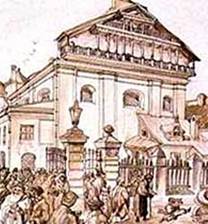 Israeli President Shimon Peres invited to head the advisory board for restoration of the Vilnius Great Synagogue
The government of Lithuania asked Israeli President Shimon Peres to head the international advisory board for the restoration of the Vilnius Great Synagogue.
"The [restoration] project is an important part of the effort to both preserve and restore Vilnius' Jewish heritage, and I think that President Peres could bring valuable guidance and insight to our project," Vilnius Mayor Arturas Zuokas said, according to the Baltic Review news site.
The comprehensive restoration and construction project could be completed as early as 2017, according to Tuesday's report.
The offer came during a visit to Israel this week by Zuokas and Lithuanian Minister of Foreign Affairs Linas Linkevicius in which they met with Peres.
If Peres agrees, he would join Lithuania's former President Valdas Adamkus, current Prime Minister Algirdas Butkevicius and the prominent architect Daniel Liebeskind, who are all members of the board.
The Great Synagogue in Vilnius was an icon of Lithuanian and Eastern European Jewish culture before it was ruined during World War II and demolished in the 1950s. From the 16th through the 20th centuries, it was among the best-known synagogues in Central Europe.
Read more...
___________________________________________________________________________________________
The Great Vilna Synagogue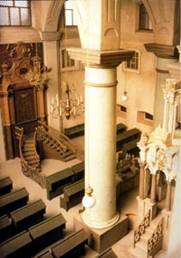 The Great Synagogue of Vilna which once stood at the end of Jewish Street in the centre of Vilnius (where today's courtyard between Vokieciu Street and Stikliu Street is located), was built between 1630-1633 after permission was granted to construct a synagogue from stone. Standing on the spot of an existing synagogue built in 1572, the site had first been used to house a Jewish house of prayer in 1440.
According to legend it was so magnificent and impressive, Napoleon who stood on the threshold of this synagogue in 1812 and gazed at the interior was speechless with admiration. The synagogue had a number of entrances. One, at street level, consisted of a pair of iron gates which, had been donated by a tailors' society in 1640. The other entrance on the western side, added in 1800, was a bit more imposing. An elevated two-tiered wooden gable with a portal and wrought iron posts. There was a heavy iron door with an original Hebrew inscription indicating it was a gift of a "society of Psalm reciters" in 1642.
Read more...