Closer bilateral ties
China – Lithuania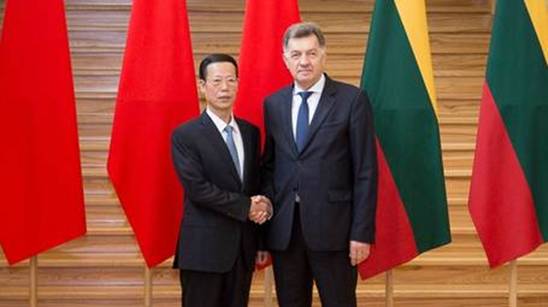 CHINESE VICE PREMIER ZHANG GAOLI AND 
LITHUANIAN PRIME MINISTER ALGIRDAS BUTKEVICIUS
Zhang urged the two countries to further enhance mutual trust, and step up pragmatic cooperation.
Zhang said both sides should strive for breakthroughs in cooperation on major projects in infrastructure development and other areas. He said China is willing to participate in the construction of the Rail Baltic project in an appropriate form in a bid to complement each other and achieve mutual benefit and win-win situation.
Moreover, he called on the two countries to expand people-to-people exchanges.
Noting that this year marks the 40th anniversary of the establishment of diplomatic ties between China and EU, Zhang sai China is ready to work with EU to continuously advance bilateral relations.
Zhang said cooperation between China and the Central and Eastern European countries (CEEC), including Lithuania, has become a major platform for enhancing friendship and deepening cooperation, as well as an important engine to the growth of China-EU relations.
Saying that this year is a crucial year for improving the quality and efficiency of China-CEEC cooperation, he called on both sides to earnestly implement the Belgrade Guidelines for Cooperation between China and CEEC to further pragmatic cooperation in all areas.
Zhang said the Chinese side welcomes Butkevicius to attend the "16 plus 1" leaders meeting, which is set for the second half of this year in Beijing.
Butkevicius said Lithuania places great importance upon developing relations with China. He emphasized that Lithuania respects the core interests of China and adheres to the one-China policy.
He expressed Lithuania's readiness to take the opportunity of the 25th anniversary of official ties between both countries to step up cooperation in the areas of politics, economy, trade, technology, culture and education.
Butkevicius said he is looking forward to attending the "16 plus 1" leaders meeting in China and is willing to work with the Chinese side to deepen cooperation in the areas of transport, infrastructure development, banking and agriculture under the "16 plus 1" cooperation framework.
Zhang briefed Butkevicius on the construction the Belt and Road, saying that the Belt and Road initiatives meet the development needs of China and all countries along the routes, serve the common interests of all parties concerned and answer the call of the time for regional and global cooperation. Zhang said China welcomes Lithuania to participate in projects of the initiatives.
Butkevicius said Lithuania supports and will take an active part in construction of the Belt and Road and is willing to contribute to the growth of China-EU relations.
The "Belt and Road" refers to the Silk Road Economic Belt and the 21st-Century Maritime Silk Road initiatives proposed by Chinese President Xi Jinping in 2013. The initiatives bring together countries in Asia, Europe and even Africa via overland and maritime networks.
 FROM: http://english.cntv.cn/