Lithuanian DPs
in Australia after WW2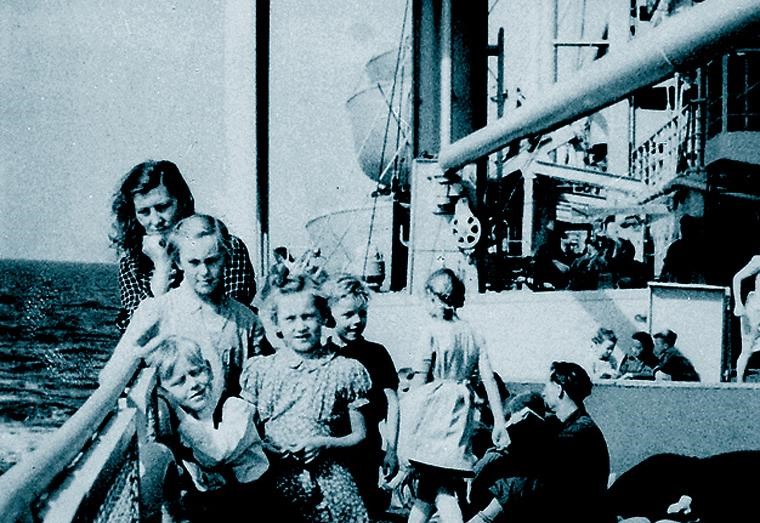 DISPLACED PERSONS FROM LITHUANIA ARRIVING IN AUSTRALIA –
MRS LYDIA DRESCHERIS WITH HER CHILDREN AND A FRIEND
Image Copyright Western Australian Museum
By Jura Reilly
After World War Two Australia agreed to provide a haven for 170,000 refugees from war-torn Europe. This was the beginning of a large-scale immigration program undertaken by the Australian government, which felt that the population needed to grow so that the country could defend itself better, and have enough people to fill all the jobs that were available. Most of the refugees arrived during 1949 and 1950. Before WW2, more than 90% of Australians were from a British or Irish background. Presently, this proportion has dropped to approximately 80%. A total of 9906 Lithuanian DPs came to Australia between 1947 and 1953. In the 2011 Census, 13,594 adults acknowledged Lithuanian origins.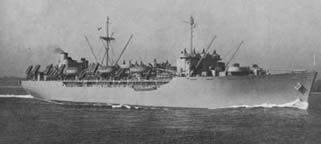 ONE OF THE TRANSPORT SHIPS, USS STURGIS
In 1947 the first Lithuanian DPs arrived from Germany on a US Navy transport ship. After arrival all DPs were sent to training and reception centres for about four weeks, and after being examined & X-rayed for TB and other diseases, they were then transferred to work camps. Life in these centres was quite regimented. Refugees were provided with bedding, including grey army-issue blankets, and were given a camp pass and a set of camp rules. Meals were provided in a cafeteria-style dining hall, but the refugees were expected to do most of the work of running the camp, including cleaning duties. In addition to the accommodation huts, there were separate huts which were old army barracks, for a laundry, a canteen, a shower & toilet block, a kitchen, an ironing area and a first aid room. Single males and females were housed in separate dormitories. Privacy was provided by just a strip of hessian, with grey army blankets or screens hung on wires. Basic English lessons included topics like weights and measurements, money, taxation and citizenship.
Living conditions were very poor and the communal washing was done in cold water, even in winter when it snowed. The food being served included cheaper meats, such as mutton (from sheep 2 or more years old) and wild rabbit, which Lithuanians were not used to, as well as potatoes, peas, carrots, fruit, tea, jam and sugar. Many refugees found the smell of mutton fried in lard to be nauseating, whilst others were just glad to have lots of food. In 1952, Lithuanians and other refugees went on strike for better food and conditions, and won.
An interesting 1948 newsreel, 'Balts in Camp: New Citizens Learn our Mode of Living', is available on YouTube. It depicts an idealised perspective of camp life, and includes a wedding, singing by an Estonian choir, and lots of sheep.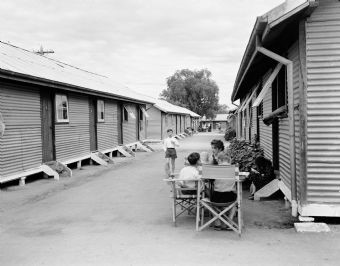 BONEGILLA MIGRANT CAMP, ALBURY, NEW SOUTH WALES.
References:
'Balts in Camp: New Citizens Learn our Mode of Living', Pathé, 1948: https://www.youtube.com/watch?v=rgs8zXziRLY
'Community Information Summary: Lithuania-born', Australian Government, 2014:
https://www.dss.gov.au/sites/default/files/documents/02_2014/lithuania.pdf.
Danytė, M 2007, Book Review: http://www.lituanus.org/2007/07_3_06%20Danyte.html
'More arrivals from Memel/Klaipėda' 2015: http://earlylithuaniansinaustralia.blogspot.com.au/2015_04_01_archive.html