How did Soviet communism
influence Lithuania?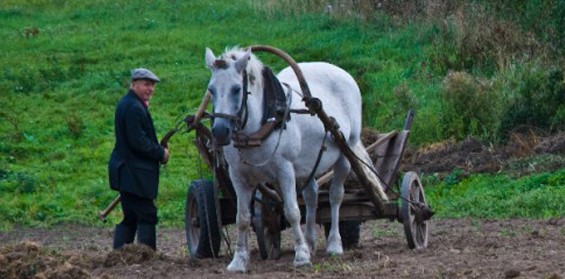 Photo: http://www.landesa.org/where-we-work/more/lithuania/
By Dr. Valdas Samonis,
Toronto, Canada
In 1940, independent Lithuania produced per capita 1.9 times more meat, 2.8 times more milk, had 1.9 times more cattle and 2.7 times more pigs than Soviet Union. After 50 years of allegedly astounding economic progress, Soviet Lithuania had become dependent on subsidies from Moscow. To the extent that this assertion is true, how is this possible if not for the inefficiencies caused by the forcefully imposed system of central planning with its associated distortions?
Noncommunist Lithuania fed and clothed its citizens without any assistance from abroad during the interwar independence period. And the levels of agricultural production were high by comparison to the Soviet Union;
Following its forceful incorporation into the Union of Soviet Socialist Republics in 1940, Lithuania was subjected to the Soviet development model based on Marxism-Leninism, as interpreted by the Communist Party of the Soviet Union, as its theoretical underpinning; the first "scientifically based economic system in human history", as Bolsheviks claimed. The Bolshevik interpretation of economic processes and development goals was made obligatory in both the theoretical and practical dimensions. New methods of economic management /central planning/ were introduced which deeply changed the entire decision-making processes. The country's economic administration was completely overhauled. The Soviet occupation of Lithuania lasted nearly half a century.
 Valdas Samonis: "I believe that the abject failure of Western experts (economists, political scientists, sociologists, etc) to foresee the impending USSR's total collapse under the weight of the communist system's own inefficiency (like an old mushroom in Lithuania's forest) was largely due to Western anti-anti-communism; it grossly exaggerated the Soviet communist regime's stability and legitimacy. The so called "scientific-based system" lie repeated by the Soviets with Goebbels efficiency and force, gave rise to that Western anti-anti-communism and it was the greatest Bolshevik deception (brilliant, indeed!) that all those "good-heart" Western intellectuals fell for. 
What an intellectual shame to Western universities and other elites!