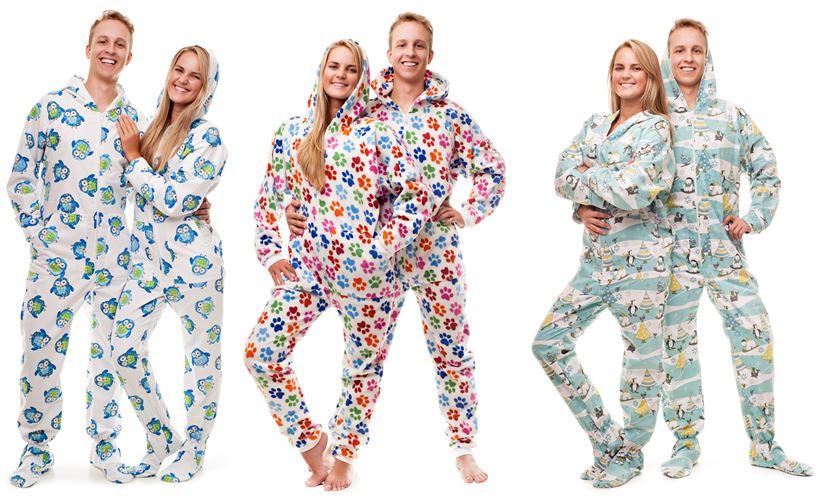 By Aage Myhre
When thinking about fashion centers, one generally thinks about Milan, Paris, London or New York and not about Vilnius or Lithuania.  However Vilnius is home to many innovative designers. It is also the manufacturing hub for several European brands. For many, Vilnius is attractive due to the combination of European quality and lower costs compared to many other European countries.  To find out more, I had a chat with American Gene Emmer, living in Vilnius since 2008, owner of the company that makes the Kajamaz adult footed pajamas.
Gene, please tell me what it is like to operate a business in Lithuania? Let's start with the disadvantages.
The main disadvantage is the cost. It is much more expensive to manufacture in Lithuania, than for example, in China, India and Pakistan. As a result our prices are generally higher than most of our competitors. We could decrease our costs by half or more if we relocated our production to China but we believe that quality would suffer. Another challenge is that in Lithuania we can not find the quality fabrics at acceptable prices we need. So, we have to import our fabrics from abroad.
Are there any other disadvantages to being in Lithuania?
In the past, Lithuania was quite attractive for business owners, because there was not much bureaucracy and it was relatively easy to get permits. However, this has changed and now the requirements are getting tougher. It is much more difficult for small business owners to get established in Lithuania than it was when we came in 2008.
What changed?
For example, now business owners must employ three Lithuanian citizens full time in order to meet permit requirements. That will be difficult for many starts-ups to cope with.
What are the advantages to being in Lithuania?
In addition to the fact I already mentioned, that we can visit the factory as often as we like, one of our main selling points is that we can say that Kajamaz are made in Europe. That says a lot.  Europe is known for manufacturing quality products. Also, while manufacturing costs in Lithuania are significantly higher than Asia, it is much less than having pajamas made in other European markets, such as Italy, France and the UK. Plus Lithuania has a tailoring tradition. There are many companies that manufacture clothes.
"Kajamaz", Gene, why such a name?
Our four year old son insisted on the name Kajamaz! We were brainstorming a brand name and came up with a long list of names, like FunJamz, CozyJamz, etc and our son said "I like Kajamaz". Everytime we mentioned a different name, he said "I like Kajamaz". After a while the name stuck. How do you pronounce it? Everyone says it differently. Some people say it with a soft "J",  "Ka Yam Az". Others say, "Ka Jay Mas". We pronounce it to rhyme with Pajamas, Ka-Jam-Az. But you can say it anyway you like!
Kajamaz is a brand of footed onesie pajamas and jumpsuits for adults. We create adult footed one-piece pajamas that are warm and fun to wear. Our motto is Have Fun! Stay Warm! Sleep Better!
What made you start… with such a 'special' product?
It all began three years ago with a fun idea. We noticed that adult footed pajamas were very popular in the USA, but that they had not really caught on in Europe. Adult footie pajamas are extremely popular in the USA because they combine warmth with fun. Since adult onesies cover you from head to toe, it is like walking around in a blanket. We thought that if we could combine warmth with our own fun prints, we could have an interesting niche. To see if it would work we ran a small test production and tried to sell them. We were delighted to see that our test production sold out in two months so we went ahead and developed our brand.
Why did you choose Lithuania to manufacture your product?
From the beginning we decided to have Kajamaz sewn in Vilnius, Lithuania. We already have experience outsourcing manufacturing in other countries and know the challenges related to this starting from quality issues and ending with communication challenges at various stages of production. We wanted to focus on quality, have flexible volumes, the ability to be "hands on" and easily communicate with our manufacturer at any stage of the project. At the beginning we faced some criticism from people who told us that we could never create our pajamas at the target price we were seeking. We needed some time to find a manufacturer who would share our vision for Kajamaz. But we persevered and finally settled on an established fashion sewing company based about 10km from our office. We picked our partner because when we met with the director, we made an instant connection and felt that she understood what we wanted to create with Kajamaz. We have been a great team working together.
Any other advantages?
Delivery time is obviously quicker. Once the pajamas are finished, we have them in a day or two. If Kajamaz were made in Asia, we would need 1 month to 45 days to have them.
How do you differentiate Kajamaz from other adult footed pajamas?
As mentioned, one of our major differentiation factors is that Kajamaz are made in Europe. Most, if not all other pajamas are made in China. We looked around to find the best quality zippers and selected YKK as our zipper manufacture. YKK are known in the industry as making the best quality zippers. We also designed a special "back flap" so that the wearer does not have to get undressed to use the toilet. While most one-piece pajamas have old-fashioned, silly looking back flaps, we designed ours to blend with the style so that it was not easily seen. Also, we manufacture Kajamaz from two different types of fabric.  One type is made from super quality fleece that is extremely warm and another type is from 100% natural cotton flannel. We are also manufacturing footed and non-footed all-in-one adult pajamas. So, we give our customers a choice. Finally, we are really proud of our prints. We have designed some very beautiful prints that you can not find anywhere else.
How have sales been?
Very good. Most of our sales are to European countries and to The USA. Unfortunately, we have not sold much in the Baltic States.
Why is that?
Because of the language we have focused most of our marketing efforts in English, German and French markets.
What are your plans for the future?
We would like to find more shops and websites to cooperate with. We would certainly be interested in hearing from more small and large business owners who would be interested in buying from us and reselling locally.
To find out more about Kajamaz, please visit www.kajamaz.com and connect on Facebook at www.facebook.com/kajamaz