Would a 'Genealogy Section' in VilNews be of interest for you?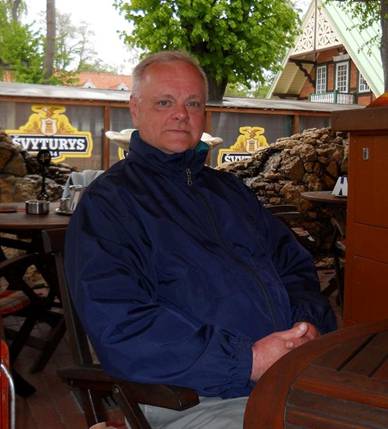 Please contact our Associate Editor, Vin Karnila, as soon as
possible if you think a 'Genealogy Section' in VilNews would
be of interest for our readers around the world.
vin.karnila@VilNews.com
Text: Vin Karnila, Associate Editor
We at VilNews have received numerous inquiries from our readers regarding locating relatives in Lithuania or more specific information about their Lithuanian ancestors. Since we know that tracing your Lithuanian Roots is a very important issue for many of you, we are considering a special section, "Genealogy Lithuania", to assist you in finding information about your ancestors in Lithuania.
Please respond to us if you think such a section would be of interest for our readers around the globe.
The On Line Lithuanian Telephone Book
Once you have an idea as to what the names of your immigrant ancestors were the best place to start and probably the most recommended is the On Line Lithuanian Telephone Book
http://www.zebra.lt/lt/suzinok/telefonai/. This can help you find people currently living in Lithuania with the family name you are searching for. This was in fact how I first found members of the Karnila family so this is what I always first recommend for people to use.
It is however in the Lithuanian language so here are some instructions for using it.
Pavardė = family name/last name
Vietovė =  location – In the pull down menu you will see "Didieji miestai". These are the large cities in Lithuania. "Kiti miestai" are other cities in the country. If you want to search a specific city, click the city of your choice. If you want to search all of Lithuania, do not select a city.
Then click "Ieškoti" and the next page will show any matches to the name you entered.
Some helpful advice for finding a place on a map
The online Lithuanian Telephone Book web site will show you the location on a map however if you want to find the location again on a mapping web site you will need to enter the name correctly. If you try to copy the address that the phone book gave you it will not work. This is because the place names are displayed with Lithuanian grammar.
As an example, the listing could show an address like this:
Sodų g. 2, Rumšiškių mstl., Rumšiškių sen., Kėdainių raj.
The street address, Sodų g. 2 will work on a mapping web site but the rest will not.
"Rumšiškių mstl." is actually Rumšiškės so you would need to enter Rumšiškės in the mapping web site. The "mstl." is the abreviation for miestelis which means town. Don't enter the word "miestelis" or "mstl" in the mapping web site. You may also find a listing such as "Bajoriškių k". The "k" means Kaimas or village so this would be the village of Bajoriškiai. A listing such as "Švenčionėlių m.". The "m" means miestas or city so this would be the city of Švenčionėliai. Don't enter the words "village" or "city  and don't enter or "k" or "m" in the mapping web site.
"Rumšiškių sen." is Rumšiškių seniūnija. Seniūnija is the local government administration office so this means that Rumšiškės is under the jusidiction of this office. You wont need Rumšiškių sen. For the mapping web site. Only enter this if you do not know the name of the village but know what administrative office serves it.
"Kėdainių raj." is Kadainiai region. Again, you won't need this for the mapping web site. About the only time you would need to enter the seniūnija or region is if there are more than one town or village with that name.
www.maps.lt is a very good mapping web site you may want to check out.
Even with the number of mapping web sites out there it is a good idea to get a map. The problem with the mapping web sites is that as you zoom in, the area you are viewing gets smaller and you lose the relationship of where you are in relation to other areas. When you zoom out you lose details. When you get a map you will want the scale to be at least 1:400 000. Even at this scale it will not show some of the smaller villages. As an example my family's village of Garonys is not shown on a map of this scale. To get a map that shows my village I bought what is called an "apylinkės" (district) map which is at a scale of 1:130 000. Another good tool is the Lithuanian Road Atlas in 1:120 000 scale. All of these maps and atlases are available at www.balticvalue.com They have about the largest assortment of Lithuanian maps and road atlases on the Internet.
Some websites
We have compiled a list of some good web sites to get information from. Please keep in mind that no one web site will usually give you all the information you are looking for so it is good to check as many as you can.
Lithuanian Global Genealogical Society. LGGS
http://www.lithuaniangenealogy.org/
GenoPro - Genealogy ressources in Lithuania
Good site with useful links for searching for people of the Jewish Faith.
Included are The JewishGen Yizkor Book, JewishGen ShtetlSeeker, Litvak SIG and JewishGen Lithuania Database
http://www.genopro.com/genealogy-links/?country=LT&t=Lithuania
Lithuanian State Historical Archives
http://www.archyvai.lt/archyvai/index.jsp
Vilnius church provincial archives documents and metadata information system – Lithuanian language
http://www.kf.vu.lt/baris/
Archives of Belarus
http://archives.gov.by/eng/
Polish Virtual Archives
http://szukajwarchiwach.pl/
Polish genealogy and coats of arms
http://www.jurzak.pl/
Polish genealogy
http://www.genealogiapolska.pl/index.php
Lithuanian estates Database. Very interesting web site – Lithuanian language
http://www.heritage.lt/dvarai/ppavadinimas.php
Lithuanian military volunteers - Lithuanian language
http://www.versme.lt/sav_a.htm
The Statue of Liberty- Ellis Island Foundation
http://www.ellisisland.org/
LitvakSIG – Lithuanian Jewish Special Interest Group
http://www.jewishgen.org/litvak/all.htm
Genealogy Links Lithuania
http://www.genealogylinks.net/europe/lithuania/
LITHUANIA MAILING LISTS
http://www.rootsweb.ancestry.com/~jfuller/gen_mail_country-lit.html#LITHUANIA
Lithuania Professional Research
http://genealogyjourney.com/t/?x=Vilnius
Lithuanian Place Name Changes
http://www.rootsweb.ancestry.com/~ilwinneb/placelit.htm
As stated before, no one web site will usually give you all the information you are looking for so dear readers if you know of any web sites that are helpful in providing information for tracing some ones Lithuanian Roots please tell us about them so that we can share them with our fellow readers.
A word about some of the genealogy pay sites. As you search the web for sites that offer genealogical information you will come across many sites that require you to pay a fee to use them. Are they worth it??? Good question. Let's face it, if they help you find your family they are worth it but the chances of finding your family on one of these sites is kind of hit or miss. This is because of how most of them work. Most of them do two things. They provide a program to organize your data or in other words create your family tree. What they also do is give you access to the data from the other people that use this site. So if some one that has a connection to your family has also paid to use this site then it is possible to view their information – maybe. The person has to authorize the web site to display their information. They can also instruct the web site to limit the information for privacy purposes. I have found that this "limited" information is not much help. Of course if no one with a connection to your family has used the specific pay site then it won't be of much help to you.
As you start to gather information it is highly advisable to organize it. The best way to do this is to use genealogy software. There are quite a few genealogy software programs out there. I have tried a few and have not been very satisfied with them. The reason being that the reports they generate are limited. There is only one software program that I can personally recommend and I can tell you that I highly recommend this software. It is easy to use, easy to input data and easy to find data and it provides a very wide variety of report formats. The program is called "Brother's Keeper" and it is considered one of the best genealogy software programs available.
You can get more information from their web site
http://bkwin.org/
at the bottom of the page you will find the link to their online store
http://brotherskeeperstore.stores.yahoo.net/brotkeepforw.html
Contact the people that you possibly are related to
Now let us talk about what you can do once you finally find information about a person or some people that you are possibly related to. There is only one thing to do – You need to contact them. If you have both an Email address and a mailing address I would recommend that you send both an Email and a letter. This is because you don't know if one or the other is still current.
In the message KEEP IT SHORT AND SIMPLE. Tell them who you are. Tell them the information you know. This would be the information about the people in your family that do not live in Lithuania. If you have information about your family in Lithuania of course include this. What you are trying to provide is a line from you back to Lithuania. The information that is helpful is names, dates and places. Adding brothers, sisters and cousins will not be of much help and could confuse things unless any of these people were born in Lithuania or can trace themselves back to Lithuania.
If you are going to write a letter to Lithuania and don't speak Lithuanian I really wouldn't worry about it. In this day and age in Lithuania finding some one to translate a letter written in English is not much of a problem. However when I recommend KEEP IT SHORT AND SIMPLE, you will want to be very careful in regards to grammar and phrases. I am an English language trainer here in Vilnius and I can tell you that only my advanced level students can fully understand (sometimes) all the nuances of English grammar. When you write your letter try to use only the "simple tense" and limit the use of the "continuous tense". Try to write nothing in the "perfect tense" as the perfect tense is VERY difficult to understand because this form of grammar does not exist in the Lithuanian language. Writing a letter all in the simple tense is easy to do and easy to translate and understand. I also operate an editing service here and I can tell you that most of the letters I edit related to genealogy end up being reduced by about 50% so that only the key information remains - KEEP IT SHORT AND SIMPLE.
The next question is when should I send the letter???
The answer is – As soon as you get a name and address to send a letter to!!!
I have edited some letters more than a year ago for some people and they still have not sent the letter. The usual reason is that they are still trying to get more information. Until you send the letter you probably won't get any useful information so just send the letter. Some one may respond to your letter in effect saying that your information is too general to show a direct link. If that's the case, at least you have established a contact. I have found that the people here in Lithuania are more than happy to try to help people find their families even if they are not sure they are directly related to you.
Searching for your roots can be interesting, rewarding and frustrating. So much of it is hit or miss and in some cases just pure luck and good fortune. Although it took years for me to finally find and connect with my family here in Lithuania, I was lucky that the name of Karnila is a rather unique name. All of the Karnilas in Lithuania are traced back to the same family. My grandmother's family of Petkevičius is a different matter in that it is more common. Eventually I learned that I had to address her family as Petkevičius of the Kaišiadorys region. When I enter the name of Petkevičius in the On Line Lithuanian Telephone Book there are 280 matches.  A dear friend of mine has the family name of Kazlauskas. When you enter this name in the On Line Lithuanian Telephone Book you get about 150 matches. Things like this can make matters much more of a challenge. In spite of some of these road blocks and detours the key to success is to just keep on searching.
Please let us know if you think a "Genealogy Section" in VilNews would be of interest