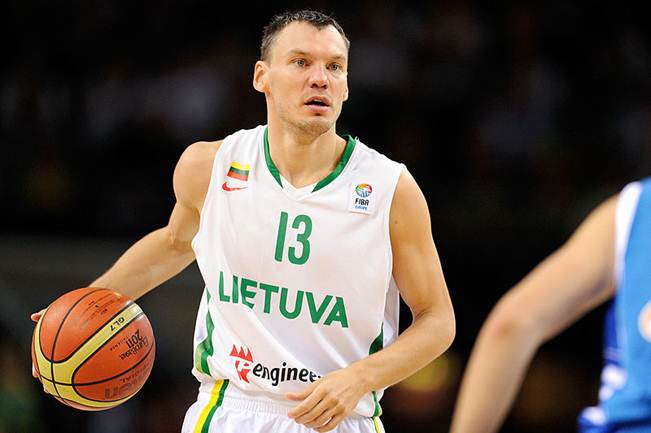 Šarūnas Jasikevičius, during EuroBasket 2011.
Text: Vin Karnila
Mention the words Sport and LITHUANIA and the next word you hear is always BASKETBALL. While a number of Lithuanian players have gone on to careers in the NBA it may surprise you to find out that quite a few Lithuanian athletes have had successful professional careers in the U.S.A. in other sports as well. What may be even a little more surprising is that these athletes excelled in what are considered "American" sports. As an example, did you know that the two players that most people say were the greatest players in the National Football League were Lithuanians?
BASKETBALL
Basketball is the sport that has tied Lithuania and USA closest together, so let's first introduce you to the Lithuanian basketball stars "over there".
Sarunas Jasikevičius
In July 2005 Sarunas Jasikevičius signed a three year contact with the Indian Pacers of the NBA. The point guard, who won three consecutive Euroleague championships, agreed to a three-year deal with the Pacers. Back in 1998, he was a solid wing player with Maryland, known for his shooting and intelligent play. He went back to his native Lithuania and plied his skills in club ball in Europe, becoming one of the best at his position. Arunas said "European ball is getting closer to the level of the NBA. I don't feel I have to play there to prove myself as a player,"
Žydrunas Ilgauskas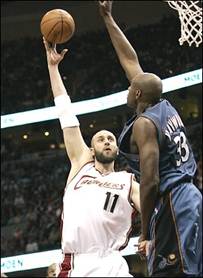 After being drafted by the Cleveland Cavaliers, Žydrunas Ilgauskas was selected to play in the 1997-98 Schick All-Rookie First Team. He was named MVP of the game, totaling a game-high 18 points and 7 rebounds, during the 1998 NBA All-Star Weekend in New York. Zydrunas led the Cavaliers in 1997-98 in field-goal percentage and blocked shots, ranked 2nd in rebounds, and 3rd in scoring.  Unfortunately, he missed the entire 1996-97 season after undergoing surgery on his right foot. Ilgauskas rebounded to be named to the Eastern Conference All-Star Team in the 2002-03 season.
http://www.youtube.com/watch?v=Q-3z39HQwfg
Arvydas Sabonis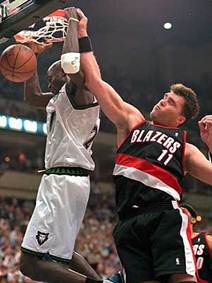 Arvydas Sabonis, now retired from the NBA, has been considered the best big man in the basketball world. In 1995 he said: "There's nothing left for me to prove in Europe or in the basketball world. Only the NBA remains."
But before that, he had been leading the Soviet national team to a gold medal at the 1988 Olympic Games in Seoul, South Korea. He also helped Lithuania to a bronze medal at the 1992 Olympics in Barcelona, and a second-place finish in the 1995 European Championships in Greece. In an 11-year professional career spent with club teams in the former Soviet Union and then in the Spanish League, Sabonis has led his squads to five league championships and has been named European Player of the Year four times by various publications. On August 20, 2010, Sabonis was inducted into the FIBA Hall of Fame in recognition of his great play in international competition.
http://www.youtube.com/watch?v=rsG9oApZtVI
Šarunas Marčiulionis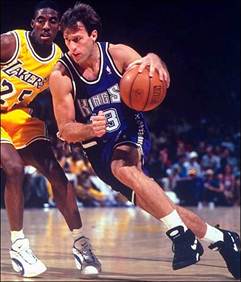 Šarunas Marčiulionis was a deadeye jump-shooter and capable of ferocious drives to the basket. He was a 1988 Olympic Games Gold Medal Champion in Seoul with Arvydas Sabonis.
Marčiulionis started his pro basketball career with Statyba Vilnius in the USSR League, the forerunner of the VTB United League in 1981. Drafted by the Golden State Warriors in the 6th round of the 1987 NBA Draft. He moved to the NBA in 1989 and he played four years with the Warriors, finishing as the runner-up for the Sixth Man of the Year Award in both 1992 and 1993. Marčiulionis became one of the first Europeans to get significant playing time in the NBA, helping to lead the way for the internationalization of the league in the late 1990s. After missing a year and a half with a leg injury, he was traded to the Seattle Super Sonics in 1994, then traded to the Sacramento Kings in 1995, and he finished his NBA career with the Denver Nuggets in the 1996-97 season. Having a career hampered by injury, he was on brink of making a real impression on the league before getting hurt.
Sarunas is today known as a hotel owner in Vilnius, as Founder of the Basketball Funds in Lithuania and the USA, as Founder of a private Basketball School and the Lithuanian Basketball League. In April, 1998 Sarunas became Extraordinary and Minister Pleni Potenciary of the Embassy of the Republic of Lithuania in the USA, and in 1999 he founded North European Basketball League NEBL and became its Commissioner.
http://www.youtube.com/watch?v=schzjV2RiN4
http://www.youtube.com/watch?v=fumWbJomIS4
Frank Lubin / Pranas Lubinas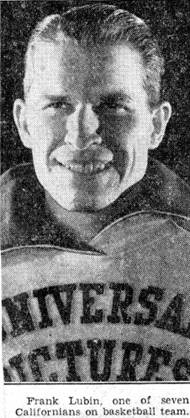 Frank Lubin / Pranas Lubinas (1910 - 1999) is often called the Grandfather of Lithuanian basketball as he promoted basketball in Lithuania and helped Lithuania win its second European championship in a row. He became an Olympic champion with the US team in 1936 in Berlin, and a European champion with the Lithuanian team in 1939 in Kaunas. He was born in Los Angeles in a family of Lithuanian emigrants, studied at UCLA University and was entered into the UCLA hall of fame in 1997. He played in AAU tournaments for about 30 years.
AMERICAN FOOTBALL
Johnny Unitas / Jonas Jaunaitis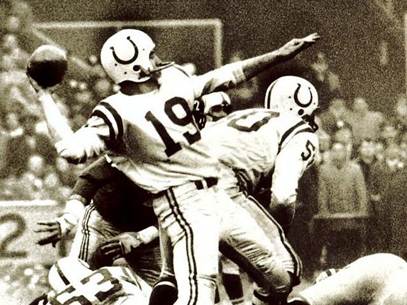 Johnny Unitas / Jonas Jaunaitis (1933 - 2002) was a professional American football player in the 1950s, 1960s and 1970s. Unitas is considered by many to have been one of the best quarterbacks to ever play the game. He was the National Football League's most valuable player in 1957, 1959 and 1964. Unitas was born in Pittsburgh, Pennsylvania in 1933. Johnny's father died when he was five years old and he was raised by his Lithuanian immigrant mother who worked two jobs to support the family.
Unitas set many passing records during his career. He was the first quarterback to throw for more than 40,000 yards, despite playing during an era when NFL teams played shorter seasons of 12 or 14 games (as opposed to today's 16-game seasons). His 32 touchdown passes in 1959 were a record at the time, making Unitas the first QB to hit the 30 touchdown mark in a season. His 47-game touchdown streak between 1956 and 1960 is a record that still stands and is considered by many the football equivalent of Joe DiMaggio's 56-game baseball hitting streak
Here is a short list of some of his other achievements:
Unitas held the record for most Pro Bowl appearances (10) by a quarterback until Brett Farve broke his record in 2009.
Unitas set the original standard for most wins as a starting quarterback with 118 regular season victories.
In 2004, The Sporting News ranked Unitas No. 1 among the NFL's 50 Greatest Quarterbacks, with Joe Montana No. 2.
Since 1987, the Johnny Unitas Golden Arm Award has been awarded to the top senior quarterback of the current year in college football.
http://www.youtube.com/watch?v=skVj2JppOOg
http://www.youtube.com/watch?v=0R-vbUvI6Bs
Dick Butkus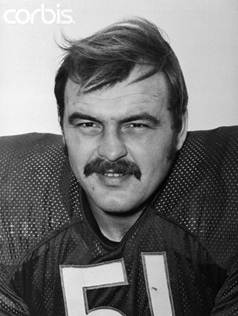 Dick Butkus is the man about whom the American sports press wrote; "It is possible that Butkus was the meanest, nastiest, fiercest linebacker to ever put on a helmet". More than a quarter of a century after his retirement, there remains the Butkus image: the middle linebacker wrapping up a running back and viciously slamming him to the ground like an unwanted toy.
He was selected to eight Pro Bowls and was all-league six times. In his rookie season, Butkus led the Bears in tackles, interceptions, forced fumbles, and fumble recoveries, and regularly led the team in these categories throughout his career. Butkus recovered 27 fumbles in his career, a NFL record at the time of his retirement. He was one of the most feared players of his era and even appeared on the cover of Sports Illustrated in 1970 with the caption "The Most Feared Man in the Game." He had one of his most productive seasons in 1970 with 132 tackles, 84 assists, 3 interceptions and 2 fumble recoveries. He was forced to retire after multiple knee injuries in 1973.
http://www.youtube.com/watch?v=zBumQdwc-tE
http://www.youtube.com/watch?v=sxR9qYSHt8U
BASEBALL
Vito Tamulis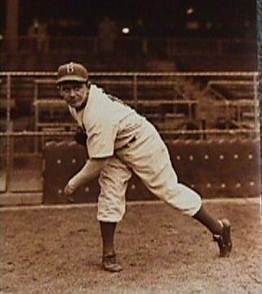 Vito Tamulis (1911 - 1974) was born in Cambridge, MA. He was a sensation at Boston English High, pitching his school to the city championship in 1930. Turning down several college scholarship offers, Yankees scout Gene McCann signed him shortly before his 19th birthday. He worked his way up the Yankee chain, with a carreer culminating in 1934 with the Newark Bears. The Newark teams during the 1930 are rated as among the one hundred best minor league teams of all time. Vito Tamulis continued to live in the Nashville area until his death in 1974.
Joe Krakauskas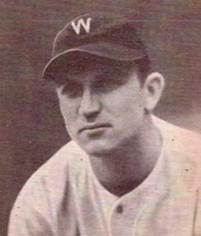 Joe Krakauskas (1915 – 1960) was a Major League Baseball pitcher who played for seven seasons. He played for the Washington Senators from 1937 to 1940 and the Cleveland Indians from 1941 to 1942 and 1946. He was 11-17 at his most active, with the 1939 Senators.
Eddie Waitkus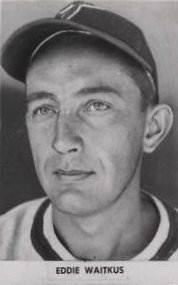 Eddie Waitkus (1919 – 1972) was the baseball player who inspired the movie, The Natural, starring Robert Redford as Roy Hobbs. This is a true story of a great baseball player, whose entire life was totally changed, because of an act of a single obsessed fan.
As the son of Lithuanian immigrants, Edward Stephen Waitkus grew up in Boston and served in the Pacific during World War II. His army service in some of the war's bloodiest combat earned him four Bronze Stars. On the night of June 14, 1948, at the Edgewater Beach Hotel, Waitkus's bright career took an infamously tragic turn. He received a cryptic note summoning him to meet a young fan, Ruth Steinhagen. When Waitkus entered her hotel room, she proclaimed, "I have a surprise for you," and then she just as quickly shot him in the chest. He survived, and in his final summers he worked with youngsters at the Ted Williams baseball camp. Cancer claimed him in 1972, just days after his fifty-third birthday.
Eddie Miksis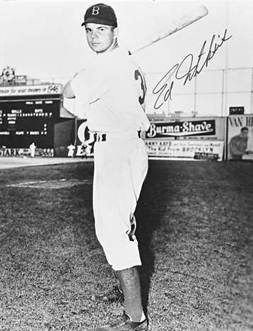 Eddie Miksis (1926 - 2005) was 17 years old when he made his major-league debut on with Brooklyn. In 1953, he had a career-high with the Cubs and appeared in eight World Series Games -- five with the Dodgers in 1947 and three with the Dodgers in 1949. He was traded to the Cardinals in 1957 and finished up his career with Baltimore (1957-1958) and Cincinnati (1958). He lived in Philadelphia following his retirement from baseball.
Bill Sudakis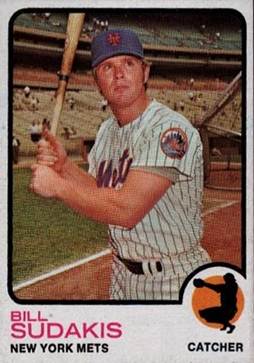 Bill Sudakis homered for Los Angeles in his first major league game. The Dodgers' third baseman in 1969, he was made a catcher and had won the everyday job in 1970 when he broke a finger. He became a versatile utilityman. More than one-third of Sudakis's hits were for extra bases.
BOXING
Jack Sharkey / Juozas Zukauskas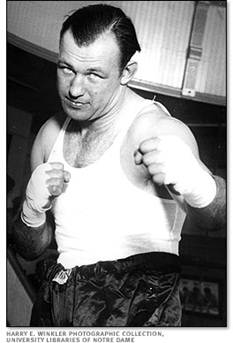 Jack Sharkey / Juozas Zukauskas (1902 - 1994) is the only man to have fought both Jack Dempsey and Joe Louis. But he may be best remembered for a pair of controversial title fights with German Max Schmeling. Sharkey fought for the vacant world title in 1930 against Schmeling but was disqualified for hitting below the belt in the fourth round. In 1932, he met Schmeling once again. The champion appeared to have a clear decision but the fight was awarded to Sharkey on a split decision. In his first title defense, Sharkey was knocked out by the mob-connected Carnera in the sixth round. As he did in 1931, Sharkey began by easily outboxing Carnera for the first five rounds. But he was floored with a right uppercut in round six and counted out. Many felt the fight was fixed but Sharkey denied the accusation until his death.
HOCKEY
Dainius Zubrus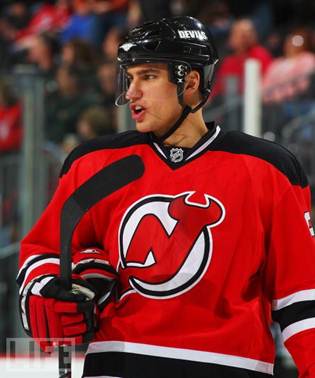 Dainius Zubrus, born in Elektrenai, Lithuania, was drafted 15th overall in the 1996 NHL Entry Draft by the Philadelphia Flyers. He made his NHL debut on October 5, 1996, scoring a goal against the Florida Panthers. In his rookie season, he helped the Flyers reach the Stanley Cup final.
The Flyers traded him to the Montreal Canadiens on March 10, 1999. He registered his first career hat-trick on October 14, 2000, against the Chicago Blackhawks, and was traded by the Canadiens to the Washington Capitals on March 13, 2001.
During the 2005-06 season he posted a career-high 57 points. In the 2006–07 season, Zubrus continued his impressive form posting 52 points in 60 games before he was traded to the Buffalo Sabres February 27, 2007.
On July 3, 2007, Zubrus a free agent, signed a six-year, $20.4 million dollar deal with the New Jersey Devils. On November 23, 2008, Dainius Zubrus had one of the best offensive games in Devils history. Zubrus tied a team record with four goals to help New Jersey win its season-high fourth straight game, 7–3 over the Tampa Bay Lightning.
At 6 ft 5 in/1.96 m and 224 lb/102 kg. he is considered a "power forward" in the NHL. His size allows him to effectively use the body when needed but in spite of his size he is considered one of the most graceful skaters in the league along with being a good scorer and a very effective play maker.
http://www.youtube.com/watch?v=cW66VP6rERY
Darius Kasparaitis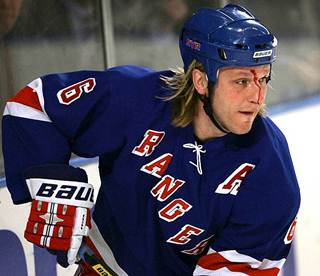 Darius Kasparaitis gave up his parental home in Elektrenai, Lithuania at the age of twelve to pursue a dream of becoming a professional hockey player which was an unusual route in a country that is dominated by basketball.
Kasparaitis played his first professional game for Dynamo Moscow, one of the premier teams in the Soviet Union, at the age of 16 during the 1988–89 season, and won the Soviet League championship with them in 1992.
He was drafted by the New York Islanders with the fifth overall pick in the first round of the 1992 NHL Entry Draft. Kasparaitis is known for his aggressive physical playing style and has led his teams in hits several times, including his rookie season, in 1992–93 NHL season with the New York Islanders. Kasparaitis has played for the New York Islanders, Pittsburgh Penguins, Colorado Avalanche and New York Rangers. Playing for Pittsburgh he scored a game seven overtime goal vs. Buffalo in 2001. Kasparaitis eventually wound up with the New York Rangers and during the 2005–06 season he served as their alternate captain.
http://www.youtube.com/watch?v=CoyoJ-Un77Y
TENNIS
Vitas Gerulaitis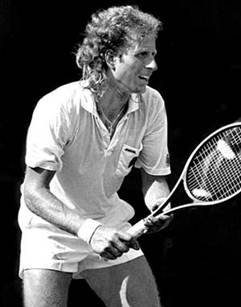 Vitas Gerulaitis (1954 - 1994) was a highly sucessful professional tennis player. Born in Brooklyn, New York, his biggest success was winning the men's singles title at the Australian Open in 1977, when he defeated John Lloyd in five sets.
Gerulaitis led the Pittsburgh Triangles to the World Team Tennis championship title at Pittsburgh's Mellon Arena in 1975. He also won the men's doubles title at Wimbledon in 1975. He was a singles semi-finalist at Wimbledon in both 1977 and 1978. In 1977, he lost a long Wimbledon semi-final to his close friend and practice partner, Björn Borg 6–4, 3–6, 6–3, 3–6, 8–6. In 1978, Gerulaitis won the year end championship WCT Finals for the World Championship Tennis tour, winning over Eddie Dibbs 6–3, 6–2, 6–1.
In 1979, Gerulaitis lost in men's singles finals at the US Open to fellow New Yorker John McEnroe in straight sets. He was a member of the United States team which won the Davis Cup in 1979. In the final, he won two singles rubbers as the US beat Italy 5–0.
Gerulaitis reached his third Grand Slam singles final in 1980, when he lost in the final of the French Open to Björn Borg in straight sets.
During his career, Gerulaitis won 25 top-level singles titles and 8 doubles titles. His career-high singles ranking was World No. 3 in 1978. He retired from the professional tour in 1986.
He died in a tragic accident in 1994 at age 40. While visiting a friend's home in East Hampton, Long Island, a malfunction in the air-conditioning system caused odorless poisonous carbon monoxide gases to seep through the house, leading to his death. Intensely proud of his Lithuanian heritage, Gerulaitis was well known for correcting reporters when they mispronounced his name.