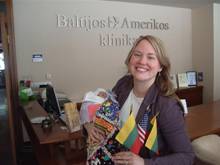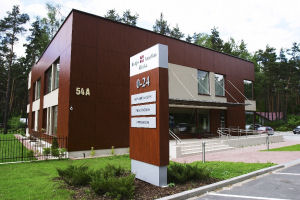 Our baby was born at the Baltic American Clinic and our experience at the BAC could not have been better. Much of our positive experience at the Baltic American Clinic was due to two people: Our amazing OB/GYN Jurate and the excellent mid-wife Rasa. Rasa is something like the "mother superior" of the Baltic American Neonatology Center. Rasa runs everything with her experience and her charm. Rasa gave us our first lessons in parenthood. While Jurata took care of all things medical, Rasa was responsible for nearly everything else (food, comfort, diaper changes, even the bill at the end of the stay). Rasa seemed to be always watching over us with her careful eye. We loved it!
The BAC is something like a cross between a 5 star hotel and a hospital. To be sure the BAC is not set up for difficult births and if they believe that your birth might be complicated, you will be referred to the University Hospital. But if you will have a normal birth, the BAC will be for you.
You will receive round the clock care in a private room, room service, highly trained staff who will cater to your every need. You will be comfortable and well cared for and receive some basic training if parenthood if you need it. Both parents and baby are welcome to stay 24 hours per day in the guest rooms. There are no visiting hours (at least for parents). Fathers are always welcome.
While our pregnancy and delivery at the BAC were only positive, we have not always been happy with other medical care at the BAC. Like everywhere else, whether you are happy or not will depend on the health care provider. But if you are having a baby in Lithuania, we would highly recommend delivering at the Baltic American Clinic.
Text: Galina Emmer
(from her travel blog www.lithuania-travel.net)