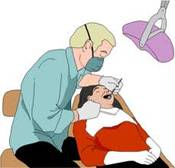 Many people come to Lithuania for quality health care at a reasonable cost. Medical quality is very high. As an example, I recently destroyed a molar tooth. About 1/3 of the tooth broke off.
The next day I had a dental appointment at one of the best dental centers in Vilnius located centrally in the old town. It is a modern facility, very comfortable which looks exactly like any other quality dental center in any other country of the world. Several dentists and dental assistants work at the dental center. My dentist is very professional, speaks very good English. She is also the first dentist I have ever visited who has given me a hand mirror so that I could watch her work. Very entertaining to watch!
In about 1.5 hours she completely rebuilt my tooth and it was completely painless. Aside from the the discomfort of having my mouth held open for 1 1/2 hours, there very little discomfort.
The new tooth feels great. It feel completely natural and looks like the rest of my teeth. Only a trained dentist would be able to tell that it was not my real tooth. I am 100% satisfied with it.
How much did I pay for the work? 300 litas or approximately 85 euros all inclusive. I expect I would have paid 10 times that amount in many countries. Perhaps that explains the health tourism in Lithunia.
Text: Gene Emmer
(from his travel blog www.lithuania-travel.net)