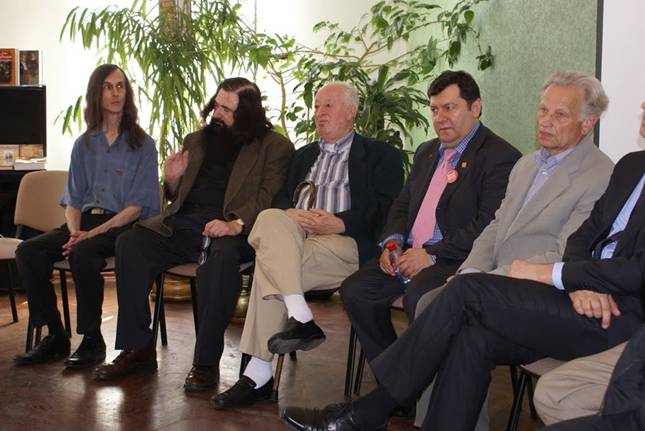 (Left-right): Wyman Brent, book collector,
Professor Dovid Katz, director of the Litvak Studies Institute,
Dr. Simonas Alperavičius, head of the Jewish Community of Lithuania,
Emmanuel Zingeris, Member of Seimas (Parliament),
Žibartas Jackūnas, Vilnius City Councillor
Photo: Žilvinas Beliauskas
10 June 2010 was an important day for bridge building and reconciliation in Lithuania, as representatives of the local Jewish community, the diplomatic corps and others met to participate in the first display of books compiled by American Wyman Brent.
Many of us had a certain feeling of participating in writing a new chapter of history when we met this early June day. Vilnius, which for hundreds of years had been one of the world's most important centres of Jewish culture and learning, was, as we know virtually wiped out from the Jewish world map during the Holocaust, but as we meet here - individuals from many countries, nationalities and cultures - this early summer day to celebrate that an American Baptist has collected more than 5,000 books for what eventually will become a Jewish library of 200,000 titles, the feeling of a new dawn is clearly present.
Wyman Brent's planned new library is not the only signal. Two other men, professor Dovid Katz and professor Mikhail Iossel, have also been very active recently. As a result, last year, the new Litvak Studies Institute was established in the premises of the Jewish community in Vilnius city centre.
These two events have not healed the wounds after the Holocaust in this country, and it will take a long time and many more efforts before this will happen. But it is important to maintain and preferably breathe new life into what was once a thriving Jewish culture here. The efforts that are now being made by these three gentlemen is nothing less than admirable, and one could therefore hope that 10 June 2010 represented a turning point in the positive direction.