A place of Lithuanian history, legend, mythology culture and worship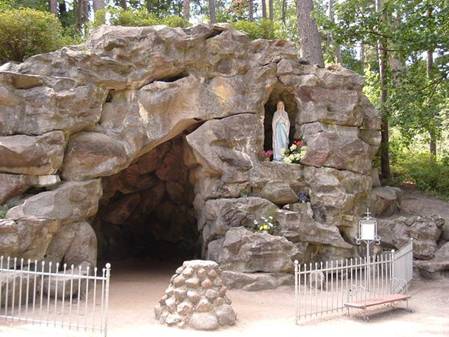 In as late as 1965 a sculpture called "For you Berutė" was set on the base of the hill. What gets your attention about the sculpture is not only that it was set here more than 550 years after her death but the name of the stature also is intriguing. The inscription on the sculpture reads in Lithuanian "Tau Birutė". The word "tau" in Lithuania translates to "for you" but the Lithuanian language contains formal and informal nouns. "Tau" is informal. To say "for you" in the formal, you would say "jums". What is quite striking and sheds light on how people nowadays feel about Bitutė is that by using the word "tau" they are addressing her as a close friend. http://en.wikipedia.org/wiki/File:Palanga_Birutes_kalnas.jpg
When in Lithuania, it would be highly recommended that you visit the beautiful sea side resort area of Palanga. Any time of year it is a pleasure to walk to sandy beaches with the waves of the Baltic Sea gently splashing onto the shore on one side and pristine pine forests on the other. While you are there, you should also get some smoked fish offered by many of the vendors. They offer many varieties and the taste is simply out of this world. Aside from the maritime treasures Palanga has to offer you should also take some time to visit the Palanga Botanical Garden and Park. The park features a rose garden, greenhouse, rotunda, a sculpture of Eglė, the Queen of Serpents, a Holocaust memorial, ponds, and gazebos; during the summer it hosts concerts and festivals. While in the warmer months the Park and Garden offer a multitude of blossoming flowers, a visit during the dead of winter will still reward you with the peaceful grandeur this area has to offer.
In addition to the beauty of nature the Park has two other places of interest. One is the Amber Museum. This is definitely worth a look inside. It is positively fascinating to learn of all the different types and variations of amber (gintras in Lithuanian). As you leave the museum, take the path on the right side of the building. It will lead you to a place that is a combination of Lithuanian history, legend, mythology, culture and worship. It is called "Birutė Hill".
To explain Birutė Hill we should start by telling who Birutė was. Birutė was the second wife of Kęstutis, Grand Duke of Lithuania and the mother of Vytautas the Great. There is very little known about Birutė's life but after her death, in 1382, a strong bond developed with this lady among Lithuanians, especially in the area of Samogitia (Latin)/Žemaitija (Lithuanian).

While no documentation has yet to be found to support this, it is generally believed that she was born near Palanga to a Samogitian or Curonian magnate family. The story of her marriage to Kęstutis is very romantic and has become a legend in Lithuania. It is documented in chronicles that Birutė was a priestess (vaidilutė) and had dedicated her life to serving the Pagan gods by guarding the sacred fire. Apparently this young lady was quite attractive and soon word spread near and far of a priestess in Palanga whose beauty was second to none in the universe. When Kęstutis heard of her beauty, he visited the area and asked her to marry him. She had to refuse because she had made a solemn promise the gods to guard her virginity until her death. Kęstutis, apparently being smitten by the charms of this fine lass had no intention of taking no for an answer. So basically what happened is once he figured out that all this sweet talk wasn't going to work he took her by force to Trakai and threw a big wedding bash. End result is Birutė and Kęstutis had three sons and three daughters. Vytautas, their first son, was born around 1350 so this indicates suggests that the marriage took place around 1349 or a bit earlier.
Just as with her life, the exact circumstances surrounding Birutė's death are not entirely clear. Between 1381 and 1382 her husband Kęstutis waged a war against his nephew Jogaila, who would become the Grand Duke of Lithuania. Jogaila signed a treaty with the Teutonic Knights against Kęstutis. The result was that her husband was arrested and taken to Kreva Castle in the part of Lithuania which is now Belarus. A week later Kęstutis was dead and some chronicles hint that he was murdered. In one chronicle written by the Teutonic Knights, it is written that Birutė, for reasons of safety, was moved to Brest, Belarus, where she drowned in the autumn of 1382. Even after her passing the details of her death are still uncertain. Thirty-five years after her death, a Samogitian delegation to the Council of Constance denied she was murdered. It gets even more interesting in that a legend claimed that Birutė did not die in Brest. It claims that after her husband's death she returned to the shrine where she had served earlier in Palanga, and resumed serving the gods until her death which in this case was in 1389.
Now that we have shared with you who Birutė was we can begin to explain Birutė Hill. Birutė Hill is the highest dune at the seaside resort of Palanga and now is a part of the Palanga Botanical Garden. Archaeological research shows that there was a village at the bottom of the hill in the 10th century. In the 13th century, when the Teutonic Knights and Livonian Order invaded, the villagers built a defense system with a tower. After an initial defeat, the system was rebuilt and made even stronger; it now had two towers and a wall surrounded the top of the hill. However, when this was burned in the second half of the 14th century, a pagan shrine and observatory was built in its place instead.
OK, so why is this dune, which is the highest in the Palanga area, called Birutė Hill you ask???
It is because legend has it that she was buried in Palanga at the bottom of this hill named in her honor. Some even say that it is at or near this hill that Kęstutis proposed matrimony to this lovely maiden. After her death, people began to come to this spot to pay tribute to this pagan princess. She was considered to be a goddess or the pagan equivalent of a saint by the local people. Since it was believed that she was buried somewhere at the base of this hill it is only logical that people would come here to worship her. In 1989 archaeologists found evidence of a pagan sanctuary and observatory, which had existed on the top of Birutė Hill in the late 14th or early 15th century. It was likely built in Birutė's honor.
The fact that in the late 1300s or early 1400s the people of this area would have built a pagan sanctuary in honor of this woman they believed to be a goddess or a pagan saint is really not surprising. At this period of time Christianity was still quite new to Lithuania. Yes, Mindaugas was Baptised in 1250/1251 but then in 1261 he reputed Christianity. It wasn't until Jogaila was Baptised in 1386 that Lithuania really began to become a Christian State. From this point on Jogaila's court and his knights, which included his cousin Vytautas (Birutės son), were also Baptised and the people of Lithuania followed the religious direction of their leaders. Beginning in 1413, Samogitia / Žemaitija was the last ethnic region of Lithuania to become Christianized. In November 1413, Vytautas himself sailed the Nehman and Dubysa Rivers to the village of Dubysa, which at that time was in the far western part of Samogitia and is now in the Kaunas region, where he baptised the first groups of Samogitians. In 1416, the construction of eight first parochial churches was started. The Diocese of Samogitia was established on 23 October 1417 and Matthias of Trakai became the first Bishop of Samogitia. The cathedral was built in Medininkai around 1464.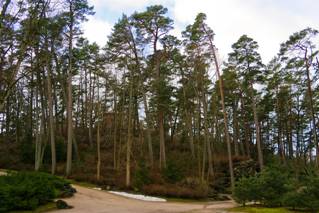 So in the early 1400s, the fact that people of the area were worshipping Birutė as a goddess could be considered understandable. However this is where it gets interesting and even to a degee mystifying though. The worshipping continued. The amount of worshippers of Birutė increased. Every year more and more people would come to the foot of the hill and pay their respects. This started to really become an uncomfortable issue in a country that was now considered to be a Christian country with Christian leaders. To discourage people from worshiping pagan gods and Birutė's grave or maybe just to make it look like the people were not worshipping a pagan goddess a chapel for Saint George was built on the top of the hill in 1506. In 1869 the chapel was re-built and to this day you can go to the top of Birutė Hill and visit the Chapel.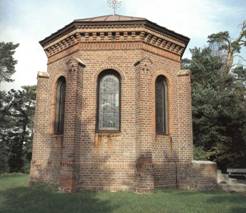 In spite of the Chapel and the concerns of the Church worshipping continued and the worshippers increased. In 1898 a Lourdes was built at the base of the hill. This photo of the Lourdes to Berutė was taken in September of 2010. As you can see from the prayer candles that are freshly lit, people to this day are visiting to pay their respects.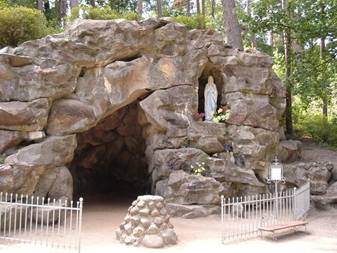 In as late as 1965 a sculpture called "For you Berutė" was set on the base of the hill. What gets your attention about the sculpture is not only that it was set here more than 550 years after her death but the name of the stature also is intriguing. The inscription on the sculpture reads in Lithuanian "Tau Birutė". The word "tau" in Lithuania translates to "for you" but the Lithuanian language contains formal and informal nouns. "Tau" is informal. To say "for you" in the formal, you would say "jums". What is quite striking and sheds light on how people nowadays feel about Bitutė is that by using the word "tau" they are addressing her as a close friend.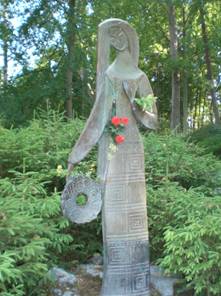 The next time you are in Lithuania it would be well worth you time to go to Palanga. Explore the sandy beaches, stroll through the pine forests. I don't know what it is about the pine trees in Palanga but the sweet smell that they transmit is wonderfully strong and permiates the area in such a way that almost lifts you off your feet and floats you through the natural beauty of this seaside land of natural treasures. Absoulutely do not forget to indulge yourself on what is most likely some of the finest smoked fish you will find any where on this earth. You would also do well to make some time to experience Birutė Hill. When you go there you will more than likely see freshly lit prayer candles and observe people paying their respects to Birutė. As you watch these "worshippers" you may ask yourself are they paying their respects to the wife of Grand Duke Kęstutis, the mother of Vytautas the Great or the pagan princess guardian of the sacred fire. I guess the only way to know would be to ask but to interupt while some one is offering a message from their heart would be quite disrespectfull therefore I guess we will never know.
Su pagarbe
Vin Karnila