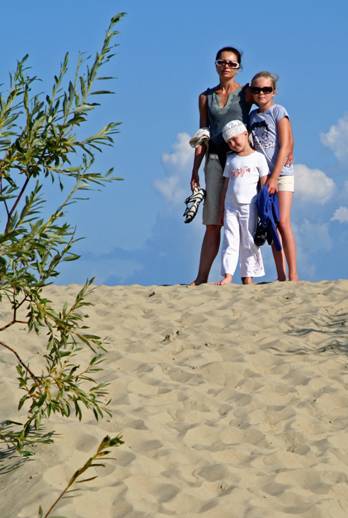 On top of the Nida sand dunes.
Lithuania offers the Baltic Sea's longest, whitest and softest beaches. Most of the country's coastline, from Kaliningrad until Latvia, consist of sandy beaches as far as the eye can see. Furthest to the south you will find Europe's highest sand dunes, next to the picturesque old fishing village of Nida. In the midst of the coastline the bustling port city of Klaipeda is located, and a bit further north you are very much welcomed to the tourist towns of Palanga and Šventoji.
What makes the Lithuanian coastal line so special, is that here you can still find the kind of genuine, authentic atmosphere and tourist resorts that you may remember from your childhood also in other parts of Europe.
Beautiful nature, good beer, and fantastic smoked fish are just three of the ingredients that will make you remember "the good old times" as soon as you arrive….
Palanga is the most important resort of Lithuania. Some of you may have childhood memories from this unique and beautiful tourist village right on the Baltic Sea lazy waves and miles of attractive beaches ...
Palanga lives - throughout the night - during three hectic summer months. And if you're lucky, it may well be that you will experience a live concert with Stasys Povilaitis, Lithuania's famous ballad singer…