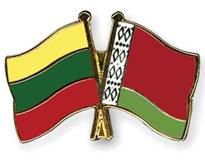 The quantity of Lithuanian visas issued to citizens of Belarus in the first half of 2011 has increased by 59% as compared to the analogous period of the last year.
It has been stated by the director of Foreign Ministry's Consular Department Vytautas Pinkus at a session of an inter-institutional working group in Palanga on July 27, BelaPAN and the press-service of the Lithuanian Foreign Affairs agency report.
As said by Pinkus, the number of visas is mostly coinciding with tourists' flows. "In 2010 the Lithuanian Embassy in Minsk and Consulate General in Hrodna together issued more than 107 thousand visas, and 77 thousand were issued just in the first half of this year," reported the press service of Lithuanian MFA. In particular, in June 2011, compared with the same period in 2010, the number of visas issued by Lithuanian diplomatic representations in Belarus rose by 48%.
The inter-institutional working group was established by an order of the Foreign Minister Audronius Azubalis.
The group began its activities on 21 October 2010. In co-operation with the government and business partners, the working group makes decisions with regard to the enhancement of the procedures of visa issuance to tourists.
Source:
http://www.charter97.org