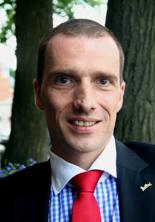 General Manager Tobias Ammon at Radisson Blu Hotel in Klaipeda.
The Radisson Blu Hotel in Klaipeda has just celebrated its first ten years as the only truly international luxury hotel at Lithuania's beautiful seacoast.
Two months ago the hotel got a new General Manager, German Tobias Ammon (35), and I am sitting down with him in the hotel's breakfast room this early July morning to let him explain to you, dear readers, why you should visit Klaipeda and his hotel – this summer as well as when the autumn winds already make the endless Baltic Sea waves powerfully roll in towards the port city shores.
"I must admit that I had to ask where Klaipeda is when I was offered this position, but I was astonished to see what a nice area this is, when I first came here," tells the young manager, who now has moved here with wife and little daughter. He and his little family are now in full swing "testing Klaipeda as travel destination", and they are using their bicycles to do exactly that!
"This area is really ideal for bikes, and we are now using our weekends to bike to the fantastic beaches in the outskirts of the city, riding through beautiful coastal pine tree forests, villages and over the wavy, green landscapes that characterise this area," he tells.