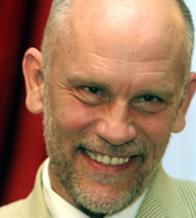 (AP)  VILNIUS, Lithuania — John Malkovich says his latest acting role, an aging Siberian mobster trying to raise his grandson to be an honorable crook, proved to be a "delightful" experience.

The movie, "Siberian Education," is set in Trans-Dniester, now a separatist republic between Moldova and Ukraine, though filming of the U.S.-Italian production took place in Lithuania and wrapped up this week.

Malkovich plays Kuzja, an old recividist exiled to Trans-Dniester along with numerous other ex-convicts by Soviet authorities in the waning years of the Soviet Union. Kuzja tries to teach his grandson Kolyma — the film's main protagonist, played by Lithuanian actor Arnas Fedaravicius — the arcane rules of "criminal morals."

"It is an interesting story about the way of life that most of audience would not know about," Malkovich said Friday before leaving Lithuania. "Things are so much global and Americanized. It's interesting to think of that kind of (criminal) culture that the film addresses is kind of becoming extinct."

"I found this experience delightful," he added.
Read more at:
http://www.cbsnews.com/stories/2011/09/24/ap/entertainment/main20111117.shtml