How I came to Lithuania 21 years ago (2 of 6)
Some private memories by Aage Myhre, VilNews Editor-in-Chief
aage.myhre@VilNews.com
November 1990:
A Volga journey from Riga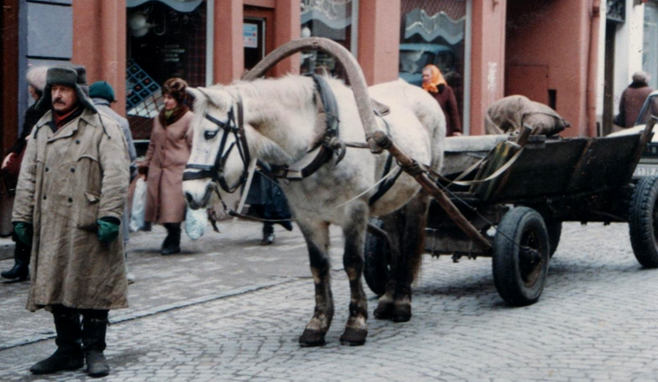 November 1990: Delivery of coal to properties in Pilies g. right in the centre of Vilnius. With horses. People pick it up in burlap sacks. Other times, the horse driver is simply shovelling the coal out on the sidewalk in front of the buildings on the ordering list.
Photo: Aage Myhre.
We land at Riga airport on a late November afternoon in 1990. Flights from western countries are still not allowed to land in Vilnius. A white Volga from the Lithuanian government is waiting for us. The driver is 70. So is the speed (km/h), so it takes us seven hours to be driven the 300 kilometres from Riga to Vilnius. Through Baltic darkness.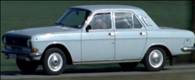 We are two Norwegians bumping through Latvia and Lithuania this November evening in a poorly padded back seat.  The car has certainly springs and shock absorbers, but they don't help much. Through Latvia and the northern part of Lithuania the roads are like roads in Norway, narrow and winding. Great is therefore my surprise when half the distance remains and a four-lane highway appears in a country I had expected would only be characterized by worn out poverty! But the top speed of the Volga remains the same. 
Almost seven hours have passed when we pass a huge sign. VILNIUS it says, in enormous concrete letters. But it is still dark outside the car windows. Only when we drive down the hill towards the centre, we begin to see some faint lights. Even one neon light. 'Hotel Lietuva' it says. On top of what we understand must be a very tall building. But the darkness dominates entirely. The feeling of the Soviet Union. 
"It is better to light a small candle than to curse the darkness."  I come to think of words of the Chinese philosopher Confucius (K'ung Fu-tzu). This becomes my motto for my further works in and with Lithuania.

It is well past midnight when we finally arrive at the hotel. Hotel Draugyste (friendship), where state guests, the 'stately' guests, are placed in safe environments. With microphones everywhere. 
| | |
| --- | --- |
| Hotel Draugyste. | Hotel Draugyste on a USSR postal stationery cover from 1974. |
The hotel's dining options are obviously closed at this time of day. We ask if they have room service or whether there are open restaurants to find in the neighbourhood. Stupid question obviously. We can see the facial expressions of the two cute girls behind the huge long reception desk. They shake their heads. Then one of them remembers that there is an open door behind the reception, to the hotel's coffee shop. Maybe there is some food left there after the day's business hours. We jump over the counter. It's the only way to get in. 
The armed guard, who so far has been sitting quietly in one of the deep lobby lounge chairs made of not-so-genuine leather, pops up and starts to object strenuously. Fortunately, only with his mouth. The girls manage to restrain him, and soon we are in full swing enjoying our feast.  Half sandwiches of dark bread. With three kinds of cold cuts: cheese, sausage and dried sardines. The girls are even finding a few bottles of warm beer for us. 
The beds appear to be the too short. But we are too tired to react. 

One of the few shop windows in Vilnius, year 1990.
Photo: Aage Myhre.
 

 Next morning we go for a walk in the Old Town. Before the official programme starts. What we find is a beautiful but dilapidated city. The façades are mostly unpainted. Plaster has fallen off. The very few shops have no colourful shop windows. 

It smells of terrible Soviet fuel from Ladas, which dominates the city traffic. Horses with the carriages are moving around bringing out coal and more to people. Time seems to have stood still here. 

People are dressed in grey or other dark colours. Women wearing headscarves or hats, men often with berets tilted towards one ear. 

No smiles. We, with our Western clothing, must be a very unusual sight for them. But nobody is watching us. They look down or away.

I feel sadness.