Wed, 16th November, 2011 - Posted by admin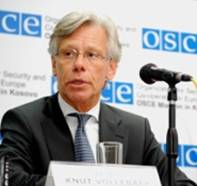 Knut Vollebaek.
The Lithuanian education minister, meanwhile, expects that the international community will see both sides after complaints from the Poles as the OSCE commissioner plans to announce his conclusions after his next week's visit to Poland. OSCE High Commissioner on National Minorities Knut Vollebaek came to Lithuania on a three day visit. After meeting with high officials Monday, he will go Tuesday to the Salcininkai district and visit Polish and Russian schools, reportsLETA/ELTA.
"We are worried. It is tension, not a conflict but tension. My aim is to try to identify the problem before it escalates into a serious conflict," Vollebaek told the LTV news service. "This visit could have been prompted by public complaints from various minorities, particularly from the Polish minorities," Education Minister Gintaras Steponavicius said.
Read more:
http://www.baltic-course.com/eng/baltic_states/?doc=48714