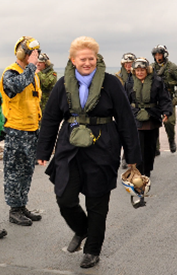 President Grybauskaite aboard the amphibious command ship USS Mount Whitney.
U.S. Navy photo by Mass Communication Specialist 2nd Class Sylvia Nealy/Released
President of Dalia Grybauskaite flies by regular air-liners. In Europe, she enjoys the economy-class, outside the continent – business-class.
However, it is exactly economy class that Grybauskaite has used for her first overseas visits to Sweden and Latvia. At the same time, her flight from Vilnius to Stockholm cost $330.
The reason for this is that the Cabinet has considered a private jet too big a luxury for the country.
For flights Grybauskaite employs cruise aircraft airlines Aeroservisas. If the President landed in a country only in order to transfer to the other aircraft at the airport it is usually only meets Lithuania's Ambassador to this country.
In turn, the airline offers a small airplane of business-class "Cessna 560 Citation V," designed for seven to eight passengers among the country's highest officials. At the same time Aeroservisas director Ben Laurinaytis reported that the plane hadn't been bought specifically for presidential use. "This is a new product, offered by Aeroservisas to its customers," he said in 2009.