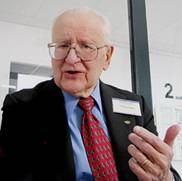 Vytautas Sliupas
By Vytautas Sliupas, California
"The Times of Israel", March 11, 2012,  carries a news article "Nazi hunter leads criticism of Lieberman for cordially hosting Lithuanian FM".  But not everyone was happy about this warm reception Foreign Minister Avigdor Lieberman gave his Lithuanian Counterpart.  About a dozen demonstrators were carrying signs disapproving Foreign Minister's Audronius Azubalis visit.  Protest was co-organized by Efraim Zuroff, a well known Lithuania baiter.


Efraim Zuroff
The article further quotes: "The Foreign Ministry in Jerusalem, however, seems unfazed by these accusations".
My Kudos to both Foreign Ministers for trying to normalize the strained relations and to remove the mutual distrust.
There are Jewish voices that are more conciliatory and thoughtful.  In the Comments column:

Arik Elman
Mr. Arik Elman  writes "both the Nazi and Communist totalitarian regimes should be considered to be the main disasters of the 20th century.  My family lost relatives to both and I really fail to see a problem to that statement… Why is that Mr. Zuroff is so fixated on a tiny Lithuania instead of looking to the West?"

Meir Rhodes
Mr. Meir Rhodes writes: …"both stalin and hitler were anti-Semitic monsters… stalin was preparing to deport and destroy the Jews in 1953…"


Zalman Lachman
Mr. Zalman Lachman writes: … "The argument who was worse, Hitler or Stalin, is just silly… While everyone is busy arguing  about last generations haters, there is a fellow in Persia preparing to kill us all right now… Let's face the present… Efraim, how about we make an effort… and let the Lithuanians deal with their own history".

Daniel Teeboom
Mr. Daniel Teeboom writes: … "Efraim Zuroff… I think it is a mistake to allow events from 70 years ago determine who should be our friends and who should not… So really, why care about Baltic deflections and demand so much from prospective friends?"
By reading Israeli newspapers one can hear more sobering voices.  I say, It is time to heal  the wounds and start living in peace again, as we have done for hundreds of years.
Vytautas Sliupas
California