Lithuanian-American Johnny Podres (1932-2008):


US baseball's 'most
valuable player' in 1955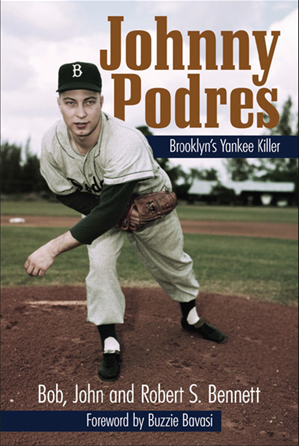 Johnny Podres, Lithuanian American, son of immigrant parents, born and raised Upstate New York, pitched two historic World Series wins against the New York Yankees in 1955. The World Series championship was the one and only victory in the history of the "Brooklyn" Dodgers. Subsequently, the Dodgers (and Podres) moved to Los Angeles in 1958.
People always said the cigarettes and the gambling and the whiskey and the late hours would surely get Johnny Podres. In 2008, those experts were proved right. Now they're going to have to explain how The Pod made it to 75.

Podres was one of those fortunate human beings who was born exactly when he should have been. He pitched for the Dodgers when they desperately needed a young lefthander who would go out for the ninth inning of Game 7 of a World Series they had never won, would flick aside his cigarette, utter a what-the-hell and go out and finish shutting out the Yankees.

That's what The Pod did in 1955, winding up airborne in the embrace of Roy Campanella, and when the Dodgers celebrated their first championship at the old Bossert Hotel that night, the party revolved around Podres.

"He and Don Drysdale were the Pied Pipers," Vin Scully recalled Monday. "Johnny and Don Zimmer and Ed Roebuck would go out, and then Drysdale would have half the team following him. And Sandy Koufax would be eating dinner with Doug Camilli, who was the thirdstring catcher.

"When we went to Cincinnati, Johnny and his guys would go over to Kentucky and gamble all night. Roebuck once told them, 'If I'd never met you guys, I'd be a millionaire.' ''

"What amazed me," Roebuck said, "was the way Johnny would go out and have a good time every night except the night before he pitched. He would always turn in and get a good night's sleep. If I did that I'd be staring at the ceiling."

There was the day Zimmer and Podres called General Manager Buzzie Bavasi from a racetrack in Detroit. They owed Buzzie $100 each, but now Podres told him he'd put $200 on this sure-fire horse and they'd be even. Bavasi hung up the phone and told his secretary, "I just lost $200." Sure enough, Podres called back later to explain that, miraculously, the 12-to-1 shot once again got nipped at the end.

It's uncertain how Podres would have made it through baseball these days, with the personal trainers and the pitch counts.

But Podres was the pitching coach of the Phillies when they won the National League in 1993. On his blog Monday, Curt Schilling said Podres influenced him more than anyone outside his own family. When Frank Viola won the 1988 Cy Young Award, he credited Podres, who taught Viola the same changeup that worked in '55.

Podres was not the obvious nominee to pitch that Game 7. He was 9-10 that year, and he'd gotten pasted in a World Series game in 1953, and he was facing veteran Tommy Byrne, who passed away in December, 23 days before Podres did.

"Thing is, even in spring training, he was always really good against the Yankees," Roebuck said.

Some Dodgers remember Podres proclaiming that he only needed one run. Scully doesn't think
Podres was ever that brash. "But he did say he wasn't nervous, he didn't feel the pressure, because in his mind he had nothing to lose," Scully said.
Eight hits, eight left, no runs.
"Somebody was looking after me," Podres said.
Somebody always was.

Podres grew up in Witherbee, N.Y., son of an iron miner. "We kept hearing about this ice fisherman who was going to be joining us," Scully said.

He always remembered coming out of a tryout camp and then hearing General Manager Branch Rickey tell someone, "Don't let that boy get away."

Podres went 21-3 for the Dodgers' Class-D farm club in Hazard, Ky., in 1951. "I was the original Duke of Hazard," he would say. Two years later, he was the youngest player in the majors.

After the Dodgers moved to L.A. he was in the rotation for six years, went 18-5 in 1961, won two games in the '59 World Series, and beat the Yankees again in Game 2 of the '63 World Series.

He also pitched the first game in Dodger Stadium. In 1969, he came off an idle year to join the expansion Padres, at Bavasi's behest, and blanked Houston over 8 1 /3 innings in their second game ever.

Later, the Twins made him their pitching coach in Walla Walla. He gathered his rookie pitchers and asked who the beer drinkers were. Several raised their hands.

"Good, you're my starters because you need your rest between games," Podres said. "The rest of you, you milkshake drinkers, you're the relievers, because you can pitch every day."

Zimmer was in Montreal one year when he found out Podres had suffered a heart attack. He drove down to Glens Falls, N.Y., to visit. When he walked in, a bed-ridden Podres handed him a betting slip and told him to hurry to the OTB parlor before post time. "And don't tell my wife," he said.

The years finally caught up to Podres in 2008. Now, that's a pursuit of happiness.