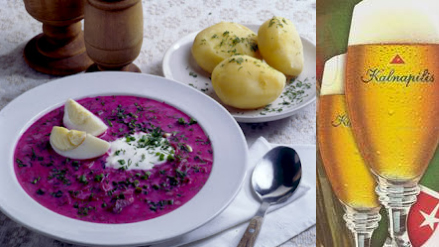 Lithuanian summer means Šaltibarščiai – cold beet root soup –
and a refreshingly cold beer!
Lithuanian summer traditions are different from what you usually find on European café tables or outdoors on a summer patio or garden. In particular, this applies to dishes Lithuanians gorge themselves with through hot summer months.
Take for example the cold beet soup, Šaltibarščiai, that you see pictured above. Take some time to read what our associate editor, Vin Karnila, writes about this and another, at least as famous Lithuanian dish....
'Two Lithuanian dishes you simply have to try!'
To a great summer meal also belongs a refreshing cold beer. Look what Vin has to say about this foamy, beautiful Lithuanian brew...