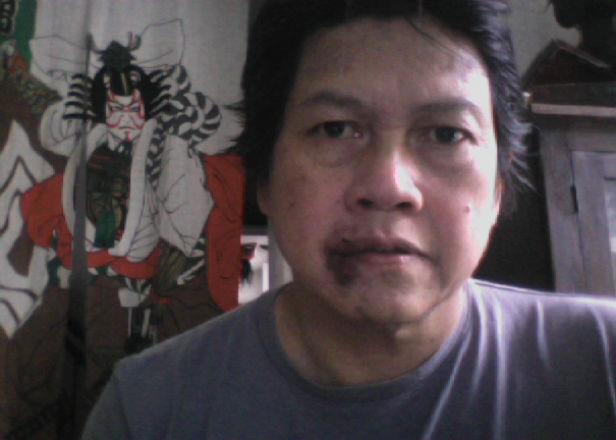 Andy Hernandez after the mafia attack last Friday.
My friend, Filipino Andy Hernandez, a veteran Newsweek war photographer who now lives in Lithuania, where he, among other things, makes his living by owning and operating a handful of restaurants, was brutally beaten in one of his own restaurants last Friday.
The attack on Andy and his wife appears to be racially motivated, and unfortunately, racism is a very, very serious problem in present day Lithuania.
It seems, also, as if the recession has provided various mafia groups more room and more power. Smuggling and production of drugs, human trafficking, prostitution and other things with a basis in Lithuanian mafia groups is an increasingly serious problem for Europe.
The assault on Andy and his wife is only the tip of an iceberg that is growing ever greater.
After the attack, Andy told the Philippine website Rappler via email that it was a mafia boss who had harassed him and his wife after insisting to be served despite arriving past closing time.
Andy uploaded two videos of the exchange between him and "Mafia boss Stanislovą Narkevičių, a.k.a. Narkuša," and before he and his wife were beaten up by seven men who later arrived after they were called in.
His camera phone stopped recording when it hit the floor.
The first video shows Narkuša -- in white linen pants, alligator shoes, with gold watch and bracelet -- calling his henchmen to come to Hernandez's cafe located in the centre of the historic resort town of Trakai.
Andy said Narkuša started cursing him when told that the restaurant was already closed at 9 pm. Narkuša arrived at 9:30 pm.

"He started calling me derogatory remarks in Russian…'Hoy' means prick. He called me monkey, black ass, and black face -- all racist remarks," Andy recounted. 

"He threatened me and Monika (his wife) bodily harm and [that] he will destroy the cafe. I told Monika to call the police when he started raising his voice and the insults [became worse]. 

In the second video, Monika is shown getting in between the seven "tough looking men" and Andy before the phone hit the floor and stopped recording. 

Andy said he was hit twice in the face. "I felt one of my tooth -- an upper incisor -- flying out." 

He was punched in the ribs while Monika, who tried to intervene again, was also punched in the face and stomach. When she started shouting and howling, a crowd gathered around. Andy said that, after breaking the restaurant's glass door using the metal wine cooler, Narkuša and the seven decided to leave. 

"The police came after 30 minutes even though the station is 5 minutes away on foot," the Filipino said. 

"We come to the police station to report the incident and we are told to go to the hospital to know our physical damage. On Monday, we are to return to the police station to give our testimony," he said, adding that none of the people who saw the incident wanted to be part of the investigation considering the reputation of Narkuša as a "criminal."
Andy's photos and videos posted on social media generated concern among his friends and relatives. 

"Racially motivated attack I guess...Economic crisis always blames the outsider," he added when someone asked if the gang beat him up to get a monthly cut.
Instinct
He said his instincts urged him to use his phone to record the incident.
Andy was a photojournalist for Newsweek magazine for 18 years, covering historic events and wars, including the Aquino assasination, the Marcos ouster, the Tiananmen Square massacre, the collapse of the Soviet Union, the first Gulf War, and the Rwandan civil war.
He has settled in this Baltic country where he has been living for about a decade now with his family. He came to Lithuania on assignment as a war photographer to capture the independence movement. Monika is Lithuanian.
He currently owns 3 cafes in Vilnius and one in Trakai where the incident happened. The Mojo Cafe serves Asian dishes, such as Tom Yum soup, Sambal Spinach, Nasi Goreng and Vietnamese salad.