Time for ŠAŠLYKAI,
the Lithuanian barbeque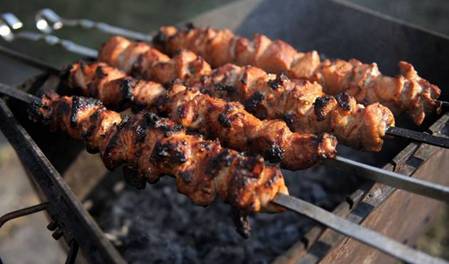 Dark grey days and cold nights are soon here again as autumn is making its way back to Lithuania. The summer season is coming to an end, but the early autumn sunshine will still be very much welcomed, somewhere in nature or in a garden, where the people of Lithuania still will be enjoying the typical early autumn sun with a tasty, warming šašlykai prepared over the charcols.
Šašlykai or Shashlik is a form of Shish kebab popular throughout the former Soviet Union, Eastern Europe, Pakistan, Mongolia, Iran and Israel among other places. Shashlik (meaning skewered meat) was originally made of lamb (in some extent pork or beef) depending on local preferences and religious observances. These skewers of meat are either all meat, all fat, or alternating pieces of meat, fat, and vegetables such as bell pepper, onion, mushroom and tomato.
Meat for shashlyk (as opposed to other forms of shish kebab) is usually marinated overnight in a high-acidity marinade like vinegar, dry wine or sour fruit/vegetable juice with the addition of herbs and spices. While it is not unusual to see shashlik listed on the menu of restaurants, it is more commonly sold in Western Asia by street vendors who roast the skewers over wood, charcoal, or coal. Shashlik is usually cooked on a grill called a mangal.