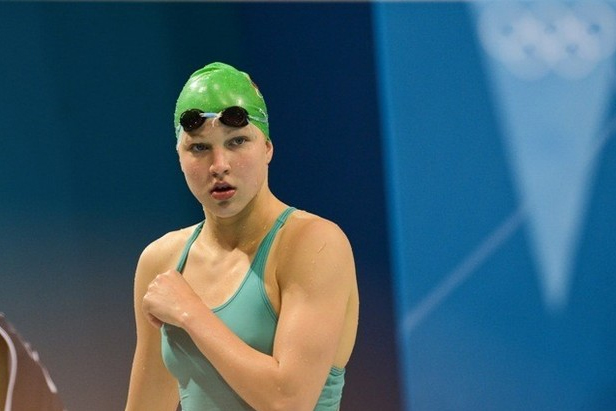 Rūta Meilutytė (born 19 March 1997). This week, at the Summer Olympics in London, she won the gold medal in the women's 100 meter breaststroke with a time of 1:05.47, becoming the first Lithuanian swimmer since Lithuania's Declaration of Independence from the Soviet Union in 1990 to earn an Olympic medal in swimming.
Photo: Wikipedia
Fifteen-year-old Rūta Meilutytė is a refreshingly outstanding representative of the original spirit of sports at a time when seriousness and the business aspects of sports often takes over for joy and the more fundamental aspects of the competitions.
Rūta has managed to grow strong, athletic and competitive-focused in spite of a difficult childhood in a country where training opportunities in swimming and many other sports are bad, because here in Lithuania it's mostly just basketball that counts.
Her gold medal in the Olympics shows that even a young girl who is not raised and trained as a professional athlete since birth, can manage to reach even the highest goals in the sports world.
She is a true Cinderella of our days!
Rūta had just turned four years old when a terrible accident dramatically affected her and her family forever. Her mother, Ingrida, was on Easter visit to Vilnius and was about to cross a street in the pedestrian crossing when a car struck her so violently that she later died of the injuries.
Rūta's father, Saulius Meilutis, lived at this time in the United States, where he worked to support his family home in Lithuania, and Rūta started therefore living with her grandmother after her mother's tragic death. She moved to the grandmother with her brothers Margiris and Mindaugas.
Already at an age of seven, her Kaunas coach, Giedrius Martinionis, seeing how well-built she was, told her father: 'You must take her to swimming lessons – there will come a time when this little girl will be breaking country's records'.
When Rūta was eight years old her father moved home from the United States. But like other returnees, it appeared difficult for him to find a decent job here, so after only three years he went west again, setting course for the southern English town of Plymouth where he got a job in a care home as a caregiver for disabled persons.
"When I left for Plymouth, my sons were somewhat grown and relatively mature, but I was worried about my daughter. After turning thirteen, Rūta had ceased listening to her grandmother. She wanted to be more independent. So I decided to take her with me to England," her father tells to the daily Lietuvos Rytas.
Rūta had before this been showing good results in Kaunas Swimming School, so one of the most important tasks for the father was to find a good swimming club and an experienced coach in Plymouth.
He found one of England's best swimming clubs and persuaded the coach Jonathan Rudd to work with his daughter. The road to success started.
"In addition to the sweet taste of victory, the father, however, sees the other side of the medal too, experiencing what it means to be a father not just occasionally but always. He looks after his daughter every single day of the year: from preparing breakfast, to advising what to wear," the father tells to Lietuvos Rytas.
"Rūta loves herring or smoked bacon with onions, but I cannot treat her like that often, for such food is not good for a sportsperson. An adolescent girl undergoing a lot of physical exertion needs the proper, wholesome food. Before the afternoon training I usually prepare some pasta, which is rich in carbohydrates. While after the training it is usually a high protein meal such as meat or fish with vegetables. For breakfast she normally eats a cereal. I usually add some banana slices and nuts to them," the father says about her diet.
"Rūta is tall, slim and has long legs. Her feet are rather long too: my daughter already wears size 43 shoes. She inherited these traits from her mother Ingrida, who looked like a model: she was slim and had long legs," the father tells.
"Rūta's character, however, is similar to mine: she is a very determined girl. She was supposed to be born in early April under the sign of Aries. However, she came to the world earlier than the doctors expected – on 19 March, under the sign of Pisces. Therefore I call her my little fish with a ram's character," laughs the father.
"Agility and physical strength marked Rūta since her childhood. She was very strong because she used to climb the trees as a child, along with her brothers. She was no less agile than the boys," the father recalls.
Rūta stood out from the same age children with her apparent winning mentality.
Even in ball games at school she used to be a leader of her team. Her shots were very precise.
Continuous honest work also served to harden the able-bodied Rūta.
The family lived in their own house, so the girl used to help her grandmother around. Rūta used to cut the firewood and chop it with an axe, prepare garden beds and rake leaves.
Like the original Cinderella…